Hey there! Welcome to JetSetting Fools! You will find our best travel tips for destinations worldwide. Some of the links on this site are Affiliate Links and if you use them to make a purchase, we may earn a small commission. For more information, read our Disclosure Policy.
---
Before we arrived in Belgrade, Serbia, we had a few expectations. We expected a busy city. We expected Socialist-era architecture. We expected signs in Cyrillic. What we didn't expect was to find craft beer bars in Belgrade – but we did. We're not talking about a hard-to-find pub listing just one or two craft beers on their menu. What we mean are bars that are dedicated to the craft beer movement – and we found five of them. In a land of watered down, mass-produced beer, it was like finding the mother lode.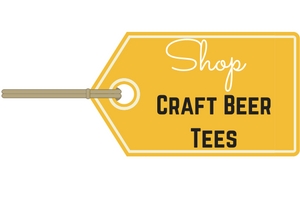 We knew craft beer was being brewed in Serbia; we sampled the sudsy goodness of Kabinet Brewery (which has crossed the border into Slovenia and Croatia) long before we even arrived in Serbia. But, Kabinet doesn't brew in Belgrade. Their brewery is located in Nemenikuce, a village 30 miles outside the city center. From our previous experience of tracking down craft beer in the Balkans, we were uncertain where we'd be able to scout out Kabinet in the sprawling city.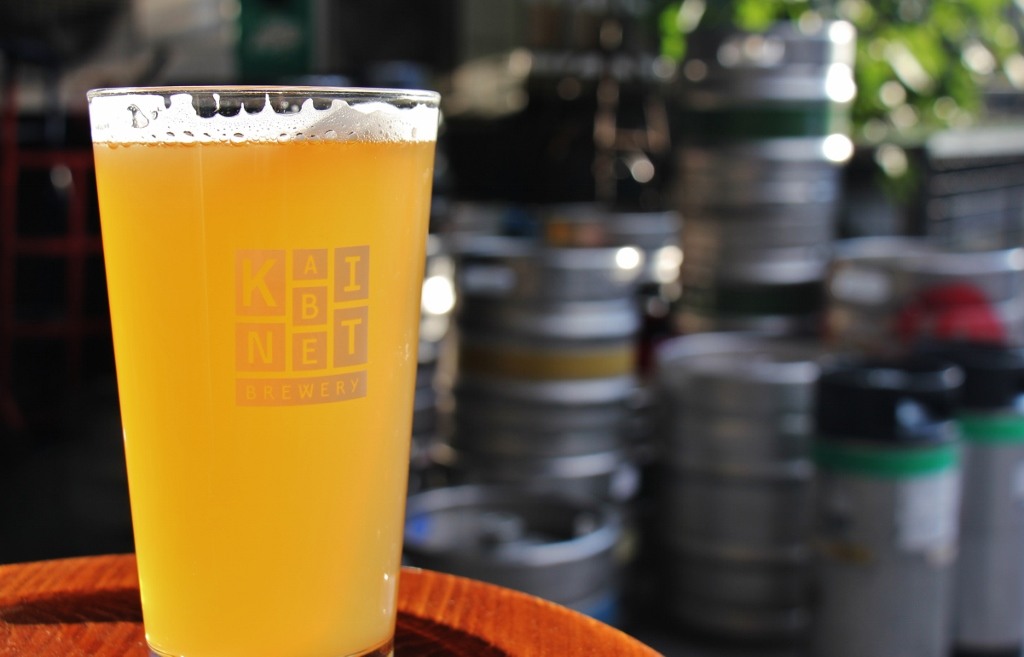 We were on a mission to seek out craft beer in Belgrade. We made inquiries that led the way to three craft beer bars in Belgrade – and we literally stumbled onto two others. As it turned out, Kabinet wasn't as difficult to find as we feared it might be. Ranked in order of our affection for each pub (which correlates directly to the number of times we visited each pub during our stay), these are the five craft beer bars in Belgrade that we highly recommend for craft beer lovers. (Map below.)
5 Craft Beer Bars in Belgrade
#1 Samo Pivo
Address: Balkanska 13, Beograd 11000, Serbia
Samo Pivo couldn't be more clear about their mission; their name, Samo Pivo – which so eloquently translates to 'Just Beer' – says it all. With 20 craft beers on tap – Serbian and worldwide – and heaps more by the bottle, Samo Pivo clearly demonstrates that, yes, they are all about beer – and craft beer, to boot. The open space feels raw, like the interior of a working warehouse, and the staff are knowledgeable, yet unpretentious – creating the best community atmosphere we found in Belgrade. It was like all the patrons shared a common secret. (We'll let you in on it: people come here to drink good beer.)
During our stay in Belgrade, this was our hangout; our go-to spot for an early evening beer after long days of sightseeing around the city. If we stayed in Belgrade any longer, we may have morphed into Norm from Cheers, where we would be emphatically greeted by name each time we walked through the door. The first time we visited, we consulted the chalk board next to the bar listing the current toceno pivo (draft beer) options, but ultimately let the bartenders and helpful customers guide us to hoppy Serbian beers. It was in this process that we discovered Hoptopod IPA, brewed in Belgrade by Dogma Brewery – and that's the one we kept coming back for. (Note: Hoptopod IPA and Dogma Brewery beers can be found in other pubs in Belgrade, too!)
Pro Tip: Ignore the dodgy entrance – a crumbling staircase next to an escalator that looks like it stalled out in the 1980s – and head inside Samo Pivo for a taste of Serbia's best craft beers.
#2 The Black Turtle
Address: Pub II – Kosančićev venac 30, Beograd 11000, Serbia / Pub V – Svetogorska 14, Beograd 11000, Serbia
The Black Turtle produces their own beer and sells it from their own chain of pubs in the Belgrade city center (there are four). They brew two traditional standards, Pils and Stout, but they have created a niche in fruit flavored beers. I admit, I was skeptical. I'm not a big fan of fruit/beer combinations – and blueberry beer, their most popular, sounded like beer gone wrong. When the bartender brought the pink foamed beer to the table with a straw in it, I was certain I wouldn't like it. But, for less than $2 USD for a half liter, I wasn't going to fret if I didn't finish it. Well, I did finish it…and I ordered another. It's fair to say, the sweet Black Turtle blueberry beer exceeded my expectations.
During our time in Belgrade, we visited two of the Black Turtle pubs – II and V. The Black Turtle II is a cozy basement pub on a quiet street near the city center. Decorated with antique radios (are all radios antiques now?), old-time rock and roll – of which we could sing along with every song – was pumped through the speakers. The casual hangout is a place where friends gathered at the end of the day to talk and smoke while drinking fruity beers.
The Black Turtle V has a completely different vibe. It is open beer parlor, but with a long community table opposite the bright bar. We learned that it was also their brewery (which is contrary to the information we read on their website).
Pro Tip: At Black Turtle V, as an unexpected bonus, there was an airy non-smoking room – definitely a rarity in Belgrade.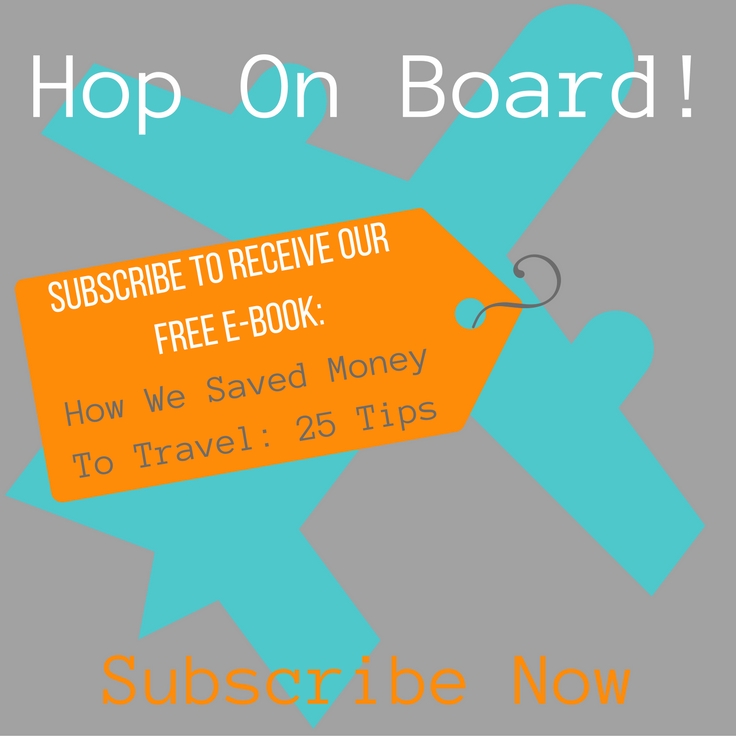 #3 Krafter
Address: Strahinjića Bana 35, Beograd, Serbia
We were walking around the bohemian quarter, hoping to be drawn into one of the pubs or restaurants in the area once frequented by renowned artists and poets. However, the restaurants lining the famous Skadarlija felt gimmicky and solely focused on tourists, so we detoured west down Strahinjica Bana toward the heart of Dorcol in the search of something more local. We passed plenty of cafés on the tree-lined street, but by then we were already shifting gears and thinking about strolling through Kalemegdan Park instead of popping into a pub. Until we saw Krafter Bar.
Like a moth to a flame, we were drawn into the craft beer haven by their chalk board sign quote: Life is too short, drink craft beer. (We just can't argue with that logic!) The stylishly decorated industrial space was like a well-polished neighborhood pub version of Samo Pivo. Even though the weather was cool, we sat on the outdoor deck in hopes of getting a feel for the neighborhood by people watching. Although we were in the heart of Belgrade, we felt miles away from the city as we sipped beer on the quiet street.
On recommendation from the bartender, I tried the Pale Ale from Crow Brewery, a Serbian microbrewery located in Vranovo, which is about a 45 minute drive from Belgrade….Kris had a Hoptopod. When it got too chilly to stay outside, we retreated to the warm interior. We were joined by only a few other afternoon beer drinkers, but got the sense that Krafter attracts a large local crowd at night.
#4 Prohibicija
Address: Karađorđeva 36, Beograd 11000, Serbia
We went to the artsy Savamala district to check out the unique community spaces that have recently opened in abandoned warehouses. The transforming area nestled on the east bank of the Sava River south of the Brankov Bridge is known to be a hub of nightlife activity. We arrived about five hours early for the party. The two most prominent creative venues, KC Grad and Mikser House, had patrons inside, but we were disappointed to find mass-produced beers dominating the taps.
Walking between the two venues, we passed Prohibicija and our eyes lit up at the Kabinet and Nikolacar craft beer signs hanging in the window. The glass front, modern bar is small, but we had the place to ourselves. The fact that they proclaim to be a 'pre-club bar' and we were still the first ones to arrive was slightly damaging to the ego (when did we get so old?), but we quickly recovered when we took our first sip of Nikolacar American Idiot Pale Ale. (It was so good, in fact, that the name hardly fazed us.)
Nikolacar beer is brewed in Belgrade's Zemun neighborhood, but it was the first time we had seen it on a bar menu. Checking the brewery website did little to shed light into the background of the brew (and, to be honest, I found the intro video to be a little unnerving). Nonetheless, it will rank as one of the best craft beers we tried in Belgrade – and for that reason alone we give a tip of the hat to Prohibicija Pre-Club Bar.
#5 Miners Pub
Address: Rige od Fere 16, Beograd 11158, Serbia
Like one would expect, Miners Pub is underground; a basement bar decorated with hardhats, mining lamps and beer posters from brewers around the world. Hallways cluttered with kegs and crates of empty bottles lead to dimly lit rooms. Pinball machines and a foosball table are tucked into a nook – and a larger room is used for darts and live entertainment. The beer list is extensive, but rather than boasting just craft beers, there is an emphasis on quality beers from around the world, highlighted by brews from Germany, Belgium and England.
The narrow bar is crammed with bottles and taps, which is a feast for the senses, but sadly offers no place to belly up. Instead, we grabbed a low table near the entrance and perused the long list of beers. The worldwide options are impressive, but we stayed local with a round of Kabinet's BrrKaaa APA.
Map of Craft Beer Bars in Belgrade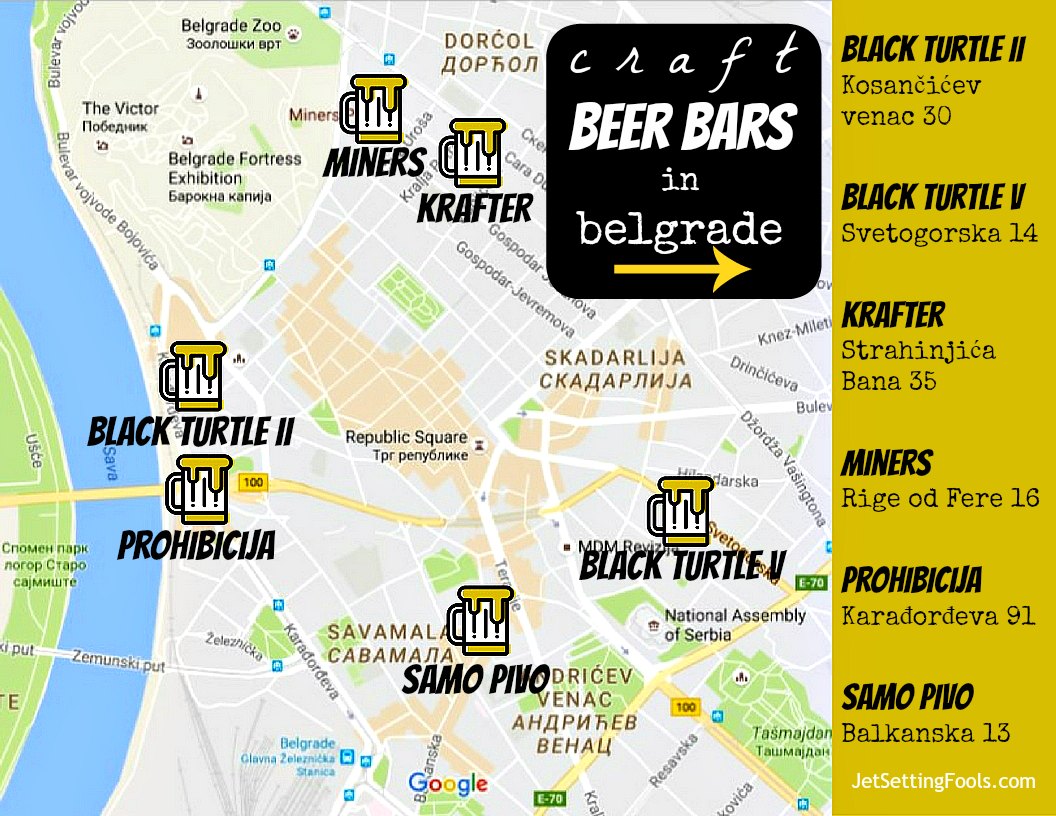 Click here for these craft beer bars in Belgrade, Serbia on Google Maps.
Want more Belgrade info? Read our post, "8 Things To Do in Belgrade, Serbia"
Our Top Tips for Your Trip to Belgrade, Serbia
Belgrade Sightseeing Tips
For a better understanding of craft beer in Belgrade (as well as a chance to meet fellow travelers and get local tips), join the BEERgrade Craft Beer Pub Crawl, which is more about good beer than getting drunk. (Those who want to party the night away might be more interested in the Belgrade Pub Crawl.)
As much as we loved drinking at the craft beer bars in Belgrade, there are more sights to see in the city! Get an introduction to the history of the city by touring the many city sights. Join a free (tip-based) walking tour, learn about the Communist years or see the city from behind the wheel of a classic Yugo car. For a full-day tour that covers all of Belgrade's top sights in a single day, go on the Belgrade Big Tour.
Go beyond the city limits on a Belgrade Day Trip to Nis, Novi Sad or Pannonia. Or, for an active adventure, go on an exciting kayaking trip on the Danube River.
Where To Stay
During our visit to Belgrade, we stayed in this awesome Airbnb Apartment. (Not already a member of Airbnb? Use this link to create an account and save money on your first stay!) We have found that staying in apartments is often less expensive than hotel rooms – with the added benefit of a kitchen and, usually, more space. Belgrade holiday apartments can also be searched on FlipKey (which is part of TripAdvisor) or on VRBO – Vacation Rentals By Owner.
However, for those who prefer staying in traditional accommodations, there are many Belgrade hotels to choose from in – or close to – the city center. Look for a room at the famous Hotel Moskva – or check out these top-rated hotels (based on guest reviews!) for your upcoming trip: Boutique Hotel Townhouse 27, Zepter Hotel, Square Nine Hotel Belgrade. Or, find a deal on a hotel room by bidding on Priceline.
Budget travelers can search for Belgrade Hostels – like Stella Di Notte, White Owl Hostel or Hostel Home Sweet Home. For a true bargain – and a unique experience – search for hosts on Couchsurfing, where travelers stay with locals for free.
Getting There
Belgrade can be reached by plane, train, boat, bus or car. Our preferred method of getting anywhere is by flying (we are JetSetting Fools, after all!) and when we do need to purchase plane tickets, we start our search for the best deals on airline tickets on Skyscanner or Flight Hub.
To get from city to city when flights are not possible (or too expensive), we usually rely on public transportation and take trains or buses. In Europe, we use Rail Europe to find train tickets and our preferred bus company is FlixBus – as it is economical, clean and comfortable with on-board wifi, seat-back entertainment, refreshments and a toilet. We aren't keen on driving abroad, but renting a car can often save time and money (especially when traveling with more than two people) – and it allows for greater discovery.
Before You Go
Want more travel planning tips? Head over to our Travel Planning page for our complete packing list and other travel resources!
Still Thirsty? Check out more great Craft Beers from Around the World! We feature some of our favorites from Iceland, Prague, Croatia, Paris, Amsterdam, Vietnam, Australia and London!

Like what you're reading? Join the journey!
Subscribe to JetSetting Fools and get new blog posts and our quarterly newsletter direct to your inbox:

We want to know: Have you been to craft beer bars in Belgrade, Serbia? Which is your favorite? Don't keep it a secret and tell us in the comments!
Pin it! See all of our travel pins on our JetSetting Fools Pinterest Board.