Hey there! Welcome to JetSetting Fools! You will find our best travel tips for destinations worldwide. Some of the links on this site are Affiliate Links and if you use them to make a purchase, we may earn a small commission. For more information, read our Disclosure Policy.
---
The very first time we stepped foot in Croatia, it was in the city of Split. Even bleary-eyed and cranky after a long red-eye flight, we were smitten by the harbor city and its long waterfront lined with cafes. As Kris sipped a beer and watched the steady stream of ships come and go, I slipped through a narrow passage to explore the remains of Diocletian's Palace. We only had a few hours in Split – as we were catching a ferry to island-hop down the coast to Dubrovnik – but our stop was long enough to whet our appetite for the city. As we sailed away, we already knew we'd be back for a future trip.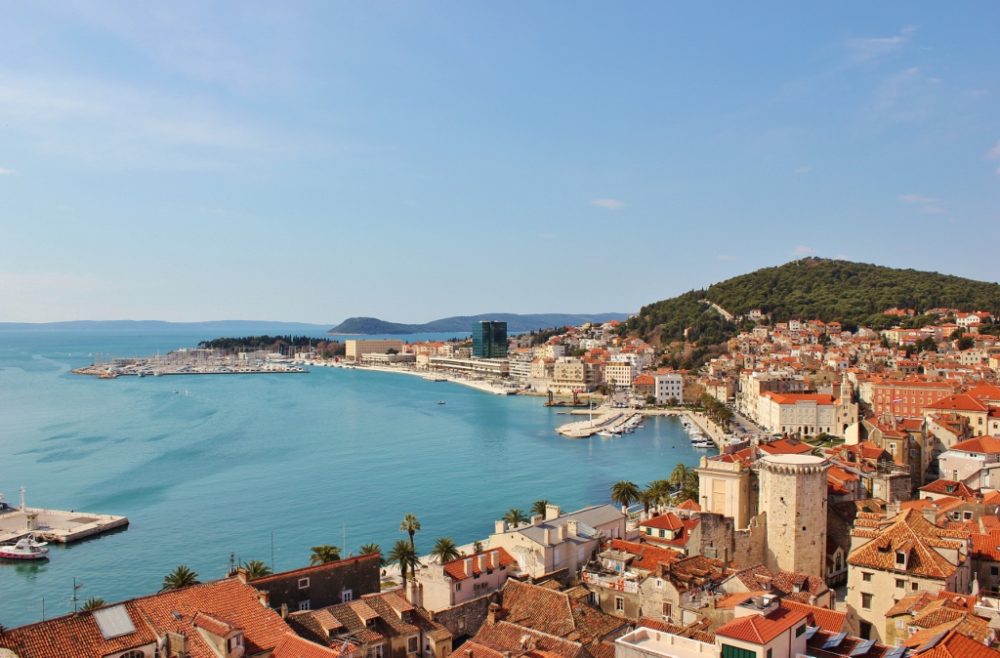 In the years that have passed since our first glimpse of Split, we have returned to the city many times. Whether traveling on our own for week-long stays or showing off the city to our American friends on quick jaunts, we have become more enamored by Split with each trip. While a highlights tour can be completed in a couple of hours, it would be a shame to breeze through the city like we did on our first time through Split. A longer stay allows visitors to soak up the atmosphere.
Split Itinerary: 3 Days in Split, Croatia
To help fellow travelers, we've devised a 3-Day Split Itinerary that incorporates city, sea, mountains, history, cuisine, sports – and is just enough time to experience Split. (Yet, it will most likely leave you wanting more.) On a recent trip, we were interested not only in retracing our steps to our favorite spots, but in discovering new experiences, too. We partnered with Adiona Travel for local insight to add to our adventures in Split.
Day 1 – Must-See Split
After getting checked into your Split apartment, get acquainted with the city by immersing yourself in the Old Town and strolling the waterfront.
Take a Split Walking Tour
Get an introduction to Split with a tour of the Old Town and Diocletian's Palace. The palace was built in the 4th century as a seaside residence for the Roman Emperor. Through the centuries, the interior of the structure has transformed into a maze of lanes and a cluster of apartments, leaving little more than the shell of the palace intact. Learn how the palace and Old Town have survived and evolved – and note how historical elements have been preserved amidst modernization. Walk down the narrowest street, wander through the Jewish Quarter and marvel at the Venetian courtyards.
Tip: After your walking tour, explore more of the palace on your own. We recommend visiting the palace basement, climbing the church bell tower and obtaining a better understanding of the history of the people at the Ethnographic Museum, all of which you can read about here.
Walk the Riva to Sustipan Park
Emerge from the confines of the palace walls onto the spacious waterfront. The Riva, lined with cafes and palm trees, is an idyllic pedestrian promenade. Walk along the water's edge (in the opposite direction of the ferry port). Pass by the fisherman's port, Matejuska, and continue walking toward the marina past the cafes that feel slightly more upscale than those on the Riva. Beyond the marina is Sustipan Park – a former graveyard with a small church, gazebo and broad views of the Adriatic Sea and the city from afar.
Tip: On the walk back to the city center, stop at one of the cafes for a pre-dinner drink. Or, for a more local experience, join the drinking crew on Matejuska pier (which ranks as one of our top things to do in Split). There is a small, inconspicuous beer shop (located between Restaurant Fife and Dujkin Dvor) that sells chilled beers – including Croatian craft brew. Bonus Tip: Men freely urinate right off the pier, but for the ladies, there is a clean public toilet at the base of the pier (fee: 5 kuna).
Eat Dinner in Diocletian's Palace
There are many restaurants in Split, most of which offer traditional cuisine, including fish, pasta and pizza (although, some international restaurants have sprouted up more recently). One of the best meals we had within the palace walls was at Trattoria Bajamont – a small restaurant featuring a hand-written menu and home cooked, Mediterranean dishes.
Tip: Other restaurants we recommend in the heart of the city: Apetit (upscale dining), Chop (lamb and steaks) and To Je Tako (Mexican).
Sip After-dinner Drinks
After dinner, saunter through the streets of Diocletian's Palace, making your way to the café-ridden Majstora Jurja (the street that runs along the interior of the northern palace wall). In the summer, tables take up every bit of outdoor space on the street – and in winter, patrons cozy up inside the warm interiors. Teak is our preferred spot – both in the outdoor courtyard and in the historic interior.
Tip: Looking for Croatian craft beer? To Je Tako has craft beer by the bottle, but for craft beer on tap, head outside of Diocletian's Palace to nearby Sanctuary or Leopold's – both of which have our favorite, Nova Runda, on tap.

Day 2 – Split like a Local
Although Split is a tourist destination, locals still live, work and play in the center of the city. Join them in the markets, in nature and at a sporting event.
Coffee in a Cafe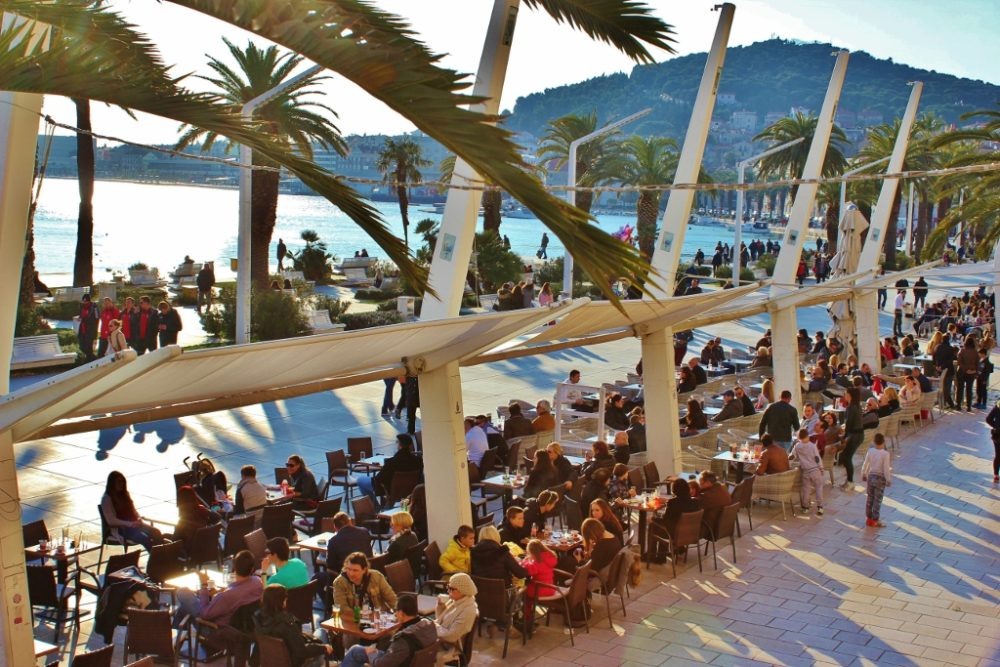 Start your day like most locals and sip a coffee in a café. There is no rush to the morning routine; rather, the experience is a relaxing one meant to be savored – so don't ask for coffee-to-go. At the cafes on the Riva, you get a first-hand look at Split waking up and the parade of people disembarking the just-arrived cruise ships. However, neighborhood cafes are equally entertaining, as they offer a glimpse into local life.
Tip: Coffee in Croatian is kava. For something similar to a latte, order bijela kava; for less milk than a latte, order a macchiato; for a strong coffee, order espresso.
Morning Market Shopping
In the heart of Split are two vibrant markets: the Green Market and the Fish Market. At the Green Market, which is located outside the eastern palace walls, shoppers can peruse the tables piled high with in-season produce, flowers, clothes and souvenirs. Small shops ring the produce stalls selling meat (raw, dried and cooked), cheese and bread – making it a one-stop shopping experience. The Fish Market can be found on the west side of the Old Town (just follow the scent from the Riva up Marmontova Street). The day's fresh catch is crudely displayed and quickly sold. Most vendors (at both markets) use traditional weight and balance scales, an antiquated method we haven't seen used much outside of the Balkans.
Tip: At the market, gather simple items for a picnic lunch, like Dalmatian Prsut (dried ham) and sheep's cheese, or get creative and piece together local ingredients for a dinner at home.
Hike Marjan Hill
Many locals refer to Marjan Hill as the 'Lungs of Split.' In addition to the ample hiking (and biking) trails, the forested peninsula features spectacular viewpoints, secluded beaches, ancient churches, a Jewish cemetery and dwellings built into the sheer cliff walls. Marjan Hill is most popularly accessed via the stairs in the Varos neighborhood. Although slightly strenuous, hikers are rewarded at the top with breath-taking views of Split, the harbor and the surrounding mountains. The main path through Marjan begins behind the viewpoint – with several smaller paths breaking off from the main trail along the way.
Tip: To access the highest viewing platform (where there is a cross and Croatian flag), take the stairs beside the Church of St. Nicholas (the first church on the main path).
Swim at a Beach
Split is known as a harbor city, but that doesn't mean there aren't beaches for swimming!
Beaches east of the city center: Within an easy stroll from the Old Town just beyond the bus terminal is Bacvice Beach, Split's most popular beach (at least with the younger crowd). The shallow cove has a tiny sandy shore that is otherwise surrounded by concrete and lively beach bars. A quieter beach, Ovcice, is a short shoreline walk to the east. Continuing east, past a marina, are smaller beaches with fewer facilities – and a more serene vibe.
Beaches west of the city center: Around the base of Marjan Hill are several beach coves for swimming. Kasjuni Beach and Bene Beach are well-known spots – and Bus #12, which originates at St. Frane Church at the west end of the Riva, transports beach-goers to both.
Tip: We preferred the beaches – or, rather rocks – on the south side of Marjan Hill between Zvoncac Bay and Jezinac Beach – where we could jump from the rocks into the cool Adriatic Sea.
Support Hajduk Split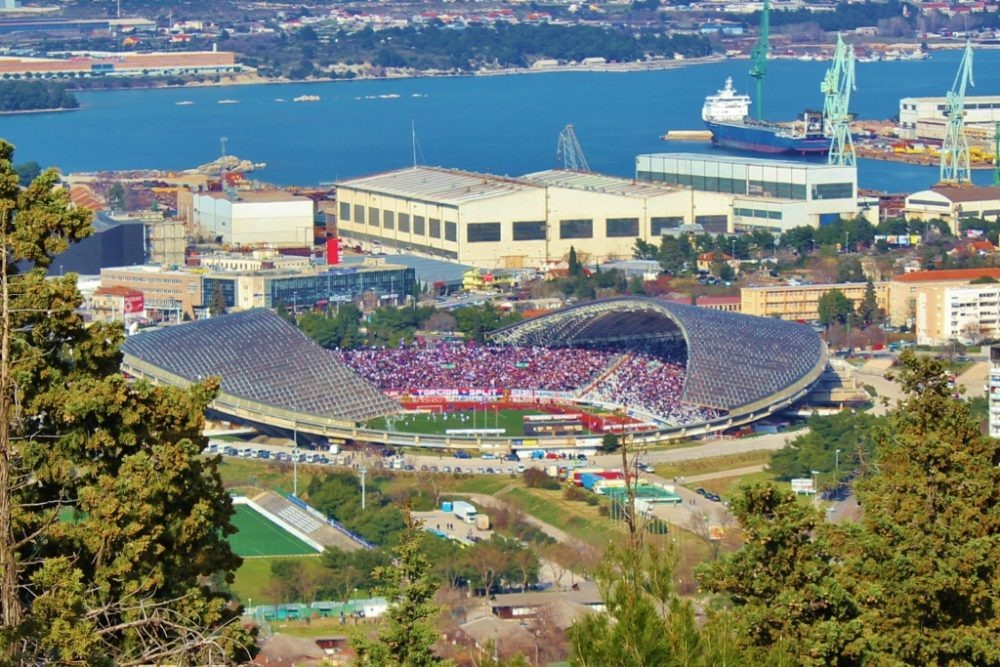 Around the city (and country, for that matter) wall murals depict the red and white checkerboard logo of Hajduk Split, the city's beloved soccer team (or rather football, as they call it in Europe). The history of the team dates to the early 1900s and the team plays home games in Poljud Stadium, built for the 1979 Mediterranean Games and within walking distance from the Old Town. Cheering on the team – and listening to the deafening chants of the supporters (called Torcida Split) – is one of the most local experiences we've had in Split.
Tip: Tickets are not expensive – ranging from 40-80 kuna. The cheapest tickets will land you a seat in the supporters' zone, which is loud and rowdy (flying flares and small fires are the reason the fire brigade is on hand)…so, depending on your style, paying a bit more for seats in a less energetic section may be worth the few extra dollars.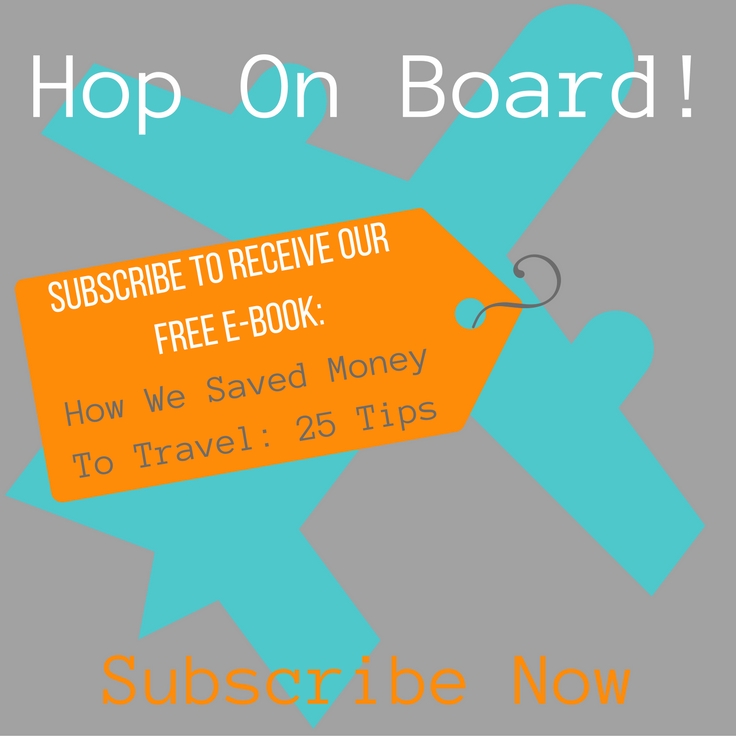 Day 3 – Day trip from Split
Discover the region surrounding Split with a day trip from the city and end the day with a traditional meal.
Take a Day Trip
One of the things that makes Split such a fantastic city is the prime location. The region boasts a sea dotted with islands, mountain peaks offering viewpoints, towns steeped in history and parks streaming with waterfalls – all accessible via a day trip from Split. We have used Split as a base for exploring more of the coastline, the interior and sea. We've spent time discovering the towns of Trogir and Omis, hiking Mosor Mountain, indulging in local cuisine at a mountain hut, and setting sail for the islands of Hvar and Vis. Visiting Krka National Park, Plitvice Lakes and Mostar can also be done on a day trip from Split (although, we made these trips from other cities in Croatia). In the summer, the top day trips involve snorkeling in the sea – Blue Cave and Blue Lagoon being the two most popular.
The proximity and variety of sights allow travelers to choose from an array of tours that fit their style. Some sights can be combined on a single trip, making is possible to take short jaunts from the city or create longer day trips.
Tip: Choosing a reliable, client-minded tour company, like Adiona Travel, can make all the difference in a tour from Split! We appreciated Emanuel and Iva's attention to detail, local knowledge and ability to organize – and their inviting and relaxed persona made us instantly feel like we were visiting old friends, rather than working with an agency.
Induldge in Traditional Cuisine for Dinner
Dalmatia isn't only known for the type of food, but also the method of preparation – and one of the best prepared dishes is peka. Often referred to as a meal 'under the bell,' peka is a platter of meat (often veal, lamb or octopus) and vegetables (potatoes, carrots and peppers) slow cooked under a dome covered with embers in a wood-fire stove. Many of the traditional Split restaurants – called konobas – serve peka, but we recommend veering off the beaten path and seeking out Konoba Kod Joze (click here for location on Google Maps). The intimate interior pairs perfectly with a memorable meal.
Tip: Since it takes hours to cook peka, it is necessary to notify the restaurant a day in advance of your request – visit or call ahead the day before to put in your order.
We want to know: Have you visited Split, Croatia? What would you add to our 3-Day Split Itinerary? Tell us in the comments!
Top Tips for your trip to Split, Croatia
Getting There
Well-connected by plane, boat and bus, Split is a logical stop on any trip to Croatia. The Split airport is located outside the city and is serviced by major airlines (although, fewer flights come and go in the off-season). There is a frequent airport bus that transports visitors to the convenient main bus station in Split – or private transfers can be booked through travel agencies, like Adiona Travel. For boat connections, check the Jadrolinija or Krilo ferry schedules. If traveling by bus in Croatia, check the Get By Bus site.
Where To Stay
During this visit to Split, we stayed in this awesome Airbnb Apartment offered by Adiona Travel. (Not already a member of Airbnb? Use this link to create an account and save money on your first stay! or book this apartment on Booking.com).
Is that apartment already booked? You can search the Adiona Travel website for other apartments or search for Split hotels on Booking.com.

Stay Connected
When you are traveling and want (or need!) to stay connected, a wifi hotspot is the way to go. When traveling through Croatia, you can stay connected with reliable wifi from Roam Free Ninja. The personal mobile wifi hotspot can be rented for days or months at a time and allows you to easily connect to the internet from your mobile devices wherever you are. With a Tep Wireless hotspot, you can search for directions, look up sight information and share your travel experiences on social media in real time.
Before You Go
Want more travel planning tips? Head over to our Travel Planning page for our complete packing list and other travel resources!

Like what you're reading? Join the journey!
Subscribe to JetSetting Fools and get new blog posts and our quarterly newsletter direct to your inbox:

Pin it! See all of our travel pins on our JetSetting Fools Pinterest Board.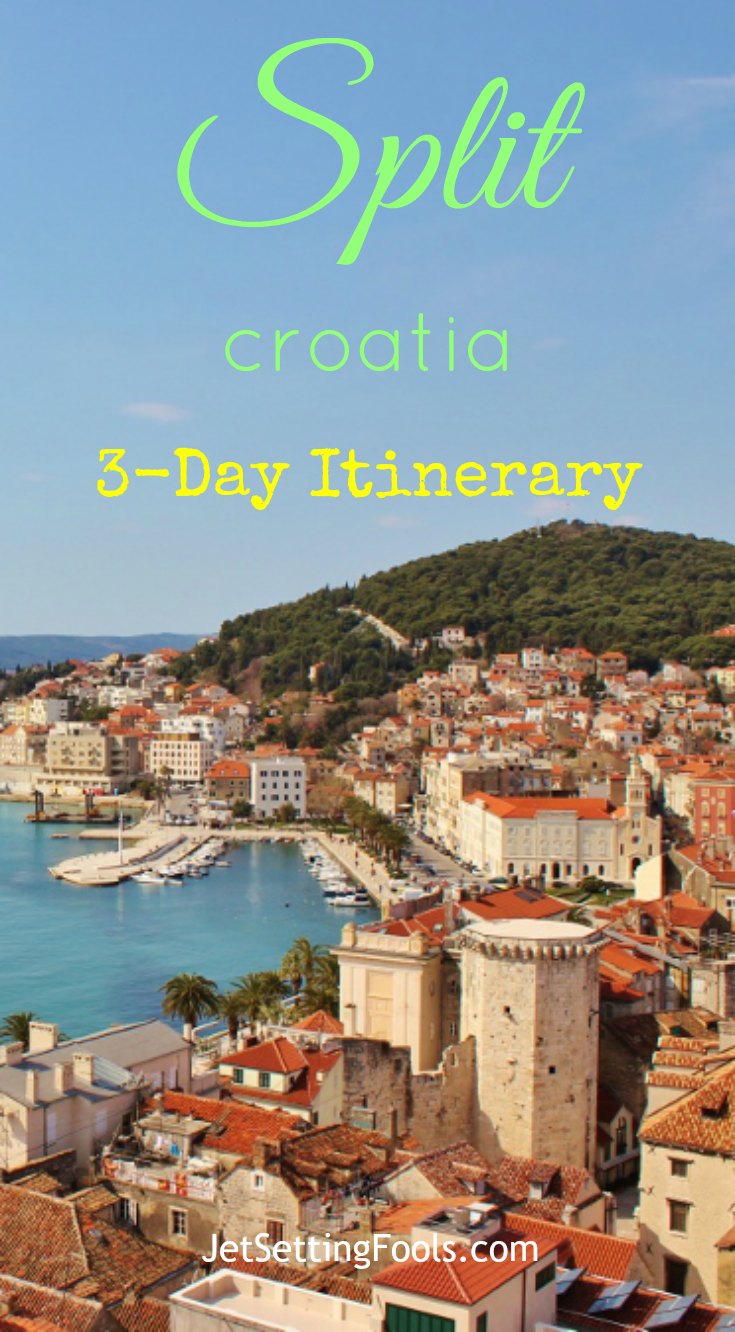 A portion of our trip was sponsored by Adiona Travel, but – as always – the opinions expressed are genuine. Some of the links in this post are Affiliate Links, in which we will earn a small commission if purchases are made using them – at no additional cost to the buyer, of course. Thanks for supporting JetSetting Fools.