Hey there! Welcome to JetSetting Fools! You will find our best travel tips for destinations worldwide. Some of the links on this site are Affiliate Links and if you use them to make a purchase, we may earn a small commission. For more information, read our Disclosure Policy.
---
Our pre-Australia research was practically nil, which left our investigation of things to do and see for when we arrived. I did retain, however, one scrap of information from an email my aunt had sent me about visiting the Brighton Beach Bathing Boxes. The details were fuzzy, but I had a mental image in my head of the string of brightly painted beach boxes and put seeing them on our list of Things To Do while in Melbourne. A quick internet search provided the specifics we needed and we planned to make a short day trip out of it while we were staying in Seaford.
Brighton Beach Bathing Boxes History & Facts
Beach boxes and boatsheds are popular throughout the Mornington Peninsula, but the Dendy Street Beach Bathing Boxes are more unique. Rather than being scattered about, they are situated in a line, are uniform in size (approximately 6.5 x 6.5 x 8 feet) and materials used (wooden structures with tin roofs), and the colors are regulated by Bayside City Council and the Brighton Bathing Box Association.
Some are newly constructed, while others date back more than 100 years. No water or electricity are connected to the small square boxes, which were originally used as ladies' changing rooms. Now they are used by owners to store beach-going equipment and as a place to rest in the shade.
The boxes can only be owned by residents of Brighton. When they were first made for sale, they sold for about $12,000. However, the price has skyrocketed and, in 2011, a single beach box fetched $260,000. Even though they cost more than most houses, residing in a beach box or subletting it is strictly prohibited.
Getting to the Brighton Beach Bathing Boxes
Since we planned on spending most of the day in the Bayside area, rather than heading directly for the Brighton Beach Bathing Boxes, we rode the train south to the last stop, Sandringham, and walked the coastal path north 3.7 km to Dendy Street Beach. We strolled on sandy upper trails of the foreshore reserve, which provided fantastic bay views, and sidewalks along the beach's edge.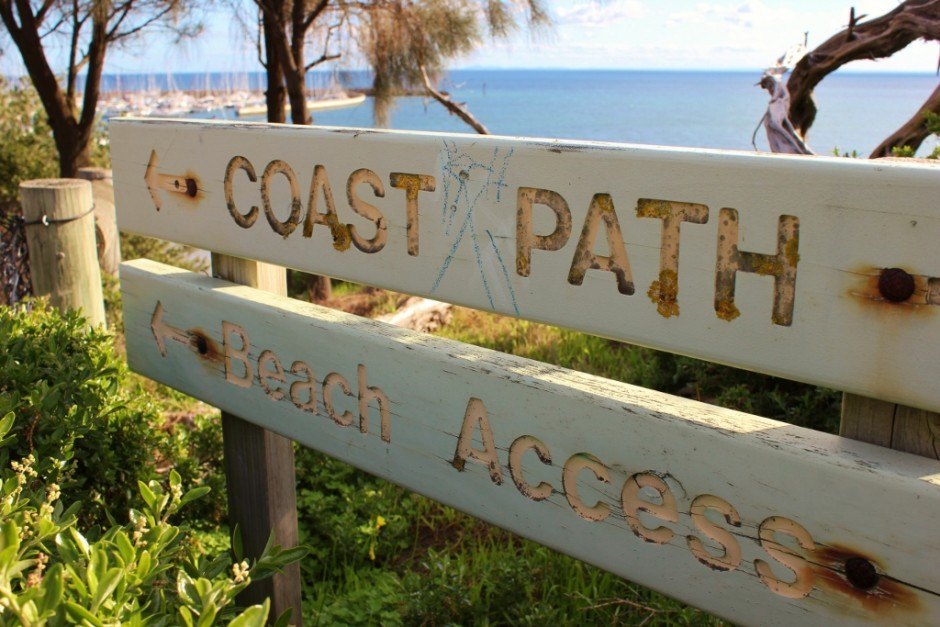 When we arrived at Green Point, we were stunned by the clear shot of Melbourne's skyline. We rounded the corner for our first far-away glimpse of the Brighton Beach Bathing Boxes, which were a rainbow of color along the beach. Continuing our trek along the shore, it wasn't long before we arrived at Dendy Street Beach.
While there is a significant historical and cultural value in the Brighton Beach Bathing Boxes, we were most captivated by how they looked. With the sun low in the sky and quick moving clouds directly overhead, the vividly colorful boxes looked even brighter. As a whole, they are quite a sight, but we both picked our favorite beach box; Kris liked the Australian flag box, while I favored the box with a colorful crab painted on the doors.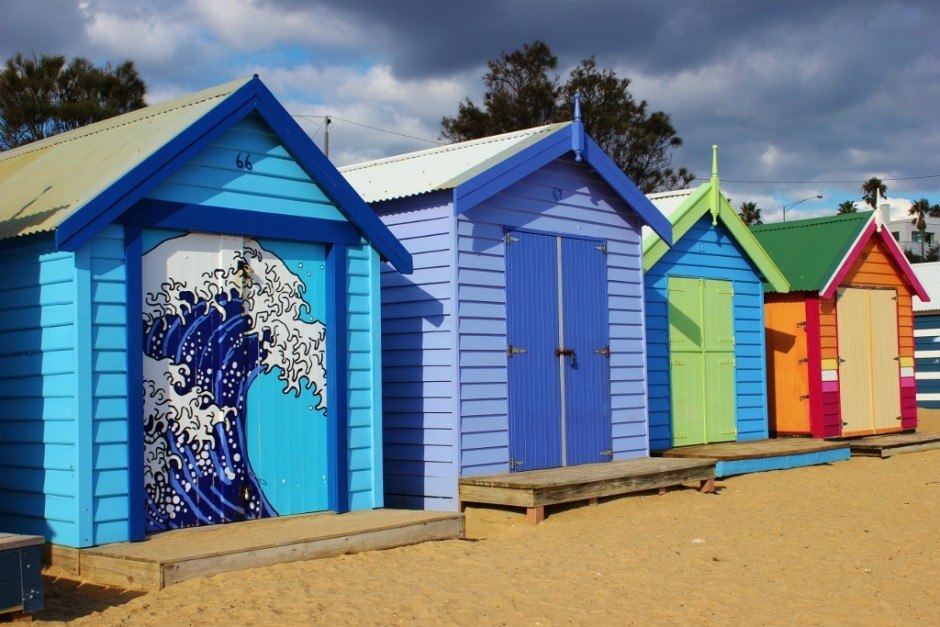 We want to know: Have you seen the bathing boxes in Brighton? Which Brighton Beach Bathing Box do you like best? Leave your comment below!
Pin it!