Hey there! Welcome to JetSetting Fools! You will find our best travel tips for destinations worldwide. Some of the links on this site are Affiliate Links and if you use them to make a purchase, we may earn a small commission. For more information, read our Disclosure Policy.
---
We are always intriqued by viewpoints. Whether it's climbing to the top of a mountain or taking stairs to the top of a bell tower, we seek out opportunities that provide a better vantage of the landscape. When we learned that Melbourne's Eureka Skydeck ranks as the highest viewing platform in the Southern Hemisphere, we knew it was a view we couldn't miss.
That being said, we had zero intention of climbing the 3,680 stairs to the top – and thankfully, we didn't have to. Instead, the speedy elevator whisked us up the 88 stories in just under 40 seconds. If those fun facts weren't enough to put my acrophobia on high alert, learning that the top of the building can sway up to two feet in winds did the trick. I may like viewpoints, but I don't like heights.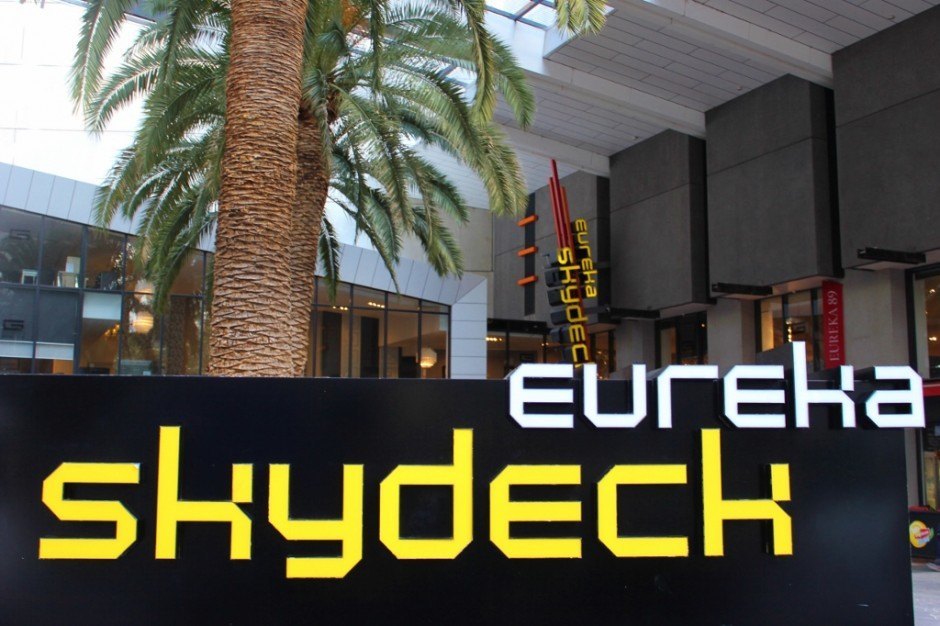 However, my fears were calmed when we entered the Eureka Skydeck, an expansive and comfortable room. With 360 degree views (through very thick and reassuring glass), we could see the entire city, the coast of the Mornington Peninsula, Port Phillip Bay and mountains in the distance. Around the room, thirty viewfinders (and a few free binoculars) were positioned by the windows, identifying the many landmarks below us.
With my mantra, "Just don't look down, just don't look down," playing in my head, I mustered up the courage to take in the view from the small outdoor terrace. The fact that is was fenced both elated and disappointed me. I felt slightly safer than had there been no barrier, but it was quite difficult to snap unobstructed photos.
One thing no mantra could get me into was The Edge. For an extra fee, visitors stand inside a glass box that moves on a track to the outside of the building. I, personally, like to see a solid floor beneath my feet when I'm 900-plus feet in the air. We watched a group partake and, while the initial standing-on-glass experience seemed to impress them, it looked to us like it was a novelty that wore off long before the five minutes were up.
For general admission into the Eureka Skydeck, there is no time limit, so we lingered. In fact, we had brought a packed lunch with us into the city, so we dined on a sofa with the city's best view.
More information can be found on the official website. 
We want to know: Have you been to the Eureka Skydeck? What did you think of the views? Tell us in the comments!
Pin it!