Hey there! Welcome to JetSetting Fools! You will find our best travel tips for destinations worldwide. Some of the links on this site are Affiliate Links and if you use them to make a purchase, we may earn a small commission. For more information, read our Disclosure Policy.
---
It's that time of year. The time when the holiday season is around the corner and the pressure is on to pick the perfect presents for family, friends and co-workers. For those searching for the ideal gift for travelers, we are here to help. As full-time globetrotters, we know exactly what travelers need…and want. Whether you are buying for a novice or seasoned wanderer, our list of 23 holiday gift ideas for travelers includes everything from travel gear to stocking stuffers to unique travel gifts!
Disclaimer: By using these links, we receive commission – and it won't cost you an extra dime. The small income we make is how we fund our blog and travels, so don't hesitate and start shopping! If you are curious, you can read our full Disclosure Policy here – but once you're done with the legalese, don't forget to come back and check out our list of 23 gift ideas for travelers!
Gift Ideas for Travelers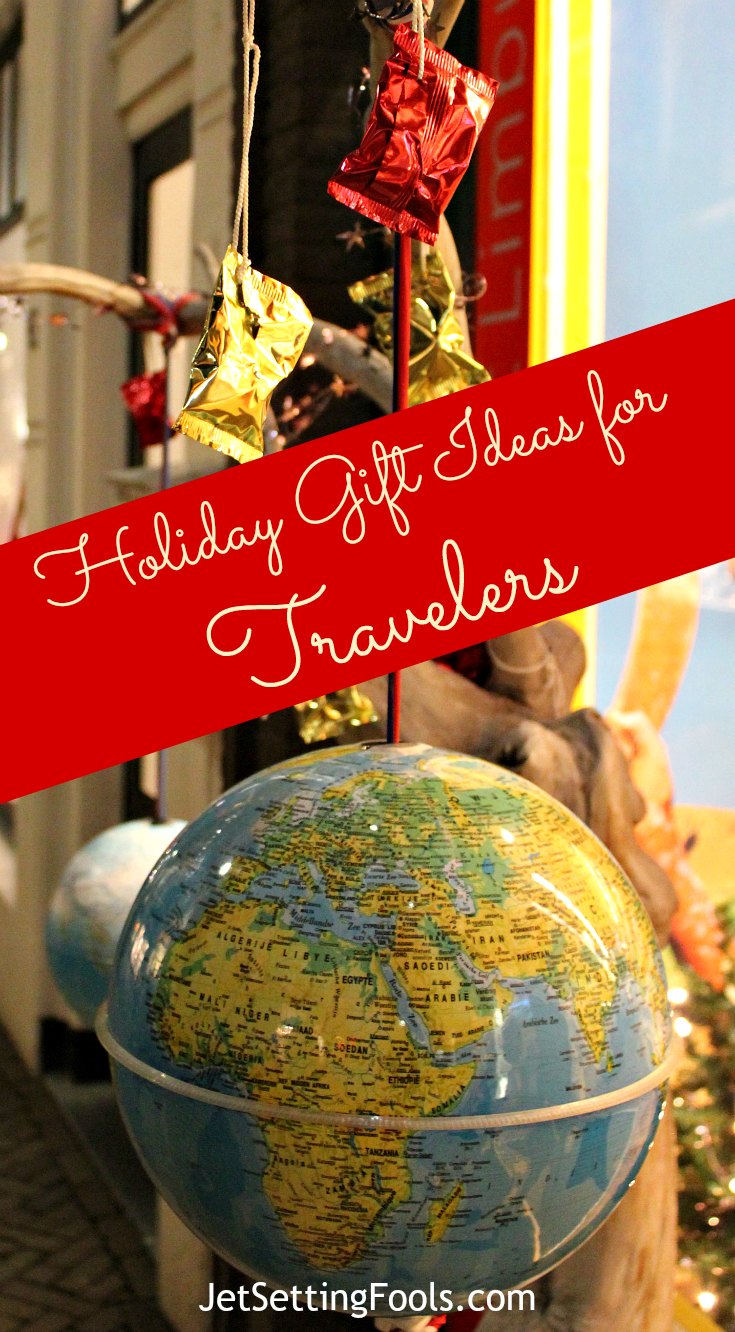 Packing Gear
Backpack
Every traveler needs a bag – and our pick is the Osprey Farpoint 55 Travel Backpack. Long ago we ditched our roller suitcases in favor of backpacks, as it frees up our hands when in transit for more important stuff, like our passports. Kris has been using the Osprey Farpoint 55 Travel Backpack for three years and he loves it! The slim design allows it to easily fit into most overhead compartments and the durable nylon makes the pack lightweight. Another great feature: the day pack can be attached to the back via zipper or clip to the straps and hang off the front.

Day Pack
The everyday day pack that I use is a Timbuk2 Classic Messenger Bag. I know, I know…it's a bike messenger bag, but seriously, it is the best travel bag I have ever used. It's durable, waterproof and has a pocket for everything I carry – including an inner zippered pocket where I keep my wallet far away from thieves' sticky fingers.
Packing Cubes
When we purchased Eagle Creek Packing Cubes, it felt like an unnecessary splurge…three years later, we can't imagine traveling without them. In fact, we've bought a few more to complete our set. In addition to Pack-It Specter Cubes, we also use Pack-It Specter Compression Cubes, Pack-It Compression Sacs and Pack-It Original Cubes. These organizational superstars are lightweight space-savers that every traveler must have!
Need more gift inspiration for packing gear? Check out these ideas:


Travel Shoes
Men's Shoes
It took a long time for Kris to find versatile travel shoes that he could wear with shorts or pants and in the city or on hiking trails, but finally he found Merrell Men's Trail Glove 3. Breathable, washable, comfortable…and they weigh less than one pound.
Women's Flip flops
We may not always be at the beach, but I don't go anywhere without my Reef Ginger flip flops. Durable and lightweight, they are perfect for a day in the sand or in the city. With the extra arch support, I can wear them all day.
Looking for a different style? Shop these shoes we travel (or have traveled) with:


Tech Gear
Canon Rebel Kit
For many travelers, capturing the moments of the trip in photographs is as important as the trip itself…but with what camera? For budding travel photographers, the Canon Rebel Kit is a great place to start as it comes with heaps of accesssories. The latest model of the Rebel DSLR comes with an 18-135mm lens (the everyday lens we use!) and is packed with features to create amazing photos – and it's wifi enabled.
Canon Powershot
For something a little more sleek and portable, the Canon Powershot ELPH is fantastic for traveling. We use it as a second camera because it easily fits in pockets (zippered pockets, of course) and our day packs. With a 10x Optical Zoom and video capabilities, it's perfect to bring along on any trip.
iPad Mini
The entire idea behind the iPad mini is portability. The iPad Mini 4 weighs just a little more than half a pound. Kris uses his iPad Mini as an everyday device – researching cities, saving photos, sharing on social media and staying in touch with FaceTime and emails.
Need accessories for your tech gear gifts? Here are a few ideas:


Memberships
REI
Before we hit the road, we spent a lot of time at REI. We researched products, tried stuff on and made a ton of purchases. But, before we bought anything, we joined the co-op. As members, we earned dividends on the things we bought, we were invited to special sales events and they keep an organized list of our purchases for us, so if we ever needed to return something it was simple. What goes great with an REI membership? REI Gift Cards, of course! REI Gift Cards or e-Gift Cards are a one-size-fits-all gift for your favorite outdoor enthusiast.
Trusted Housesitters
Trusted Housesitters offers travelers a unique way to see the world: petsit and stay in a house for free. Sitters can apply for opportunities all around the globe. House and petsitting with Trusted Housesitters has added a unique element to travel for us. We get to experience the city as locals – and staying for free helps with the budget, too! Annual memberships are available for both housesitters and homeowners.
Travel Blog Success
If the traveler you are shopping for is aspiring to be a travel blogger, a Travel Blog Success membership is essential! The online coursework guides beginner bloggers through the process of starting a travel blog, creating content and marketing the blog for success. As a bonus, there is a members-only Facebook page where bloggers can request critiques and ask any-and-all travel blog related questions.
Wanderlust at Home
Books
To quote Mason Cooley, "Reading gives us a place to go when we have to stay where we are." For all the travelers not currently traveling, reading is the remedy! Of course, we suggest you read our blog, JetSettingFools.com, for travel inspiration, but there are a few books we recommend, too.
For a little romance and a crazy adventure – Love with a Chance of Drowning by Torre DeRoche
For humorous tales of travel abroad – The Sex Lives of Cannibals by J. Maarten Troost
For a glimpse at countries around the world – The Travel Book: A Journey through Every Country in the World by Lonely Planet
For a written memoir of world travel – The Yellow Envelope: One Gift, Three Rules and a Life-Changing Journey Around the World by Kim Dinan (Not yet published, but available for pre-order)
Custom Art
Looking for a way to preserve memories of a special trip? Hire an artist to complete a custom work of art! Colleen Smith, a mixed media artist, can use ticket stubs, brochures and photos from travel destinations to create custom pieces as a special memory of a trip. Check out her style of art (her emphasis is Ohio sports) on her Etsy shop page or contact Colleen by email to learn more about how she can create a unique mixed media art piece for you.
Unique Travel Gifts
Looking for unique travel gifts that inspire wanderlust? Check out the gift ideas for travelers on Etsy – a local marketplace for small businesses to sell their wares – often handcrafted – online. You can find everything from jewlery to mugs to art – designed with a traveler in mind!
The Gift of Travel
Experiences
Are you looking for gift ideas for travelers that include travel experiences? Perhaps gifting an 'experience' with Tinggly is what you're looking for! You choose how much you want to spend and the recipient chooses from hundreds of adventures around the world. From snorkeling the Great Barrier Reef to winemaking in Paris to tango in Buenos Aires, with Tinggly.com you can give the gift of experience!
Book a Trip
There is no better gift for travelers than the gift of TRAVEL! Surprise someone by booking a trip of a lifetime! Start by searching for the perfect trip on Booking.com!
Stocking Stuffers
Flashlight
When traveling to foreign places, it's always a good idea to have a flashlight. I keep my Maglite Solitaire LED flashlight with me all the time. It's come in handy on multiple occasions, like when looking at a map on a dark street corner, reading a menu in a dimly lit restaurant and searching for the light switch in the bathroom in the middle of the night!
Headphones
A good pair of headphones can make all the difference while traveling on long flights and when you just need some time alone with your music. Kris uses urBeats by Beats By Dre for the supreme sound quality and a speaker that allows him to have more private Skype calls in when in public.
Reusable Bag
A reusable bag might not be on every travelers' list, but I can attest that they come in handy at markets, for picnics and while shopping. The Envirosax reusable tote is ideal for travelers: it only weighs 1.4 ounces and can hold up to 44 pounds. Even better, they have stylish designs – including a Travel and Wanderlust series!
Duct Tape
Duct Tape can be a savior for travelers! Whether it's a ripped bag, torn clothing or a broken phone case, Duct Tape can help keep it all together. Sol makes mini-Duct Tape rolls just for travelers!
Money Belt
While traveling, it's a good idea to practice a little caution regarding important documents and cash. In crowded cities, tourists are prey for pickpockets – and not all accommodations have safes for valuables. When we find ourselves in such situations, we strap on our money belts to keep our passports and extra cash discreetly concealed beneath our clothes.
Gift Cards
Amazon Gift Cards make fantastic stocking stuffers. Travelers can use the gift card to purchase everything they need for their next trip!
We want to know: Do you have any other holiday gift ideas for travelers? What is the best travel gift you have received? Tell us in the comments!
Pin it! See all of our travel pins on our JetSetting Fools Pinterest Board.