Hey there! Welcome to JetSetting Fools! You will find our best travel tips for destinations worldwide. Some of the links on this site are Affiliate Links and if you use them to make a purchase, we may earn a small commission. For more information, read our Disclosure Policy.
---
Daytrips from Chiang Mai can take tourists trekking in the forest, zip lining over the trees; to see elephants, tigers, or butterflies; to hill tribes, nearby towns or faraway temples and can be booked for a half day, full day, two or even three days. It can be exhausting trying to determine which one – or ones – to take. After much debate, we finally settled on a Chiang Mai trekking trip that was within our budget and would give us just a taste of what lies beyond the city limits.
Our one-day Chiang Mai trekking trip included playing with elephants, bamboo rafting, eating a local lunch, visiting a hill tribe, trekking through scenic landscapes and swimming at a waterfall (with an English-speaking guide and an air conditioned bus) all for $30 each.
Chiang Mai trekking trip: Playing with elephants
There's a great deal of debate – even within ourselves – regarding whether or not elephant camps for human interaction should even be offered. We were on the fence as to how we would participate, reserving a decision until we got there. If we saw noticeable mistreatment, we would decline to join in; if the mahouts (elephant trainers) were caring toward the animals, we would partake.
Of course, once we were there, we were swept up in awe of the elephants and when we were instructed to sit on the saddle attached to their back, we followed directions. We only rode on them a short distance up the side of a hill, back down into the river valley and through the water. The gigantic animals effortlessly maneuvered through the trees and muddy waters; their enormous, flat-bottomed feet never uncertain. My uncertainty, however, had me hanging on for dear life and while riding an elephant was an experience, I would have preferred to be on the ground interacting with them, rather than sitting on top of one.
Fortunately, once the ride was over, we got the chance to do just that. Playful baby elephants used their trunks to introduce themselves and we stood eye-to-eye with the mature elephants as they munched away on lunch. We could pet and feed them…or just stand and watch the gentle giants in wonder.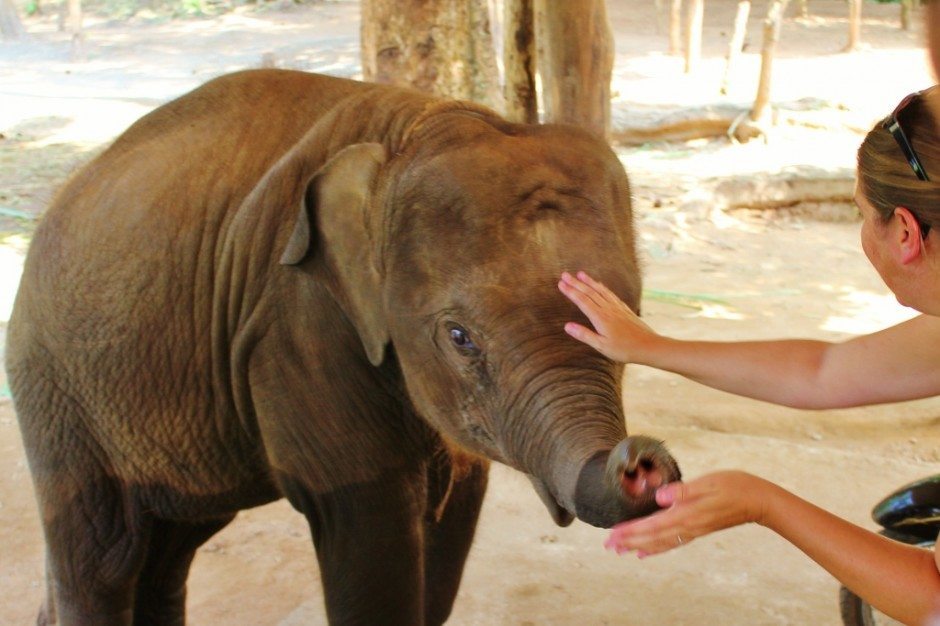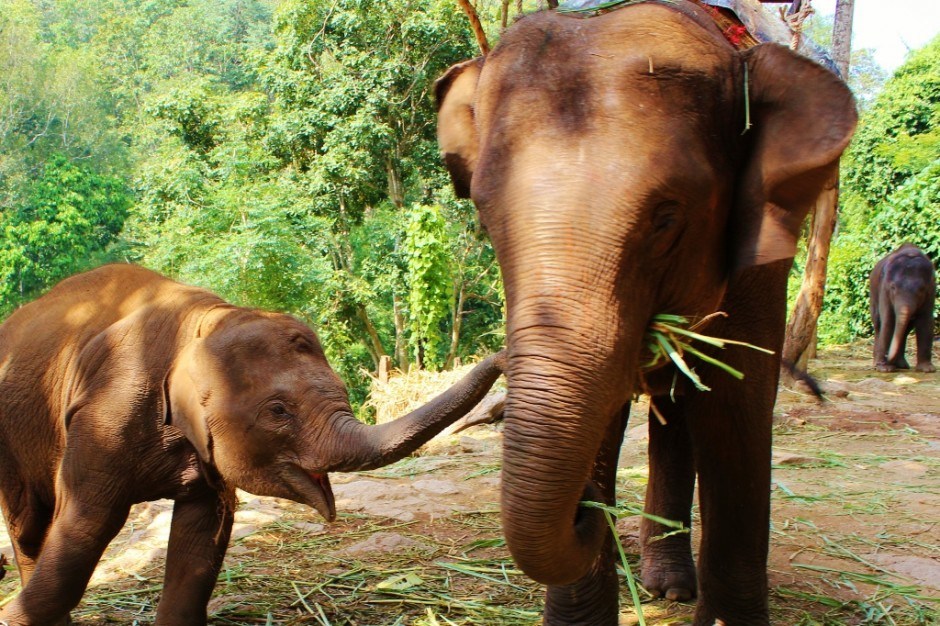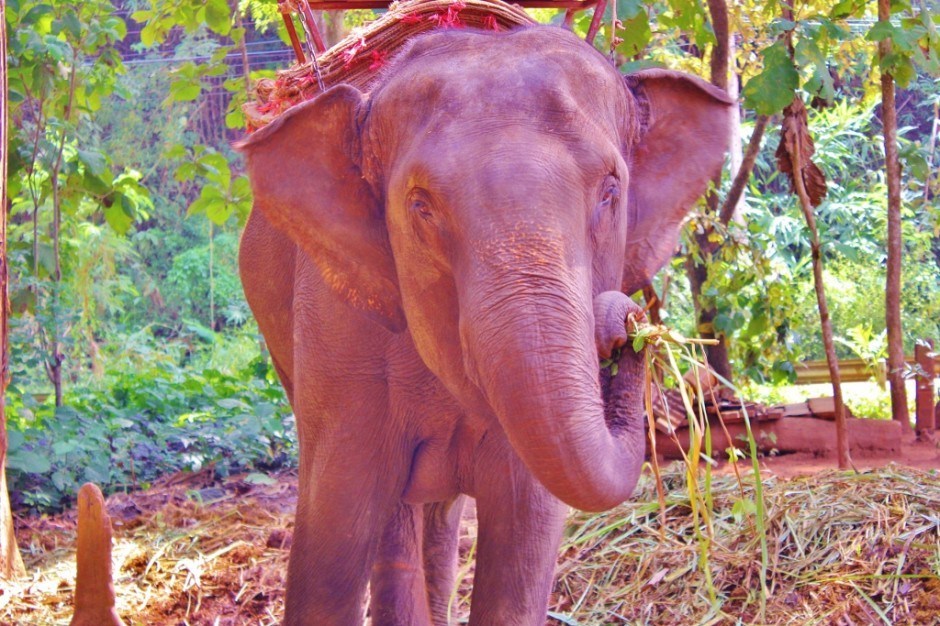 Chiang Mai trekking trip:
Bamboo Rafting
We were promised we would get wet while bamboo rafting…and they were true to their word. It would actually be nearly impossible not to get wet while riding a bamboo raft down the river. The raft is constructed of about ten 30-foot-long bamboo rods strapped together with old rubber tire strips.
We sat near the middle of the raft as our 'captain' stood at the front, using a thin bamboo stick to guide us along the way. Occasionally, he would slap the water with his oar trying to scare us with stories of spotting water snakes. We drifted down the shallow river, through a few small rapids, under swaying, wooden bridges and past exceptional, lush riverside scenery.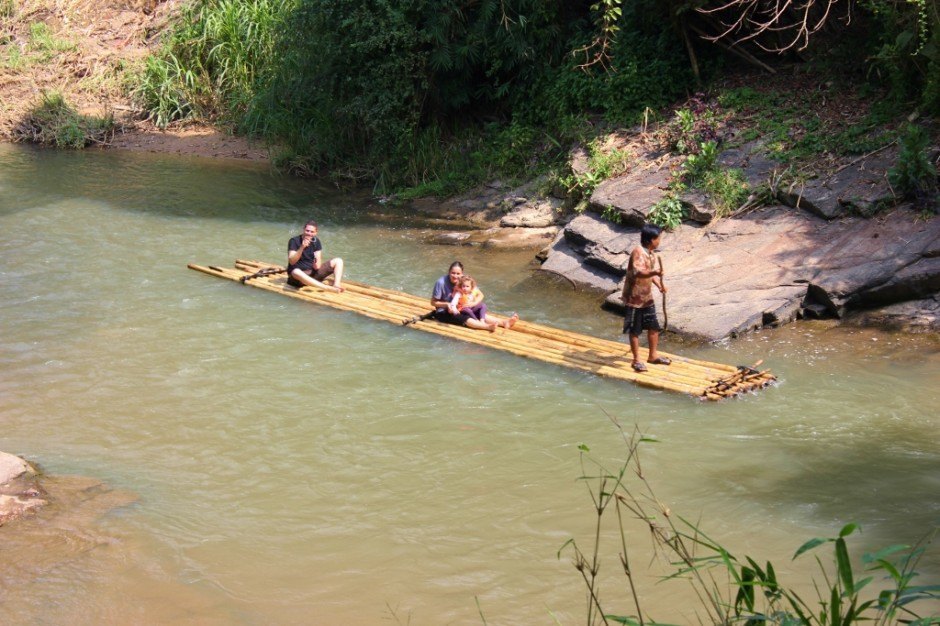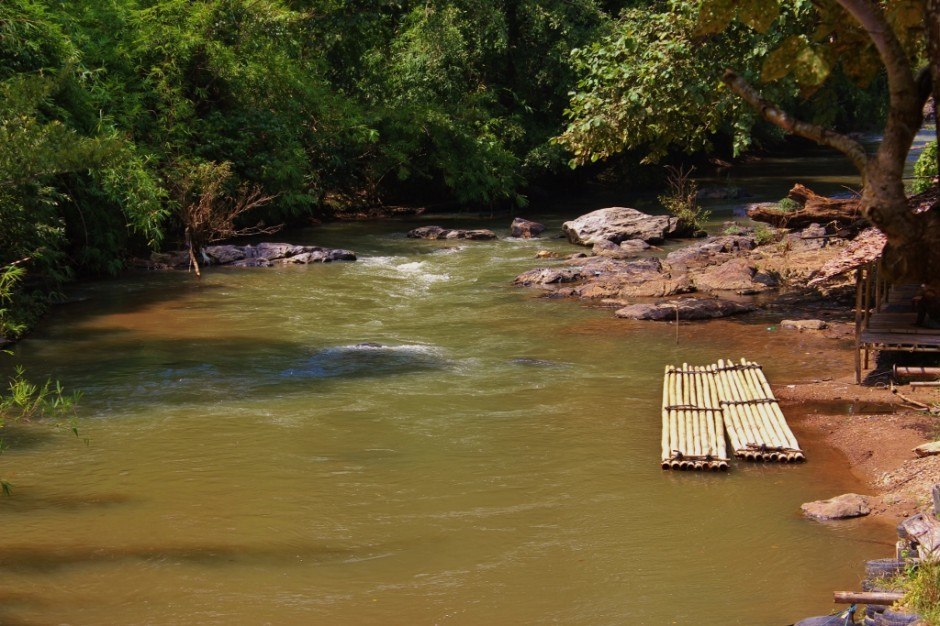 Chiang Mai trekking trip:
Visiting a hill tribe village
The White Karen tribe is originally from Burma and China, but have been in Thailand for more than 100 years. We visited during the day when most of the people were at work in the fields, in the city or at school. A few women lounged in hammocks and watched as toddlers played with puppies and the pigs. One woman worked making a scarf on a loom similar to the one we saw being used in the village we visited in Dalat, Vietnam.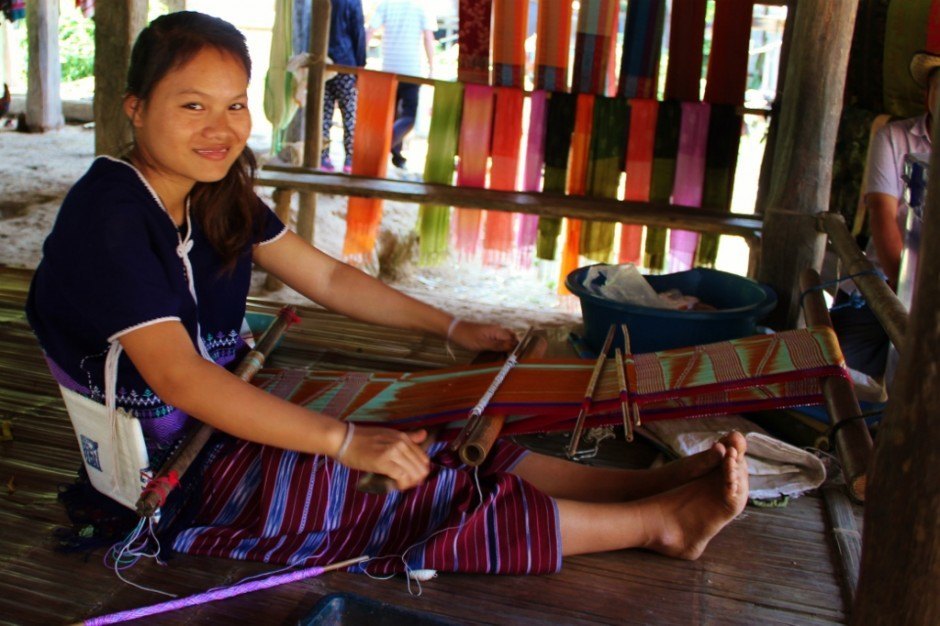 The houses covered the hillside and were made of wood and bamboo and roofs were made of leaves. We were shown the traditional clothes – white cotton dresses for unmarried women and red shirts for men – but we learned that these garments are now only worn for special occasions and weddings.
The younger generation is being lured into the city for education and jobs and they are bringing new technology and modern conveniences into the village. It made me wonder how much longer a rural village like this can survive.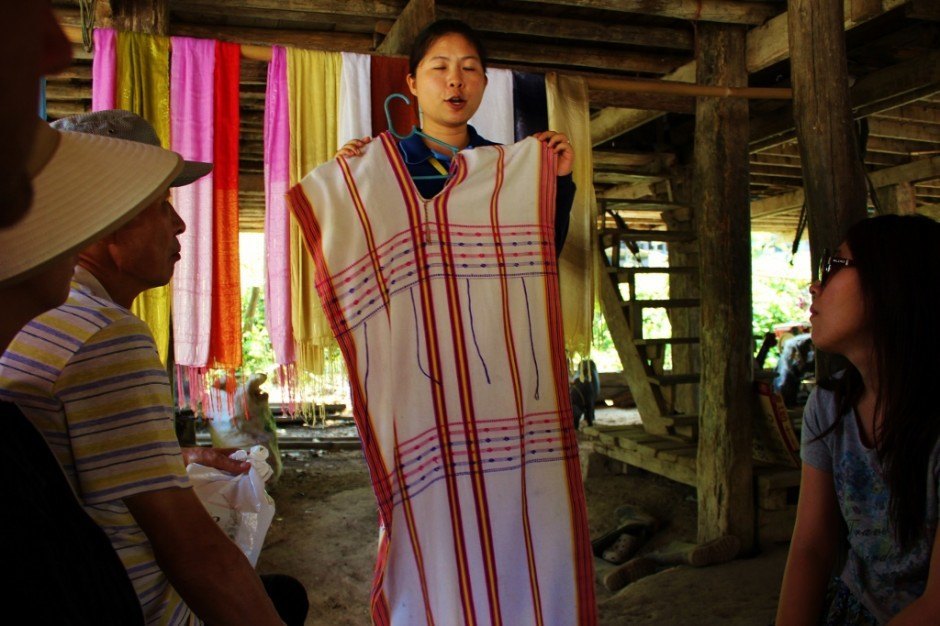 Chiang Mai trekking trip:
Trekking
I would classify our 'trekking' as more of a stroll down a dirt road than a trek through the mountains. It acutally worked out nicely, as it allowed us the opportunity to talk to our guide, Pia. As we walked past rice fields, she showed us the different varieties, explained the harvest and pointed out insects that trouble farmers. As we entered the forest, we noticed trees wrapped in orange cloth; Pia told us that people dress the trees like monks as a way of protecting the forest.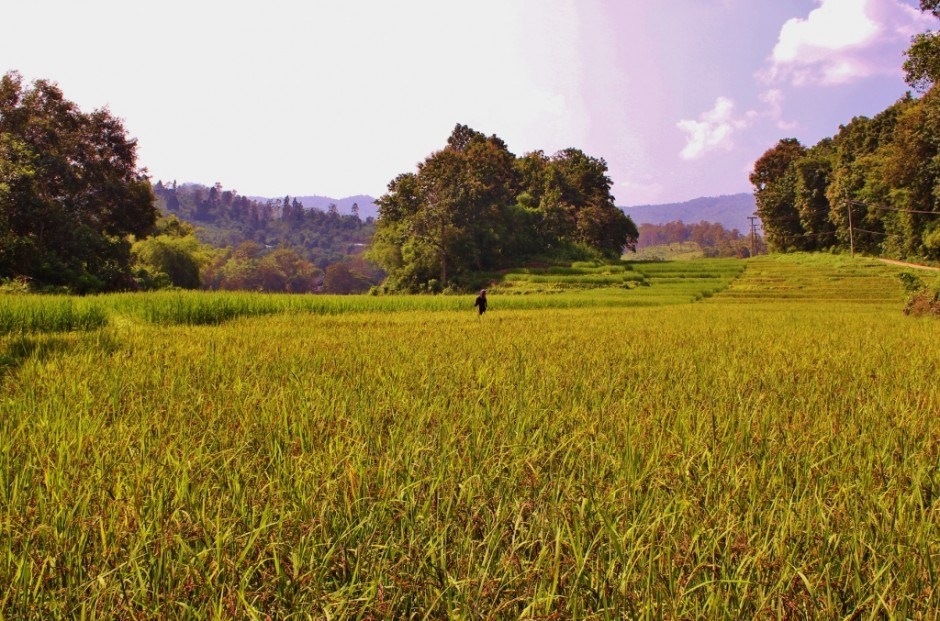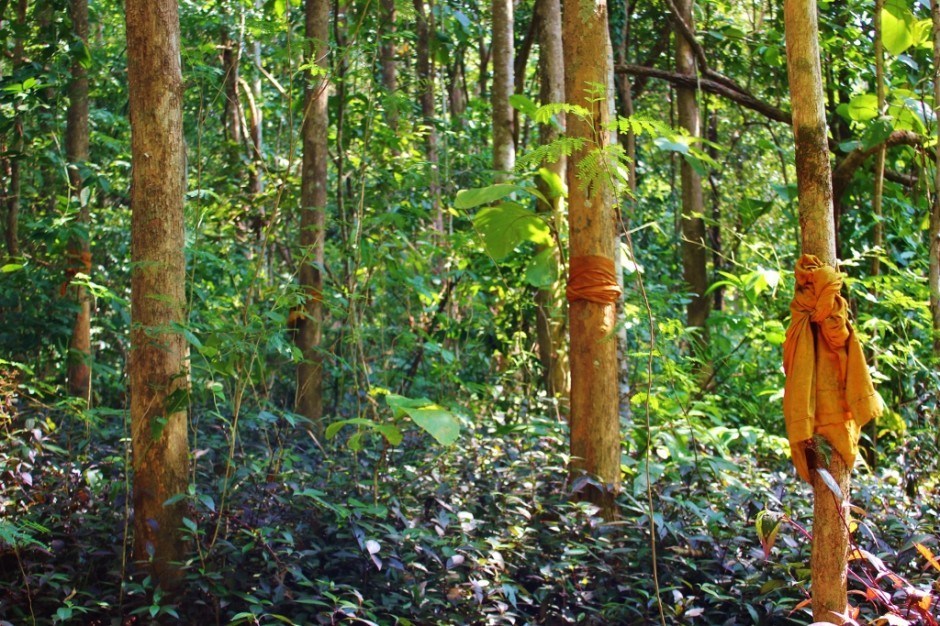 As we walked, we learned about mushrooms, spiders, fruit and teak trees, which are now illegal to cut down without government permits. We also learned more about Pia, her studies and her family.
The vistas across the fields to the mountains beyond were almost unreal; looking more like a painting than reality. It was like beautiful backdrops had been placed along the way for our trek, only the workers in the field bringing it to life.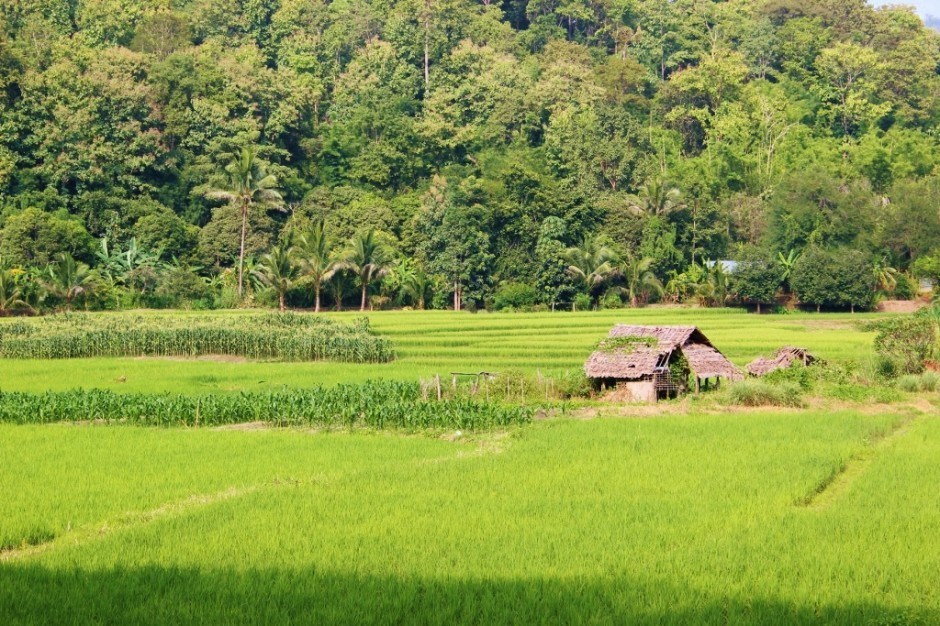 Chiang Mai trekking trip:
Swimming at the waterfall
Our trek took us into the forest to a waterfall thundering into a small pool below. The sun was shining over the top of the spilling water, highlighting the mist that rose into the trees. We crossed a rickety bamboo bridge to large rocks that led down into the water.
The water was cold and the current was swift, but that didn't keep us from dipping in. We splashed around trying to gain solid footing as we watched young daredevils climb the rocks behind the falls and cliff jump into the pool. We could have stayed at the waterfall all day, but it was time to continue on our trek toward the van that would take us back to Chiang Mai.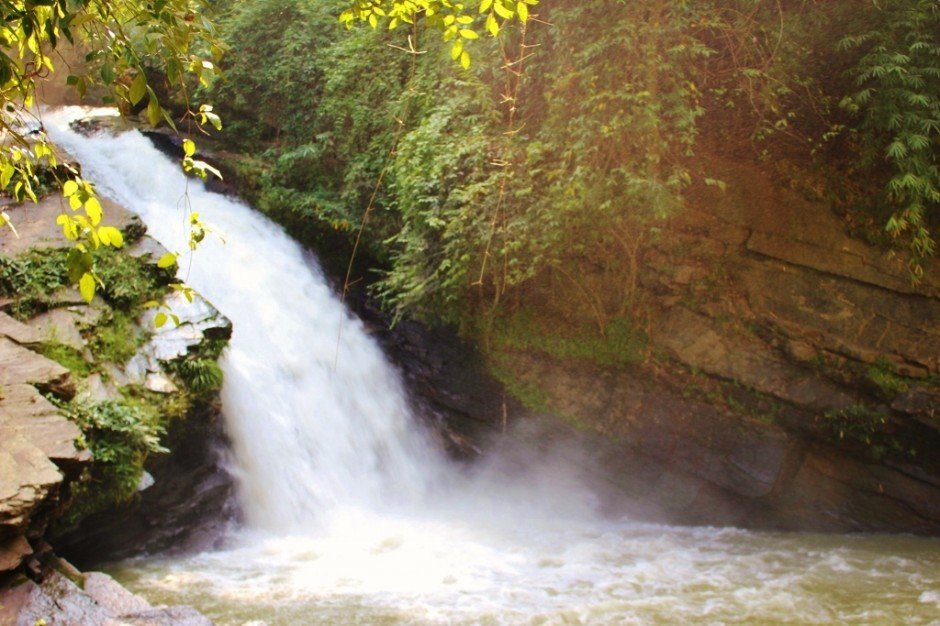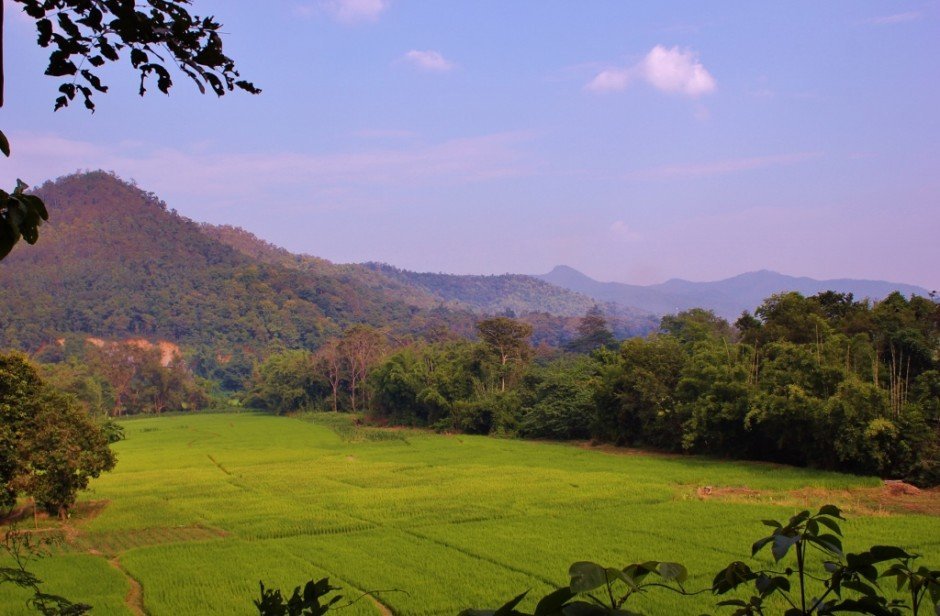 What day trips have you done in Thailand? If you're planning your trip, what kind of tours appeal to you?
Pin it!