Hey there! Welcome to JetSetting Fools! You will find our best travel tips for destinations worldwide. Some of the links on this site are Affiliate Links and if you use them to make a purchase, we may earn a small commission. For more information, read our Disclosure Policy.
---
In the old city of Chiang Mai there are no shortage of places to get traditional Thai massages. Prices for one-hour traditional Thai massages start at about $6 USD and no appointment is necessary. Some of the art on the signs had me a little nervous about how I might be twisted like a pretzel, but it didn't really matter: I was getting a traditional Thai massage. Kris, who doesn't find massages nearly as enjoyable as I do, decided it wouldn't be the full Chiang Mai experience without partaking, so he came along with me.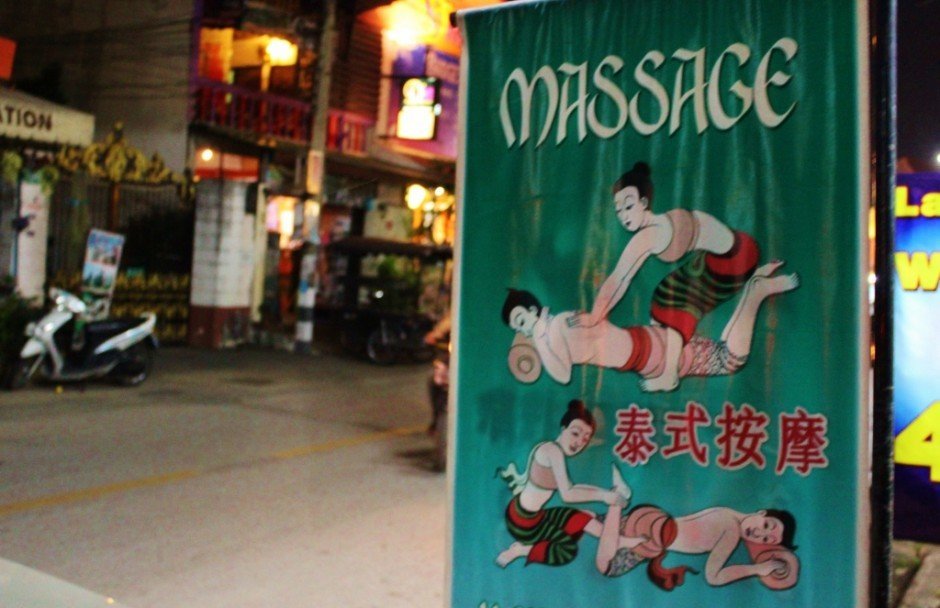 When we arrived to get our traditional Thai massages, we were handed oversized, beige shirts and pants and told to change into them, discarding all other clothing. I came out with both the top and bottoms on backwards, putting the receptionist into a fit of giggles. Apparently, the buttons on the shirt go in front and ties on the pants go in the back. Once I got sorted out we waited in our matching outfits for our masseurs to arrive.
Two young men came for us and led us up wooden stairs to a dimly lit, cool room with eight mats, each with a sheet and pillow on a creaking, wooden floor. I was ignoring the steely glares from Kris, as this was not the scenario he had anticipated, and emphatically rolled my eyes as I got comfortable on my mat.
Neither of the men spoke English, so without any conversation, they went to work, starting with washing our feet. Once washed and dried, the massage went from our feet, up our legs, to our arms and then our heads, including our faces. We were then told to turn over and the massage started again at our feet, up our legs, and on our backs.
Unlike massages I'm used to getting where I lie on a table and the masseur works from a standing position around the table, traditional Thai massages require a much closer masseur/client relationship.
In order to massage my calves, the masseur sat in between my legs and rested the leg he was massaging across his legs. While massaging my head and face, he sat on the mat and cradled my head on the pillow in his lap. To massage my back, he kneeled on my legs with his knees touching my buttocks. To stretch my back, he sat behind me, his chest pressed to my back, and gripped my wrists so I mimicked his movements.
Another difference was the fact that the massage took place on top of the clothing, which is why the specific clothes were required. And, no lotion or oils were used; it was all about applying pressure and then extending the muscles.
For me, the hour flew by and I was amazed at how limber and relaxed I felt. At first, it was a bit odd to be so physically close to someone I didn't know and couldn't communicate with, but I eased a little more with each stretch, resulting in an infinitely better massage.
Before it was even over, I was already thinking when I could return for round two. Suffice it to say, Kris won't be joining me on the next trip.
We want to know: Have you ever had a traditional Thai massage? Did you like it? If you have never had one, do you want one?
Pin it!