Hey there! Welcome to JetSetting Fools! You will find our best travel tips for destinations worldwide. Some of the links on this site are Affiliate Links and if you use them to make a purchase, we may earn a small commission. For more information, read our Disclosure Policy.
---
On shaky legs and with ragged breath, we crested the mountain plateau. We had been steadily climbing uphill for nearly two hours – one hour and fifty-six minutes, to be exact – but we weren't celebrating quite yet. Our goal – hiking Vidova Gora to the top – was not yet attained. The 2,552-foot peak was in our sight – marked with a gigantic red and white communications tower – and we estimated we could reach it with a (relatively flat) 15-minute trek.
Pushing onward, we followed the trail onto rocky terrain that resembled the setting for a space odyssey flick; the smooth boulders a welcome relief from the loose stones covering the switchbacks we just climbed. As we rounded a bush, we encountered two goats – a mom and her baby – nibbling at the sparse foliage growing through crevices. They were the first living creatures we'd seen since we left sea-level (well, besides lizards) and it surprised us that we had made it so far on the trail in solitude. The goats sauntered away from us, obviously annoyed by their lunchtime disruption, and we eagerly moved closer to the edge for our first peek down the mountain slope to Zlatni Rat, the famous beach on Brac Island.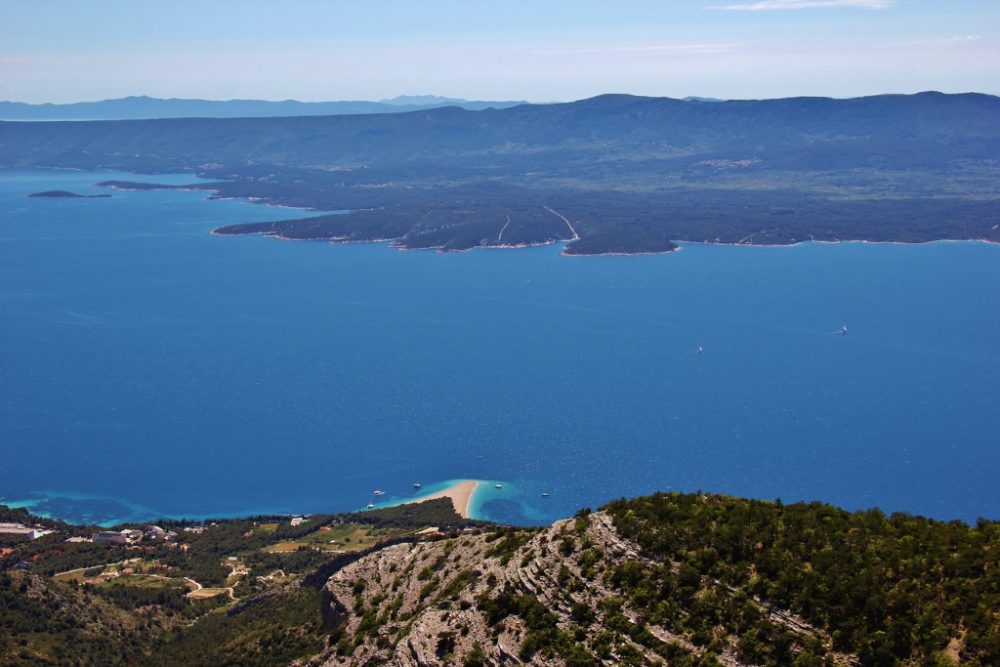 Brac Island and Vidova Gora
Croatia island hopping is bound to be on every Croatia itinerary. Of the hundreds of islands and islets along the Dalmatian Coast, Brac is the largest, with a current population of about 14,000. In addition to wine and oil production, the island is known for its white stone, which was used to build Diocletian's Palace in Split, the Parliament building in Budapest and the columns of America's White House (or, so we heard). Located just off the mainland, south of Split, the island has long been a tourist destination.
On the south side of Brac, facing Croatia's most popular island, Hvar, is the town of Bol: a vacation destination with long stretches of shoreline beach, holiday apartments with sea views, a strong breeze for windsurfers and Zlatni Rat Beach. Zlatni Rat – or Golden Horn – is a unique spit of land made up of the island's white pebbles that extends into the Adriatic Sea and shifts with the current and tide. Standing over Bol is the island's tallest mountain, Vidova Gora. The peak of Vidova Gora marks the highest point of all the Adriatic islands and provides some of the best hiking in Croatia. With sweeping views of the Adriatic Sea and Croatia's coastline, hiking Vidova Gora to the top was an absolute must during our trip to Bol.
Hiking Vidova Gora
Type of Trail: Out and Back | Trail Length (one-way): 3.5 miles | Elevation Gain: 2,300 feet | Time: 4-5 hours | Level of Difficulty: Moderate
While doing research for hiking Vidova Gora, we were dismayed to find that the trail was not marked on Google Maps (as is often the case when researching hiking in Croatia). Various hiking websites offered details regarding length and level of difficulty – but not with a concise consensus of stats. We surmised that the Vidova Gora hiking trail is about 3.5 miles in length from Bol to peak, most of which steadily climbs uphill. It took us two hours and 15 minutes to hike up, but the trek down only took one hour and 40 minutes. We rate it as a moderate hike in terms of level of difficulty, due to the relentless incline and, in several places, loose rocks on the trail.
Vidova Gora Trail Overview
The Vidova Gora summit trail begins in a neighborhood in Bol. The paved path (also a street) starts at a slight incline, passing a few homes, a church and a quarry. (We are unsure what work is being done at the quarry. There were many trucks parked along the trail – some that looked like they haven't moved in years. When we were hiking Vidova Gora, workers were driving the trucks around the quarry and had – for some inexplicable reason – a small fire burning in the middle of the trail. They hardly took note of our presence when we skirted around them. We chalked it up to part of the adventure in Croatia.)
Once past the quarry, the trail turns to dirt and leads through a gate and into incredible Croatia nature. The hike becomes a series of long switchbacks, offering beautiful views back down the valley to Bol. About halfway through the hike, the trail passes through an evergreen forest, which provides some relief from the sun. Nearing the plateau, the trail turns from packed dirt to loose gravel for a succession of steep switchbacks (or serpentines, as the Croatian's call them). Once on top of the plateau, the trail levels and it becomes an easy walk over flat boulders to the peak's park entrance.
Vidova Gora Trailhead and Trail Markers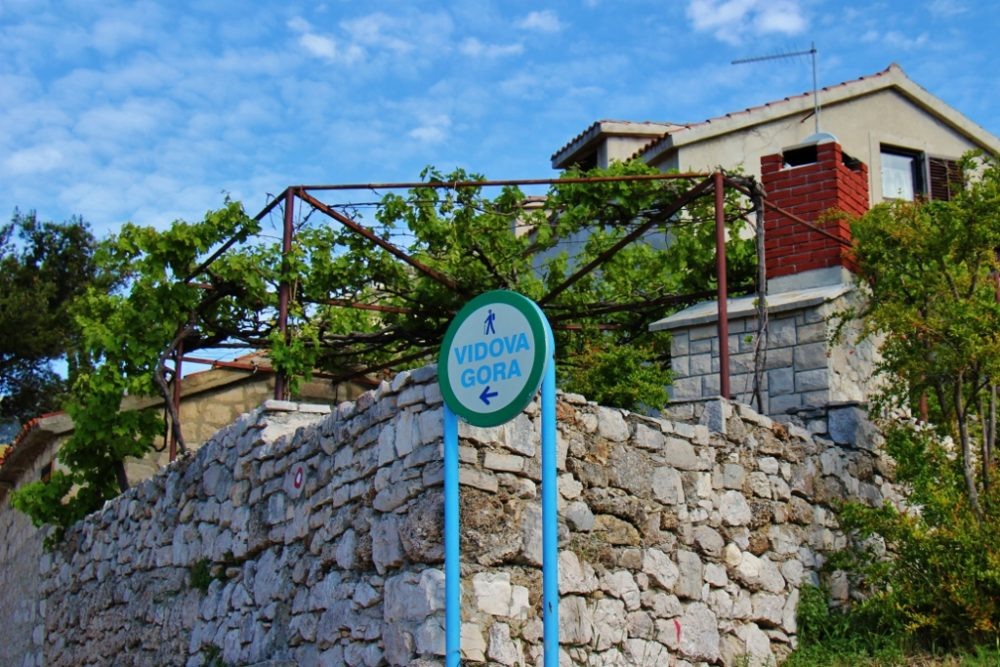 Like many Croatia hiking trails, there was not an official 'trailhead.' The first Vidova Gora sign we saw was near the intersection of Ulica Donje Podbarje and Ulica uz Gospojicu. (Click here for a link to Google Maps.)
Once we were on our way, the trail was well marked with red-and-white dots and stripes painted on trees and rocks (a familiar marker for anyone who has experience in Croatia hiking). Note: Near the beginning of the hike, we noticed a narrow trail that veered to the right from the main path. Both paths were marked, but we stuck to the left.
At the Top of Vidova Gora
The hike ends at the road and entrance to the summit park. (Oh, I didn't mention there was a road that allows visitors to drive to the top instead of hike? Well, there is, but why drive up the mountain when you can hike it?!) At the top of Vidova Gora are several communications towers, a small café (which wasn't open when we were there in May) and a single picnic table. There are several memorial plaques, a large cross made of Brac stone and the foundations of an old church (the latter two are both past the café).
Barriers are non-existent, so visitors are free to tromp around the rocks to the different viewpoints (using common sense, of course). Plan to spend some time at the top (we stayed for over an hour) to walk around and take in the views. To the northeast, the Croatia coastline is visible from Makarska to Split. Across the Adriatic Sea, we could see five islands: Hvar, Korcula, Lastovo, Vis and Sveti Andrija. Looking down the mountain is the town of Bol and the iconic Zlatni Rat Beach.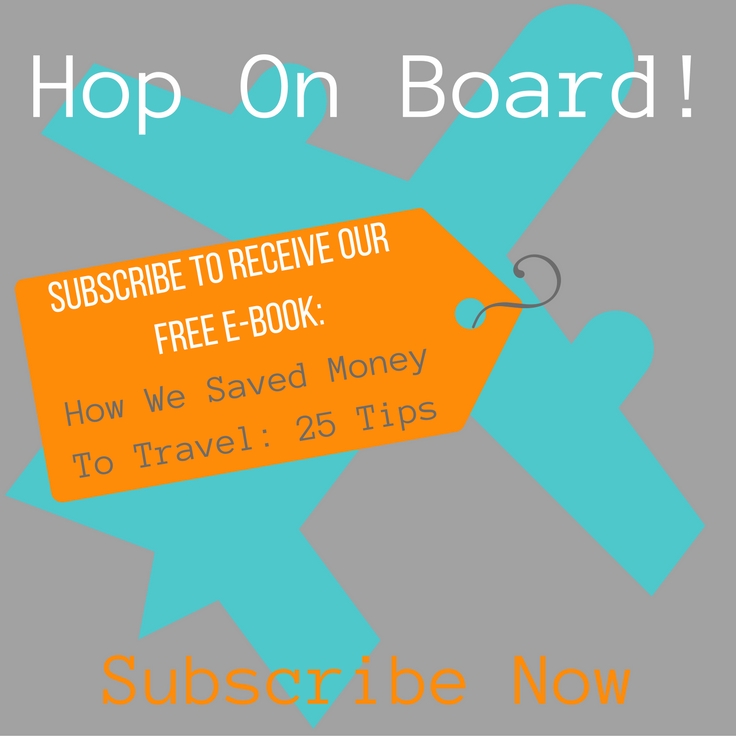 Tips for Hiking Vidova Gora
When to Hike
When hiking Vidova Gora, it's best to get an early start. During our visit in early May, we started hiking Vidova Gora at 9:00am. Not only did we enjoy the cooler morning air, but we also had the trail to ourselves. In the summer, we would have started at least two hours earlier.
What to Bring and Wear
First and foremost, bring plenty of water! There is no water source on the trail. We carried a liter of water each – and wished we had brought more. Consider bringing a collapsible water bottle for trekking in Croatia.
Wear sensible shoes. While hiking Vidova Gora, I wore my Columbia walking shoes, which were fine for most of the trail, although I did slip in some places. Kris wore his Merrell Trail Gloves, which worked great for this level hike.
Sunscreen is essential – and you'll want to reapply, as most of the trail is exposed to the sun. Even with sunscreen, my shoulders were pink before we got to the top. I covered up by draping a jacket over my shoulders for the hike back down. Bonus Tip: Bring sunscreen with you for your trip to Croatia, as it can be expensive – and sometimes hard to find – on the coast. If you are flying and only bringing a carry-on, make sure the bottle is 3 fl oz (100 ml) or less.
We packed a picnic lunch of sandwiches and fruit to eat at the top (which aligned nicely with our morning departure). If you would rather not pack a meal, at least bring some trail snacks, like figs, nuts and pretzels. There is a Tommy grocery store near the trailhead where you can buy supplies.
Don't forget a camera! There are stunning vistas at the top and along the trail.
Of course, it would be wise to use a small backpack rather than trying to carry things in pockets and by hand.
We were envious of the hikers using hiking poles. They aren't necessary, but certainly would have helped…so bring them along if you have them!
We want to know: Is hiking Vidova Gora on your list of things to do on Brac? Have you already hiked Vidova Gora? What tips to you have? Tell us in the comments below!
Our Top Tips for a stay in Bol, Coatia
Getting There
There is a small airport on Brac that accommodates seasonal flights. Ferries from Split, Jelsa and Makarska dock at three ports on Brac Island (Supetar, Sumartin and Bol). Check the Jadrolinija ferry schedule for more information.
Other things to do in Bol (besides hiking Vidova Gora)
Beaches: Zlatni Rat is the beach to go to in Bol, but it isn't the only one. There are beaches along the shore between the marina and Zlatni Rat. Beyond Zlatni Rat, there is a stretch of beautiful beaches designated as nude beaches.
Shoreline Trails: From the center of Bol, there are shoreline trails that lead in both directions. To the east is a trail that leads to the Dominican Monastery (and passes an abandoned hotel on the way). East of the monastery is another beach. To the west of the town center, a pleasant promenade leads to Zlatni Rat. Continuing west, a shoreline trail follows the coastline above the nude beaches, past two vineyards to more beaches.
Bol: There are many cafes along the harbor to sip a coffee or beer while watching the fishermen tend to their nets. Stina Winery, located on the waterfront, offers tours and tastes of local wines.
Looking for more things to do in Bol, Croatia? Check out the top traveler recommendations on TripAdvisor.
Adventure Tours in Croatia
Hiking, biking, sailing, scuba diving, sky diving, rafting, rock climbing, kayaking – the list of active adventures in Croatia is endless. Find and book Croatia tours and activities on Viator.com. Book ahead to save time and money!
Intrepid Travel is another fantastic resource for planning an adventurous Croatian vacation. Get inspired by Intrepid Travel's Active in Croatia or Cycle Croatia tours – and let them sort the details, so you can enjoy your holiday!
Where To Stay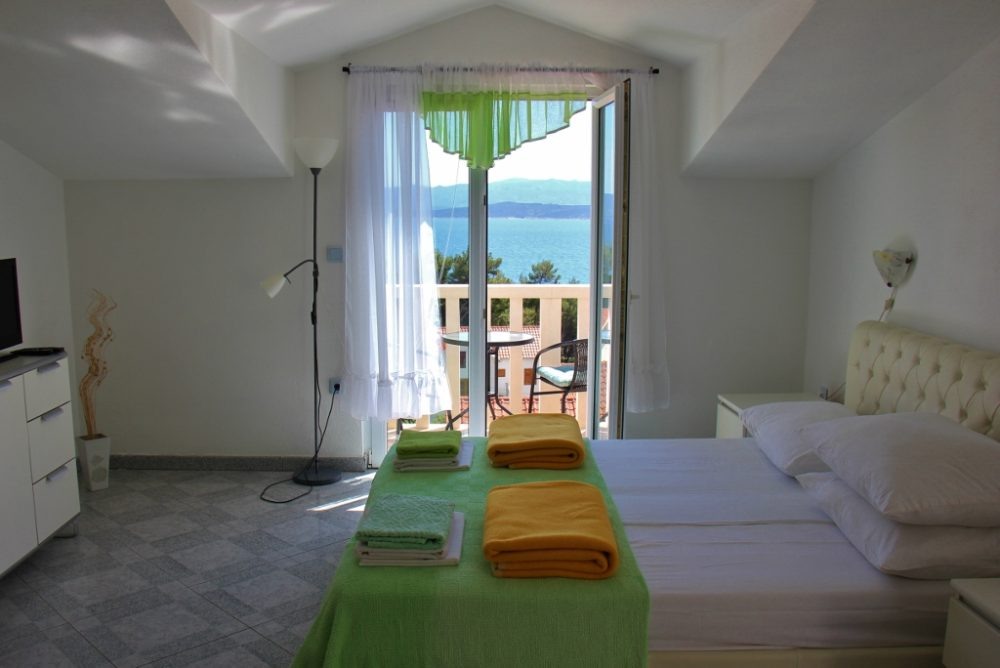 During our visit to Bol, we stayed in this awesome Airbnb Apartment. (Not already a member of Airbnb? Use this link to create an account and save money on your first stay!) However, for those who prefer staying in traditional accommodations, there are a range of Bol hotels to choose from. Check out these top-rated hotels (based on guest reviews!) for your upcoming trip: Boutique Hotel Bol, Hotel Villa Daniela, Bluesun Hotel Elaphusa.

Stay Connected
When you are traveling and want (or need!) to stay connected, a wifi hotspot is the way to go. When traveling through Croatia, you can stay connected with reliable wifi from Roam Free Ninja. The personal mobile wifi hotspot can be rented for days or months at a time and allows you to easily connect to the internet from your mobile devices wherever you are. With a Roam Free Ninja hotspot, you can search for directions, look up sight information and share your travel experiences on social media in real time.
Before You Go
Want more travel planning tips? Head over to our Travel Planning page for our complete packing list and other travel resources! Find more on Croatia on our Croatia Travel Guides page.
Other Amazing Hikes In Croatia
Hiking to Stari Grad Fortress in Omis
Mount Srd In Dubrovnik (and why you don't need to pay for the cable car!)
Hiking to Biokovo Mountain from Makarska, Croatia
Hiking Hvar to the Napoleon Fortress and Beyond

Like what you're reading? Join the journey!
Subscribe to JetSetting Fools and get new blog posts and our quarterly newsletter direct to your inbox:

Pin it! See all of our travel pins on our JetSetting Fools Pinterest Board.