Hey there! Welcome to JetSetting Fools! You will find our best travel tips for destinations worldwide. Some of the links on this site are Affiliate Links and if you use them to make a purchase, we may earn a small commission. For more information, read our Disclosure Policy.
---
We've made no secret of our love for Croatia. From top to bottom, from the interior to the coast, there hasn't been a place we have visited that we didn't fall in love with. With so many incredible Croatia destinations, creating an easy-flowing, all-encompassing route through the country can be a challenge…but it is possible! We carefully considered all of the top places to see in Croatia and devised an absolute perfect Croatia Itinerary.
Best Places to Visit in Croatia
Croatia is a diverse country – and so much more than one iconic city. We've been captivated by the dramatic coastline dotted with islands. Enthralled by the thundering waterfalls in the national parks. Charmed by the historic towns and buzzing cities. Delighted by the traditional cuisine and local wine. The country is simply amazing. Our recommended travel route features the best places to go in Croatia to truly experience the country.
With all the things to do in Croatia, we could easily recommend that anyone visiting Croatia plan to spend at least a month – or more – exploring the landscapes and soaking it all in. However, we understand the realities of limited time off work and have, therefore, devised an ambitious 2-Week Croatia Itinerary.
Planning a Trip To Croatia
With 2 weeks in Croatia, there are hundreds of possible routes through the country. Our Croatia travel itinerary features the best of Croatia– from must-see destinations to lesser-visited gems. That said, we understand that every person has a different travel style and that visitors may have more or less time in the country. To further help others with planning a trip to Croatia, we include Croatia itinerary variations at the end of the post.
Our Croatia Itinerary
Our 2-Week Croatia Itinerary is not for the slow traveler, but for the tourist who wants to see as much of Croatia as possible in a short amount of time. (And, will perhaps pick a region to return to in the future for a more leisurely trip.) This Croatia itinerary moves at a fast pace. It covers the length of the country from north to south, starting in Zagreb and ending in Dubrovnik (although, it could be done in the opposite direction). The route mostly sticks to the coast, with eight stops in total.
Below, in addition to an itinerary overview, you will find a detailed Day-by-Day Trip Planner that includes all of our top travel tips. Our Croatia Travel Itinerary can be used exactly as it is written or as a guideline of what to do in Croatia. To help plan your trip to Croatia, we have also included tips on where to stay, links to more information and general advice about traveling through the country.
This Croatia travel blog post contains everything you need to plan your trip! Save, Pin or Bookmark it so that you can access it during your planning process and while traveling!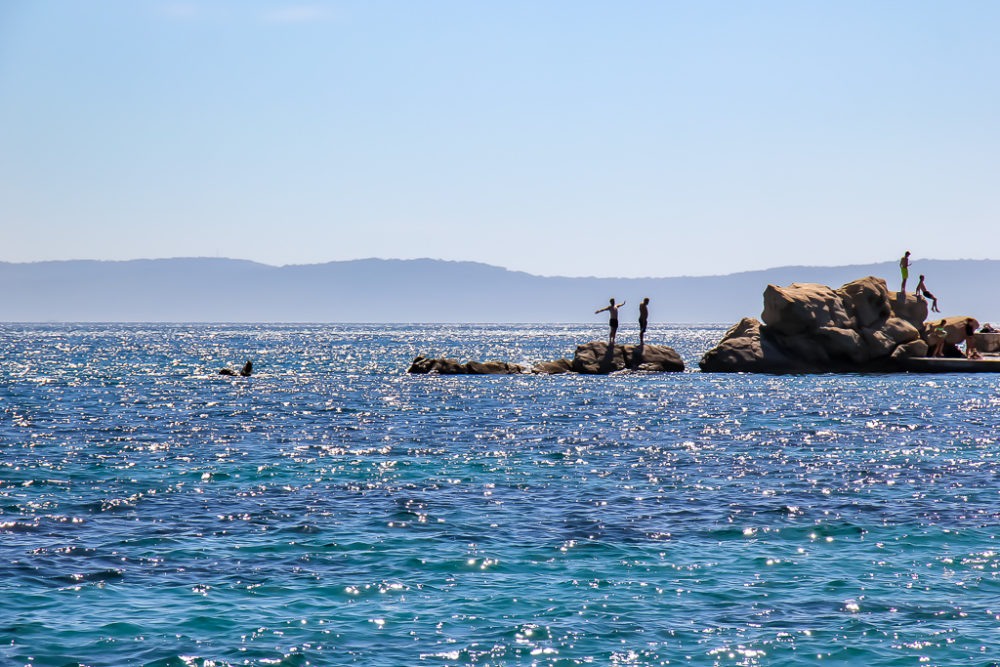 2 Weeks In Croatia Outline
Our itinerary includes overnight stays in eight cities in Croatia. (Although, travelers who would rather stay put in one location longer have options for day trips. We provide alternate trip tips throughout the Day-by-Day itinerary.)
Zagreb (2 nights) – Rovinj (3 nights) – Zadar (2 nights) – Sibenik (1 night) – Split (2 nights) – Hvar (1 night) – Korcula (1 night) – Dubrovnik (2 nights)
Croatia Travel Map
This map of Croatia outlines the route from Zagreb to Dubrovnik and highlights the cities that we include in our Best of Croatia Itinerary. Use this link to Google Maps for an online version of our Croatia Map. We highly recommend purchasing a paper map (like this one on Amazon) in advance of your trip.
Where To Stay and Getting Around Croatia
For each destination, we provide recommendations of where to stay – offering advice on what area to stay in and a specific place (if we have a preference). We often stay in Airbnb apartments, rather than hotels, and there are thousands of Croatia Airbnb apartments to choose from.
We created our 2-Week Croatia Itinerary based on the ability to use public transportation. All of our destinations are linked via bus or ferry – and many of our recommendations are based on travelers not having access to a car. That said, our itinerary for Croatia can just as easily be used for visitors who rent a car. We include detailed tips for accommodations and transport at the end of the post.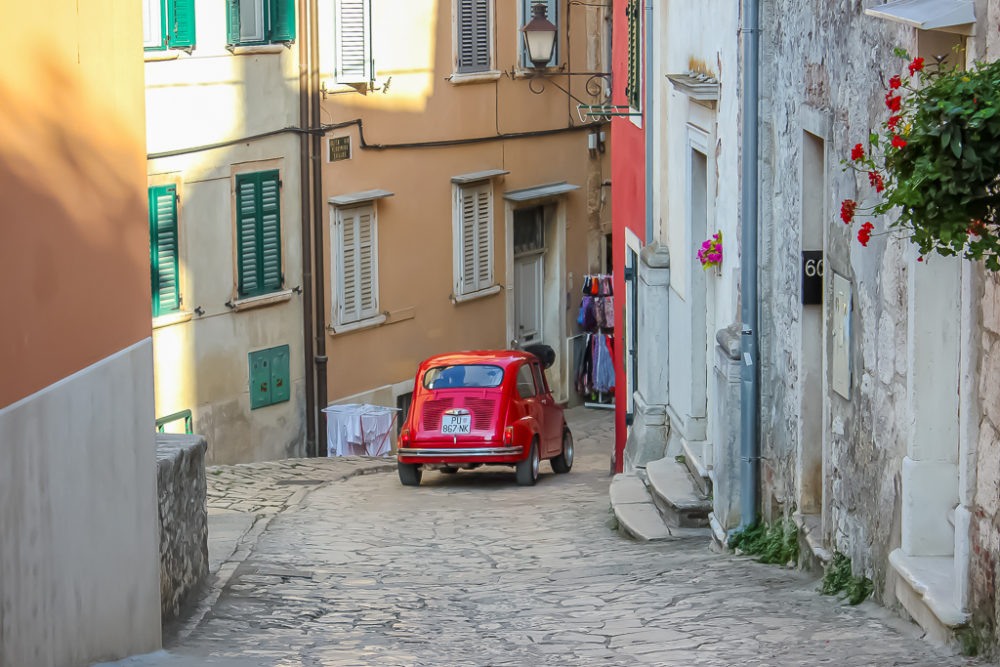 2-Week Croatia Itinerary Overview
Our Croatia travel itinerary is filled with amazing Croatia sights and many of the top Croatia things to do (day-by-day details are below!).
Start your 2-week Croatia Itinerary in Zagreb, the country's capital that moves in rhythm with the pulse of the trams. Get a sense of how the historic city evolved into a metropolis, growing from two separate towns. Explore more of the country's inland landscapes on a day trip.
From Zagreb, travel to the Istrian Peninsula to discover romantic Rovinj, prettily perched on the Adriatic Sea and painted in hues of pink and gold. Spend a day exploring the tastes and hill towns of the Istrian interior. See the historic sights in the coastal town of Porec, then step back in time in Pula, a city on the southern tip of the peninsula and home to incredible Roman ruins.
Take the scenic route along the shoreline easing into the Dalmatian Coast and make a stop in Zadar, another once-walled city situated on the sea with islands just a stone's throw away. After spending a day exploring the Old City and Sea, continue south to Sibenik.
From Sibenik, get a taste of Croatia's beautiful nature off the coast, head slightly inland to Skradin and take a trip into Krka National Park where thundering waterfalls cascade into jade pools.
Next on the itinerary is one of Croatia's best places to visit: Split. The city has history, nature and an urban vibe – and is a hub of transportation activity. Wander the lanes in Diocletian's Palace, hike to a viewpoint and soak in the sun on a sandy beach. Leave Split and the mainland for a couple days of island hopping.
Jump aboard a ferry to discover two of the best Croatia islands: Hvar and Korcula. Spend one night of your Croatia vacation in Hvar Town, where there are beaches, coastline and islands to explore. Catch the ferry the following day and sail to Korcula, a beautiful island with heaps of charm and astounding vistas.
After a night in Korcula, set sail again and cruise to Dubrovnik – The Pearl of the Adriatic – soaking in the sun and scenery along the way. The final two days of our Croatia Itinerary are spent in the country's iconic city that is packed with historic sights and coastline beaches.
Day-by-Day Croatia Trip Planner
Follow our detailed day-by-day outline for 2 weeks in Croatia. Find more information about visiting Croatia at the end of the post!
DAY 1: Arrive in Zagreb
On Day 1 of your Croatia 2-Week Itinerary, arrive in Zagreb and waste no time getting acquainted with the often-overlooked Croatian capital city. Take in the sights of the Zagreb Old Town in the historic districts of Gradec and Kaptol. Use our Self-Guided Zagreb Walking Tour or join a local guide on an organized walk (read reviews!).
If time permits, consider a stroll around one of Zagreb's many parks, like the Green Horseshoe (8 city blocks of green space lined with grand architecture). For drinks and dinner, head back to the old town and dine along the cafe-lined street, Tkalciceva. After dinner, head up to 'Beer Street' for a pint of Croatian craft beer (ask if they have our favorite on tap, Nova Runda!).
Where To Stay in Zagreb
The city of Zagreb is well-connected by a network of trams. Assuming that travelers using this itinerary are utilizing public transportation, we recommend staying near the Zagreb Bus Station (so that you don't have to lug your bags very far!). There are a handful of hotels, boutique accommodations and numerous Airbnb apartments within walking distance from the station. From the station, it's about a 30-minute walk into the city center…but it's much easier to hop on a #6 tram (purchase 'short ride' tickets from a Tisak kiosk for the best price, or slightly more from the tram driver).
Top Tip: From the airport, there is an inexpensive and direct bus to the Zagreb Bus Station.
Find more tips about what to do in Zagreb in our guide of 22 Things To Do in Zagreb.
DAY 2: Zagreb and Regional Exploration
Start Day 2 of your Croatia trip itinerary with a coffee on Jelacic Square. Watch the trams come and go and the consequent rush of people. Visit the historic Dolac market bustling with morning shoppers and then double back through Jelacic Square to Zagreb 360 for a bird's eye view of the city (keep your ticket; it's valid for multiple entries on the same day).
In the afternoon, head out of the city on a half-day Zagreb Day Trip. Go to nearby Samobor, Croatia (which can be done via public bus or on a private tour). Hike up Samobor's hilltop ruins and complete the afternoon with a piece of the famous Kremsnite cake. Once back in Zagreb, ascend to the top of Zagreb 360 after dark for a nighttime view of the city.
Day 2 Alternative: Plitvice Day Trip
Embark on a full day trip from Zagreb to the famous Plitvice Lakes. Swoon over the 16 turquoise lakes connected together by stunning waterfalls. Get the trip details!
Find out more about the top Zagreb trips in our Day Trips from Zagreb post.
DAY 3: Arrive in Romantic Rovinj
Day 3 is the start of your Croatia road trip. Transfer (by car or bus) to Rovinj on the Istrian Peninsula. Upon arrival, immediately immerse yourself in the enchanting old town. Wander the cobblestone lanes that lead to the hilltop church and climb the stairs of St. Euphemia Church bell tower for grand views over the Adriatic Sea.
If the weather is warm, take the stairs down to the rocks and cool off with a swim in the refreshing turquoise sea. Find a spot to watch the sunset, whether at a seaside cafe, along the rocks or on one of the piers. For dinner, enjoy Rovinj's strong Italian influence and indulge in a pizza at Pizzeria Da Sergio, complemented with a glass of local wine.
Where To Stay in Rovinj
We think the Old Town is the best place to stay in Rovinj…and the bus station is just a short stroll away. In the Old Town, there is a choice of boutique hotels, holiday apartment rentals and hostels. Just outside the Old Town, across the marina, there are luxury resorts on a small beach.
Find our top tips for what to do in Rovinj in our Things To Do in Rovinj post.
DAY 4: Tour the Istrian Peninsula
Day 4 is one of our favorite day trips in Croatia! Participants get to spend the day touring the incredibly picturesque Istrian Peninsula. Start with a visit to Karlic Tartufi for a savory breakfast and an expedition in truffle hunting. Next, start drinking early and sip locally produced brandy at Aura Distillery. Stop in the quaint hilltop town, Motovun, for lunch-with-a-view, before heading back to the coast to the historic town of Porec, where you will gander at the opulent interior of the Euphrasian Basilica. Be back in Rovinj for dinner and sample the catch of the day or the famous Istrian Truffle pasta at one of the restaurants along the water.
Top Tip: This fantastic day discovering Istria is not possible by public transportation. To tour Istria, Croatia by car, book a rental car, book an Istria Tour similar to ours (which will not make the same stops as outlined above – Find out More!) or hire a private guide/driver for an Istria Day Trip.
Get all the specific details of our Istria day trip in our One-Day Tour of Istria blog post.
DAY 5: Rovinj Relaxation
On Day 5 of your two weeks in Croatia, soak up the charm and idyllic location of Rovinj. There are numerous options for a relaxing day in – and around – Rovinj. Visitors can head to Golden Cape Forest Park to find a secluded cove for swimming…or rent a bicycle and discover the vineyard-covered countryside. In the afternoon, sample locally produced wine at two Rovinj wineries. Be back to the harbor before sunset and set sail on El Mare or Delfin for an evening sunset cruise.
Day 5 Alternative: Pula Day Tirp or Boat Trip
Visitors who like to always be on the move can opt for another day trip from Rovinj – either on land or by sea.
Boat Trips from Rovinj
Day cruises depart from Rovinj and navigate the seas around the Rovinj Archipelago for a day of sun, fun, swimming and snorkeling. Some of the most popular boat tours are the Lim Fjord Boat Trip and a full-day trip to Venice.
Day Trip to Pula
Alternatively, visitors can hop on a public bus and ride 40 minutes south to Pula, a historic harbor town. Pula is the largest city on the Istrian Peninsula with Roman ruins that rival those in Italy. Spend the day gazing in awe over the preserved 1st century Pula Amphitheater and Temple of Augustus. Learn the history of the city on a guided tour or use our guide of Things To Do in Pula and discover the city on your own.
Top Tip: On Day 4, on your Istria Tour, it is possible to add Pula to the end of the day…especially in the summertime when it stays light longer. By including Pula as part of your day trip, it opens the full day in Rovinj to relax!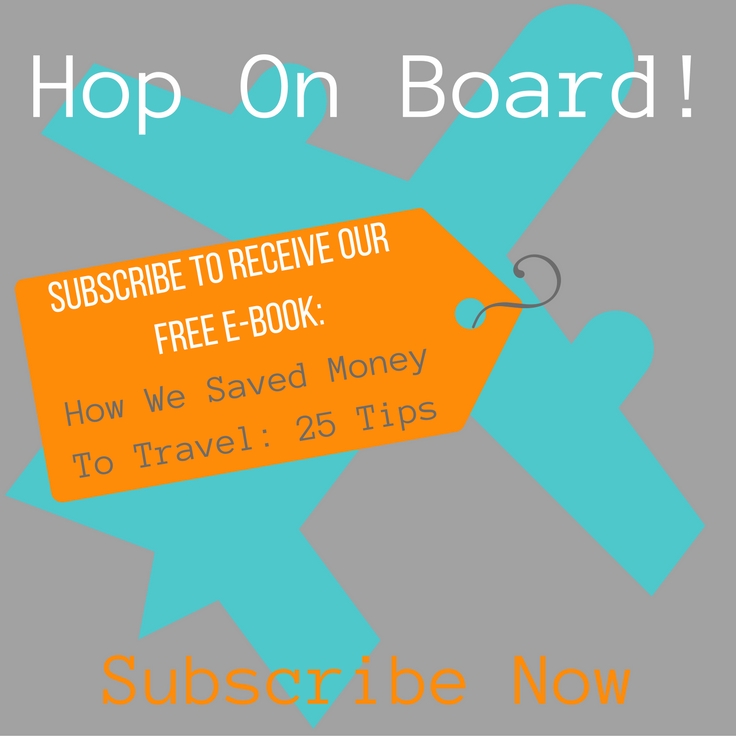 DAY 6: Arrive in Zadar
On Day 6 of your Croatia vacation itinerary, transfer to Zadar by taking the scenic route along the coast. Zadar, which also boasts remains of the ancient past, retains a youthful feel with a large portion of the population comprised of young university students. Get an immediate introduction to the city with our Self-Guided Zadar Walking Tour that circles in a loop past the best sights – or let a guide lead the way – read reviews! – through the streets and history of Zadar.
For dinner, grab an enormous slice of pizza for cheap – or choose one of the many restaurants that line the narrow streets. (Try Malo Misto; we have not eaten there yet, but it comes highly recommended!) End the evening with a taste of Maraschino, the liqueur produced by the local Maraska Company.
Top Tip: There are two routes for a Croatia road trip from Pula to Zadar: highway (faster) or scenic coast (takes about 7 hours). If touring Croatia by car, we recommend taking the coastal road for the beautiful scenery…unless you are short on time. When traveling by bus, inquire whether the route will be on the highway or coastal road – and, if on the coastal road, be sure to get a seat on the right side of the bus for spectacular views.
Where To Stay in Zadar
We stayed in an apartment in the Zadar Old Town – and we loved having the historic city out our front door. However, the Old Town city center Forum is about a 25-minute walk from the station.
Use our Self-Guided Zadar Walking Tour to discover the best city sights!
DAY 7: Explore from Zadar
Zadar's location is ideal for exploration in all directions – including out to sea! On Day 7, take one of the highly-rated boat trips from Zadar. Set sail from the mainland to one of the nearby islands by ferry or take a sailboat trip to the Kornati Archipelago. Be back in Zadar in time to watch sunset from the steps of the Sea Organ.
During our stay, we took two ferries from Zadar; one to the island of Ugljan, just across from Zadar and another ferry all the way to Dugi Otok. In Ugljan, we had plenty of time to explore the small villages and coastline. However, when we took the ferry to Dugi Otok, it was simply an affordable way to spend the day on the water (there isn't even time to get off the boat!). Read more about Ferry Trips from Zadar.
Day 7 Alternative: If you didn't visit Plitvice Lakes from Zagreb – and if it is a must-do on your trip – join one of the highly rated Plitvice Lakes day trips from Zadar. Bear in mind, however, that on Day 8, you have the option to visit Krka National Park.
Find the best tours in our guide to Day Trips from Zadar.
DAY 8: Visit Krka National Park then Arrive in Sibenik
Get an early start on Day 8 of your Croatia two-week itinerary and transfer to Skradin. The Croatia city was once a powerful town in the region, but now the small town mostly serves as the entrance to Krka National Park, another stunning waterfall park in Croatia. Buy tickets from the official park office and take the first available ferry to the park.
Spend the day walking around and over the beautiful waterfalls, then jump in for a swim at the base of Skradinski Buk, the largest waterfall in the park. Back in Skradin, walk around the town to a handful of sights and be sure to make the climb up the city center hill for 360-degree views before catching a bus to Sibenik. Use our Guide of Things To Do in Skradin for more tips!
Top Tip: Travelers using public transportation can leave their luggage with Active Destination Tourist Agency. People who are self-driving can simply leave their luggage in the car.
Sibenik
Arrive in Sibenik by late afternoon, while there is still plenty of light to discover the sights of the town. After getting settled in your accommodations, set out on foot to see the top Sibenik attractions, like the St. James Cathedral and the St. Michael Fortress. In the evening, enjoy a peaceful waterfront meal and one of the many restaurants.
Day 8 Alternative: Krka Day Trip from Zadar
Don't want to move to new accommodations in Sibenik for just one night? Opt instead to stay in Zadar and take a day trip to Krka that includes Sibenik. Get the details of this trip! Although it is technically backtracking (something we try to avoid in itineraries), it will eliminate the hassle of packing and unpacking.
Top Tip: If you would rather skip Krka National Park altogether, we recommend heading to Split a day early and spending one extra day there or on one of the Croatia islands. You can use our 3-Day Split Itinerary for tips!
DAY 9: Arrive in Split
On Day 9 transfer to Split (one of our favorite cities in Croatia!). Split is a bustling city with a lively waterfront and ancient past. Walk Split's Old Town on your own or with a guide and discover the remains of Diocletian's Palace (a must see in Split, Croatia!) and explore the streets of the town that grew around the ruler's residence.
After an afternoon of history, return to modern times and walk the Riva. Sit at one of the many cafes to have a drink and soak in the atmosphere (grab a front-row seat for sunset!). For dinner, find Trattoria Bajamont, a quaint and traditional restaurant, along a narrow lane in the palace. For something a little more upscale, head to Restaurant Apetit or Articok.
Where To Stay in Split
We have stayed in many different accommodations in Split – from the Old Town to the Varos Neighborhood to apartments north of the city. Our preferred neighborhood, however, is Bacvice. Located east of the ferry port and bus station near the city's most famous beach, Bacvice has many (many, many) places to stay. There are high-end hotels near the beach (Hotel Park and Briig Boutique) and plenty of choices of Airbnb apartments.
Use our guide of the Top Things To Do in Split, Croatia to plan your time in the city!
DAY 10: Discover Split and Beyond
In the morning of Day 10 of your Croatia holiday itinerary, set out on a half-day trip from Split. Go north (via public bus or tour to Trogir. The UNESCO Heritage city encompasses a small historic island, which is reached by a short footbridge. Alternatively, go south to Omis to make the hike up to the Starigrad Castle, which provides stunning views of the surrounding area. One more option is to continue further south along the coast to Makarska, a pretty seaside town with a picturesque harbor and beautiful beaches. Read our guide on Things To Do in Makarska!
Be back in Split by early afternoon. Walk through the Varos neighborhood to Marjan Hill and take in the scenic viewpoint. If you are feeling motivated, continue along the paths on Marjan Hill to the hilltop viewing platform for 360-degree views over the sea and city.
At sunset, have a cocktail at one of the marina cafes – or for a more unique experience – stop by Little Beer Shop near the fisherman's port, Matejuska. Grab a few Croatian Craft beers and drink with the locals on the pier. Have dinner at one of the family-run restaurants in the Varos neighborhood or eat a traditional meal of Peka at Konoba Kod Joze (but be sure to put your order in a day in advance!).
Day 10 Alternative: Split Beaches
Rather than making a trip out of the city, hike Marjan Hill in the morning and then find one of the Best Beaches In Split where you can spend the afternoon swimming in the Adriatic Sea. Or for more things to do from Split, read our Best Day Trips from Split post!
Find out top suggestions for where – and what! – to eat in Split in our round up of the Best Split Restaurants!
DAY 11: Island Hop to Hvar Town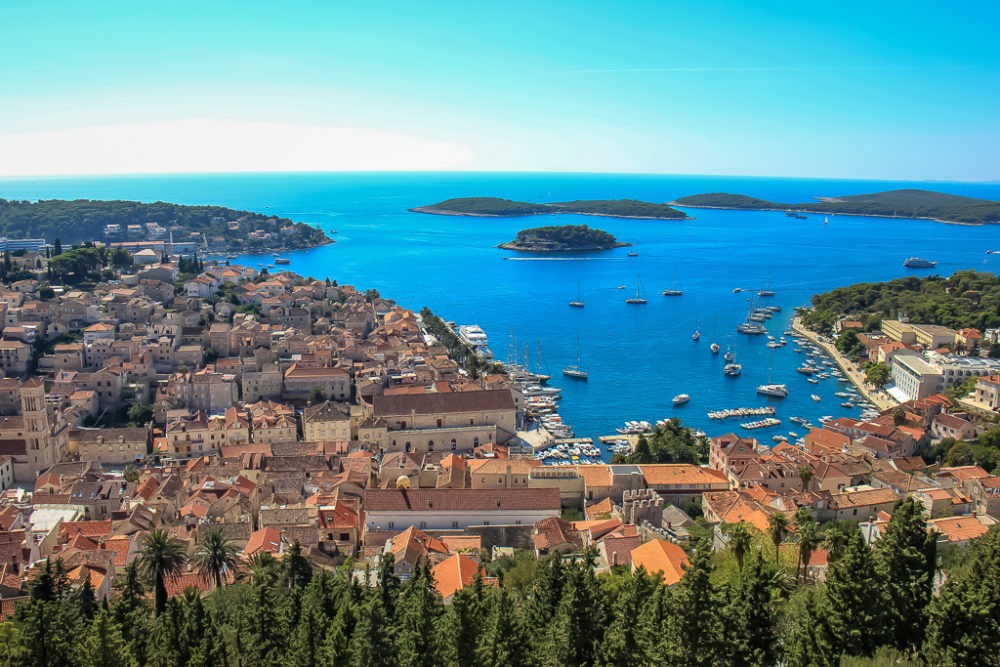 It's time for Croatia island hopping – an essential key to every Croatia itinerary! On Day 11, catch an early catamaran (operated by Jadrolinija or Krilo) to posh Hvar Town on Hvar Island. Get settled into your accommodations (or just leave your luggage if it's too early to check in) and take advantage of a full day in the city.
First explore the sights of the Old Town and climb to the hilltop Spanjola Fortress that watches over the city. Then, take a coastline walk to hidden bays for a swim in the Adriatic or rent a small boat and explore the nearby Pakleni Islands.
In the early evening, try the locally produced craft beer from Vunetovo, then watch sunset from laid-back Falko Bar. For dinner, indulge in a traditional meal at Konoba Menego or feast on fresh seafood at Junior.
Day 11 Alternative: Hvar Day Trip from Split or Stari Grad on Hvar Island
We have a few alternative tips for your time in Hvar. First, if you would rather not move accommodations, Hvar Town is easily accessible via catamaran for a full day trip. Just make sure to purchase your return ticket in advance so that you don't get stuck on the island.
A second option is to visit Stari Grad on Hvar Island rather than Hvar Town. The gorgeous Old Town is just steps from the UNESCO listed Stari Grad Plain and offers a completely different experience from Hvar Town.
Top Tip: Yet another option is to plan to spend two nights in Hvar – allowing enough time to visit both Hvar Town and Stari Grad – and skipping the next destination of Korcula Island.
Where To Stay in Hvar Town
In Hvar, we like to stay right in the heart of the city – and there are both hotels and apartments to choose from. That said, on our first trip to the city, we treated ourselves to a stay at the Amfora Grand Beach Resort, which is a fabulous hotel just a ten-minute walk to the city center harbor.
Find all of our tips for Things To Do in Hvar Town on our blog!
DAY 12: Cruise to Korcula
On Day 12 of your 2 weeks in Croatia, set sail for the old-world town of Korcula. Claiming to be the birthplace of Marco Polo, the old walled city is a fascinating place to visit. Wander the neatly planned cobblestone lanes to the city's top sights: Town Gate, St. Mark's Church and the House of Marco Polo. For views of the city from a distance, walk west, outside the walls, along the shoreline or south to hilltop viewpoints. For sunset cocktails, go to Massimo, a unique bar in a turret (just be careful when climbing the ladder!).
Have dinner al fresco along the seawall – or venture inland to the town of Zrnovo. The small village is known for its unique pasta dish: Zrnovski Makaruni. We recommend eating at the Pinjac Pub, where they make traditional meals and brew their own beer on-site (in fact, it's the only brewery on the island!).
Where To Stay in Korcula
Although it is a small city, there are plenty of places to stay in Korcula Old Town. During our trip, we stayed in Hotel Korcula, which was steps from the ferry port. Even better, our room had the most amazing view of the sea.
Read our top tips for Visiting Korcula in our Things To Do in Korcula post!
DAY 13: Set Sail for Dubrovnik
The last two days of your Croatia 14-Day Itinerary will be spent in the country's iconic city, Dubrovnik. On Day 13, take an early boat to the city dubbed "The Pearl of the Adriatic" and discover the most popular of all the Croatia cities.
Get an overview of the city (literally) with an elevated walk around the city walls (a must-do activity in Dubrovnik – so buy your ticket in advance!). Back on ground level, see the city sights on a Self-Guided Dubrovnik Walking Tour. Take in the sights along the Stradun and throughout the old town with an ice cream cone in hand. In the early evening, pop through the wall to one of the Buzas – bars clinging to the outside of the walls above the sea – and grab a seat for sunset.
Where To Stay in Dubrovnik
The Dubrovnik Old Town is an iconic place to stay…but it is crushed by tourists in the height of the summer. There are alternatives to staying in the old city center, which could be better (and definitely less expensive!) options. To the east of the walled city, luxury hotels are located along the coastline and numerous holiday apartments just across the street. We liked staying in this area because it was just a short walk to the Old Town and had easy access to the best Dubrovnik beaches.
Northwest of the Old Town are two other neighborhoods where we have stayed: Gruz and Lapad. The districts are about a 40-minute walk from the Old Town, but well-connected with a network of buses. We liked staying in Gruz for its proximity to the city bus station and ferry port, while our stay in Lapad was an excellent retreat to nature and away from the crowds of the city.
Read our complete guide of What To Do in Dubrovnik for our top recommendations!
DAY 14: Final Day in Croatia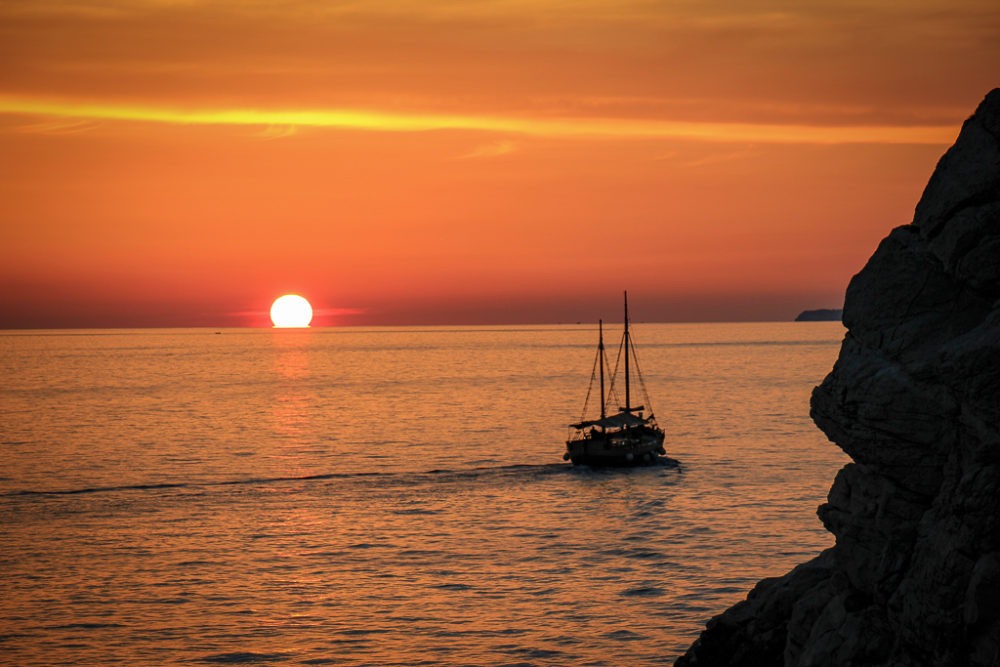 On your last day in Croatia, experience more Dubrovnik highlights. Go to the top of Mount Srd (either by cable car, bus, tour or hike!) for an outstanding vantage point of the old walled city. (Find other fabulous city vantage points with our Guide to Dubrovnik Viewpoints!) If you are a Game of Thrones fan – join a tour of recognizable film locations – Read these reviews! If you have time before your flight leaves, take a late afternoon swim in the Adriatic Sea!
---
Our Top Tips for your Croatia Itinerary
Our 2-week Croatia Itinerary is simply an outline of what to do in Croatia. Based on your choice of accommodations, method of transportation, tours and activities, it can be used for a Luxury Travel Croatia Itinerary or a Backpacking Croatia Itinerary. Visitors can use our following tips to plan their perfect trip!
Croatia Itinerary Variations
We think 2 weeks in Croatia is an ideal amount of time – but not everyone has two full weeks to see the country. Tourists with less time can use our sample Croatia itineraries for trip planning ideas.
A Weekend to 4 Days in Croatia
Travelers very limited on time should pick just one Croatia destination to explore with added day trips. With 2 days in Croatia, go to Dubrovnik; with 3 days in Croatia go to Split. With more time, add Croatia day trips to either destination.
Croatia Itinerary 5 Days
With 5 days in Croatia, visitors will still be limited with what they can see. That said, it is still possible to visit 3 Croatia top destinations: Split, Hvar Town and Dubrovnik. We would recommend visitors fly into Split (1 night), ferry to Hvar Town (2 nights) and fly out of Dubrovnik (2 nights).
Croatia Itinerary 6 Days
On our first trip to Croatia in 2011, we sprinted through on a 6-day Croatia vacation. We flew into Split, breezed through the sights in a couple of hours, caught the ferry to Hvar Town for two nights, then spent the next two nights in Korcula Town and our final two days in Dubrovnik. What we experienced was just enough to make us want to come back for more. And, looking back on our trip, it isn't necessarily what we would recommend.
Instead, when planning a trip to Croatia for 6 days, we would fly into Split (1 night), ferry to Hvar (2 nights), ferry to Korcula (1 night) and sail to Dubrovnik (2 nights).
Croatia Itinerary 7 Days (1 Week Croatia Itinerary)
With 7 days in Croatia, we would change things around a little. On a One Week in Croatia Itinerary, we would fly into Zagreb (1 night), visit Plitvice Lakes in route to Split (2 nights), ferry to Hvar (2 nights) and then head straight to Dubrovnik (2 nights).
Croatia Itinerary 10 Days
With 10 days in Croatia, we would recommend using our Croatia 2-Week Itinerary, but slimming it down a little (or eliminating some places altogether, unfortunately). For example, we would fly to Zagreb (1 night), go to Rovinj (2 nights), then Zadar (1 night), Split (2 nights), Hvar (1 night), Korcula (1 night) and Dubrovnik (2 nights).
Alternatively, a Croatia 10-Day Itinerary could skip Istria and instead go like this: Zagreb (2 nights), Zadar (2 nights), Split (2 nights), Hvar (1 night), Korcula (1 night) and Dubrovnik (2 nights).
Croatia Itinerary 14 Days: Alternative 2-Week Itinerary
For some visitors, traveling the entire length of the country is too much time on the road and not enough time in the destinations. Travelers who would rather have a less demanding itinerary should choose to visit either northern or southern Croatia. Both itineraries allow for optional day trips to nearby destinations (see recommendations below).
2-Week Northern Croatia Trip
Zagreb (3 nights), Rovinj (3 nights), Plitvice (1 night), Zadar (3 nights), Split (4 nights).
2-Week Dalmatia Trip
Split (4 nights), Vis Island (2 nights), Hvar (2 nights), Korcula (2 nights), Dubrovnik (4 nights).
Croatia Itinerary 3 Weeks
Have more than two weeks for your Croatia holiday? With 3 weeks in Croatia, visitors can add more places in Croatia to visit. We would recommend following our above outline of things to see in Croatia in 2 weeks and add other nearby destinations.
Ljubljana, Slovenia (3 nights), Zagreb (2 nights), Rovinj (3 nights), Zadar (2 nights), Sibenik (1 night), Split (3 nights) – Hvar (1 night) – Korcula (1 night) – Kotor, Montenegro (2 nights), Dubrovnik, plus day trip to Mostar (3 nights).
Croatia Suggested Itinerary Destination Options
There are numerous ways to extend a Croatia vacation. In addition to adding other Croatian destinations, visitors can cross the borders to other Balkan countries.
Croatia Destinations
Makarska, Croatia: Located between Split and Dubrovnik, Markarska has beautiful beaches, a fun nightlife and many things to do!
Brac Island: Home to the world-famous Zlatni Rat Beach and the tallest mountain on the Dalmatian islands, Bol on Brac Island is a wonderful active holiday destination.
Vis Island: One of the most intriguing Dalmatian islands to visit, Vis Island sees fewer tourists than other islands and features an incredible coastline.
Osijek, Croatia: The inland, historic city of Osijek boasts culinary delights, local wineries and amazing nature.
Top Balkan Destinations
Ljubljana, Slovenia: Pretty as a picture, Ljubljana is a fairy tale destination, complete with a hill-topping castle, a backdrop of gorgeous mountains and nearby lakes (most popular are Lake Bled and Lake Bohinj).
Kotor, Montenegro: Tucked into the end of a deep bay, the fjord-like landscape in Kotor is almost unreal. From Kotor, the towns of Perast and Budva are just a short drive (or bus ride) away.
Mostar, Bosnia Herzegovina: Distinctly different from the Croatia coastline, the city of Mostar features a quaint Ottoman Old Town, a simply stunning bridge and beautiful mosques.
Croatia Tour Options
We've highlighted some of the best things to do in Croatia, but there is plenty of room for travelers to customize! Trips to Croatia can be enhanced with a variety of sights, activities and tours.
Organized Day Tours
Croatia sightseeing tours are a fantastic way to get to see more of the country without the stress of planning every single detail of the trip. Some of the best tours in Croatia focus on a theme – like Food and Wine, Game of Thrones and multi-attraction adventures.
When looking for Croatia day tours, we start our search on Viator– but Get Your Guide is a great resource, too! What we love about these sights is that we can read fellow traveler reviews so that we better know what to expect on the tour before booking.
However, if you want local insight from a travel agency in Croatia, we recommend Adiona Travel. The locally-owned company is based in Split, Croatia and organizes accommodations, tours and transfers – all with excellent customer service!
Croatia Island Cruises
Are you mostly interested in seeing Croatian islands? Week-long cruises navigate the waters of the Adriatic Sea to top island destinations. There are a range of cruise options – from luxury boats to sailing with a skipper to party boats. We searched high and low for a tour that fit our style of travel – and found the perfect fit on a week-long cruise with Sail Croatia.
Read the full details and review of our Croatia Island Hopping Adventure on an Explorer Cruise from Dubrovnik to Split.
Organized Croatia Trip
Planning the details of a succinct itinerary can be a daunting task. Rather than planning a trip on your own, leave the hard work to the organizers and join fellow travelers on one of the many Croatia Tours by Intrepid Travel.
---
Croatia Travel Itinerary Planning Tips
We are not quite done yet! Planning a Croatia trip isn't just about where to go – there are other factors to consider…like when to go and how much it will cost.
The Best Time To Visit Croatia
Our favorite time to visit Croatia is in the autumn, when crowds and temperatures have backed off – yet still a perfect time to enjoy the outdoors and even a swim in the Adriatic Sea.
Croatia is also beautiful in the spring, but the water is a little too chilly for most to have a swim. It is considerably less crowded than high-season and the weather is usually ideal, with an occasional rain shower.
In the summertime, Croatia sees a new record number of tourists each year – as it is the best time of the year for island hopping and soaking in the sunshine. If you will be in Croatia in July or August, expect it to be hot and crowded. We avoid Croatia in the summer.
Spending Christmas in Croatia is also wonderful; we love visiting Croatia in winter. Many cities have Christmas markets – like the award-winning Advent in Zagreb event.
Off-Season Travel
Visitors should be aware that Croatia is still a seasonal destination. Some places – restaurants, hotels, museums – are only open during summer tourist season. It is not unusual for family-run places to completely shut down during the shoulder season and winter. On the upside, of the places that remain open, entrance fees and lodging fares are drastically discounted in the non-peak season.
2 Weeks in Croatia Cost
Even though visiting Croatia has become more expensive in recent years, it is still a relatively affordable country and a small budget can go far. Creating a budget for 2 weeks in Croatia will depend on your style of travel and the time of your visit. If traveling outside of peak season, couples could easily spend less than $100 USD per day – including accommodations, food and sightseeing. However, in the summer months, most city-center accommodations alone will cost $100 USD or more.
Additionally, prices rise every year, making some must-do activities too expensive for budget travelers. For example, the iconic Croatia experience of walking the walls in Dubrovnik currently costs more than $30 USD per person. Similarly, feasting on a traditional meal in Old Town Split costs the same as eating other well-known European cities.
Budget Travel
There are simple ways to stretch your budget in Croatia. Book accommodations in advance – especially in the summer season, as the best-value lodging fills up quickly. Consider traveling by bus instead of renting a car. While it may be somewhat limiting, it can not only save money but the stress of finding parking. For meals, pick up local products at the market or grocery store for picnic lunches on the coast rather than dining in restaurants.
Be Flexible
Our 2-week Croatia Itinerary is jam-packed. If a bus or boat connection won't work, don't panic – simply rearrange your schedule. After your first visit to Croatia we think you'll be planning a return trip soon!
---
Places To Stay in Croatia
With this fast-paced Croatia Itinerary in 14 days, staying in city centers or near public transport is essential. Many accommodations (both apartments and hotel rooms) are available in historic buildings, which provides character. It can also mean multi-level staircases and glass-less/screen-less windows. When choosing where to stay in Croatia, visitors have a choice of apartments, hotels and hostels.
Croatia Rental Apartments
We have found that staying in apartments is often less expensive than hotel rooms – with the added benefit of a kitchen and, usually, more space. As we travel, we mostly use Airbnb for accommodations. Airbnb apartments are plentiful in Croatia and reasonably affordable (although, prices can sky-rocket in high-season.) If you have not used Airbnb before, use this link to set up your account and save money on your first stay.
Hotels in Croatia
For those who prefer staying in traditional accommodations, there are many Croatia hotels to choose from in the city centers, including several 4 and 5 star hotels. Search for top-rated hotels by city: ZAGREB | ROVINJ | PULA | ZADAR | SKRADIN | SPLIT | KORCULA | DUBROVNIK
Croatia Budget Accommodations
Budget travelers might want to check out hostels in Croatia: ZAGREB | ROVINJ | PULA | ZADAR | SKRADIN | SPLIT | KORCULA | DUBROVNIK
---
Croatian Food
Croatian cuisine is some of our favorite around the world. Food ranges from seafood specialties to fabulous fast food options. There is a strong Italian influence throughout Croatia (most noticeable in Istria) – and both pizzas and pastas are phenomenal.
Fresh fish is a regional specialty (especially in Dalmatia) and we highly recommend trying fresh-caught fish from the Adriatic sea during your trip. Black risotto with cuttlefish and squid is another Croatian must-try dish.
Popular and inexpensive take-away items are cevapi (minced meat sausages served with bread, onions and cream), burek (a hearty meat- or cheese-filled pastry) and kebabs (an overflowing sandwich of shaved chicken or lamb).
Croatian Wine and Beer
There is a long history of wine production in Croatia dating back 2,500 years to Ancient Greek settlers. Although much of the country's wine production was stalled during the Yugoslav era, wineries are in full swing today. The country has two wine regions: Continental (mostly white wines, like Grasevina) and Coastal (mostly red wines, like Plavac Mali). Local wines are sold at cafes, restaurants, corner stores and supermarkets.
Craft beer in Croatia is also worth seeking out! Our favorite Croatia craft brewery is Nova Runda – but there are many others to choose from, like LAB Split, Garden and Varionica. Local craft beer bars are popping up in the bigger cities (but still harder to find in small towns). In Zagreb, head to Opatovina Street (Beer Street); in Split, look for Mandrill, Leopold's and Sanctuary; and in Dubrovnik, find Dubrovnik Beer Co. near the Gruz Port and the Glam Cafe in the Old Town. Zivjeli (that's Cheers in Croatian)!
---
Transportation in Croatia
The best way to get around Croatia depends on how you like to travel, how much time you have and where you are coming from.
Where to Fly into Croatia
Zagreb, Split and Dubrovnik can all be reached by plane year-round. Pula, Zadar and Brac Island have seasonal flights over the peak summer period.
Our preferred method of getting anywhere is by flying (we are JetSetting Fools, after all!) and when we need to purchase plane tickets, we start our search for the best deals on airline tickets on Skyscanner.
Driving in Croatia
If traveling by car, keep in mind that most of the old towns are car-free zones. Not all accommodations provide parking – and in some cases there is an extra charge for parking. We have never driven in Croatia, so we don't have specific recommendations, but you can search for Croatia Car Rentals for the best prices.
Croatia Buses
We traveled through Croatia by bus, which probably isn't the best way to see Croatia if you are limited on time (instead, we would suggest hiring a car and using our guide as a Croatia driving itinerary). However, all of the overnight destinations on our 2-week Croatia Itinerary can be reached via public bus (and the islands can be reached by ferry, either Jadrolinija or Krilo) and it is an economical way to travel.
Tips For Traveling Via Bus in Croatia
Buses often take longer, make multiple stops and most don't have facilities on board.
On a longer route, buses will make short 5-10 minute stops at stations for bathroom breaks – and sometimes the station charges a small fee to use the bathroom, so bring small coins.
You can eat on board, so bring food and drinks with you.
Bus schedules change with the seasons, offering only limited service in the off-season and potentially filling all the seats in advance in the high season.
Unfortunately, the online information isn't always accurate as to price and schedule for buses. We have found that it is best to immediately buy tickets for the next destination upon arrival.
On the upside, travel-by-bus can be an economical and less-stressful way to travel.
Wifi Connectivity
When you are on the move and want to stay connected, a wifi hotspot is the way to go. When traveling through Croatia, you can stay connected with reliable wifi from Roam Free Ninja. The personal mobile wifi hotspot can be rented for days or months at a time and allows you to easily share your travel experiences with friends and family on social media.
Frequent international travelers may want to consider purchasing a mobile hotspot device rather than renting one. We use GlocalMe, which has options for both SIM cards and online data packages.
Before You Go To Croatia
For more Croatia itineraries, tips and advice, go to our Travel Guides Croatia page.
Start planning your trip to Croatia! Search for the lowest airfares, the best accommodations and fun things to do…then start packing! Want more travel planning tips? Head over to our Travel Planning page for more information and tips on traveling – and for country-specific information, take a look at our Travel Guides page!
We want to know: How would you spend your time in Croatia in 2 weeks? What would you add – or omit from – our 2-Week Croatia Itinerary? Give us your best tips and advice in the comments!
Like what you're reading? Join the journey!
Subscribe to JetSetting Fools and get new blog posts and our quarterly newsletter direct to your inbox:

Pin it! See all of our travel pins on our JetSetting Fools Pinterest Board.