Hey there! Welcome to JetSetting Fools! You will find our best travel tips for destinations worldwide. Some of the links on this site are Affiliate Links and if you use them to make a purchase, we may earn a small commission. For more information, read our Disclosure Policy.
---
As much as we love the old walled cities of Croatia, there is often little green space – and we love spending time outdoors in nature. One of the fabulous things about the capital city, Zagreb, is that the region is lush with nature parks. All reachable by foot or tram, we discovered 9 Zagreb parks that cured our craving for nature.
9 Parks in Zagreb, Croatia
Highlighted below are the best parks in Zagreb, Croatia. For each of the Zagreb parks, we include a link to more information and a link to Google Maps. At the end of the post, we provide a useful map of all the parks in Zagreb.
Looking for more Zagreb activities? Check out our complete list of Things To Do in Zagreb!
#1: Maksimir Park
Maksirmir Park Zagreb (or Parque Maksimir) is just a short tram ride east of city center Zagreb. The park was opened in 1794 – making it the oldest of all the parks in Zagreb, Croatia. In addition to the numerous trails, there are five lakes and a zoo at the Zagreb Maksimir Park. Map | Info
#2: Mirogoj Zagreb Cemetery
Not our usual idea of spending time in nature, Zagreb's cemetery is lush with vegetation and magnificent architecture. Designed by one of Zagreb's famous architects, Herman Bolle, it was opened in 1876 as a cemetery for all religions and includes expansive burial grounds, arcades and monuments. Some of Zagreb's most famous people have been laid to rest at Mirogoj Cemetery, including the first president of the Republic of Croatia. Map | Info
#3: Jarun Lake Park
Southwest of the city center, near the Sava River, visitors will find Jarun Lake Zagreb and the surrounding park. The lakeside paths attract joggers, bikers and roller bladers. Looking for a Zagreb beach? The southeast and northwest portion of Lake Jarun has a pebbly shoreline for sunbathing. There are numerous cafes found along the stretch of beach where families and friends gather on sunny weekends. Map | Info
#4: Medvednica Nature Park
Medvednica Mountain is on the north side of Zagreb and encompasses an area of 88 square miles of forest. Within the park, there are several hiking trails, which are easily accessible via public transportation. The tallest peak at Medvednica Park, Sljeme, is 3,396 feet (but we didn't make it that far). Map | Info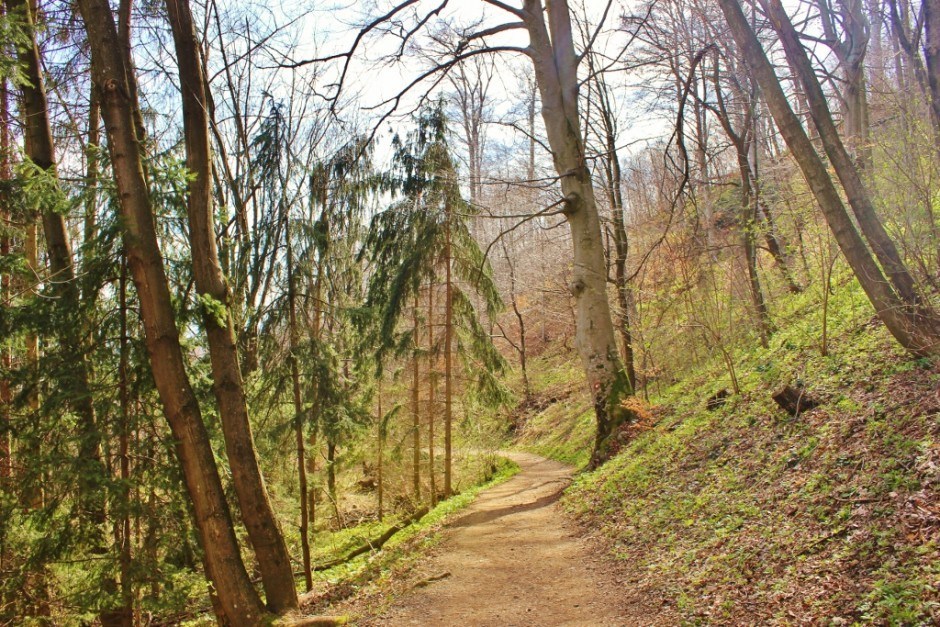 #5: Strossmayer Promenade and Gric Park
Nicknamed Strossmartre because it exudes a Parisian flair, Strossmayer Promenade is a pleasant escape from the bustling city. Occupying the space where ancient city walls once stood, the southwestern portion of the promenade features city views, leafy trees and benches. At the western end is the romantic Gric Park. Complete with a lovely fountain and planned gardens, the small park is a true retreat from the city. Map | Info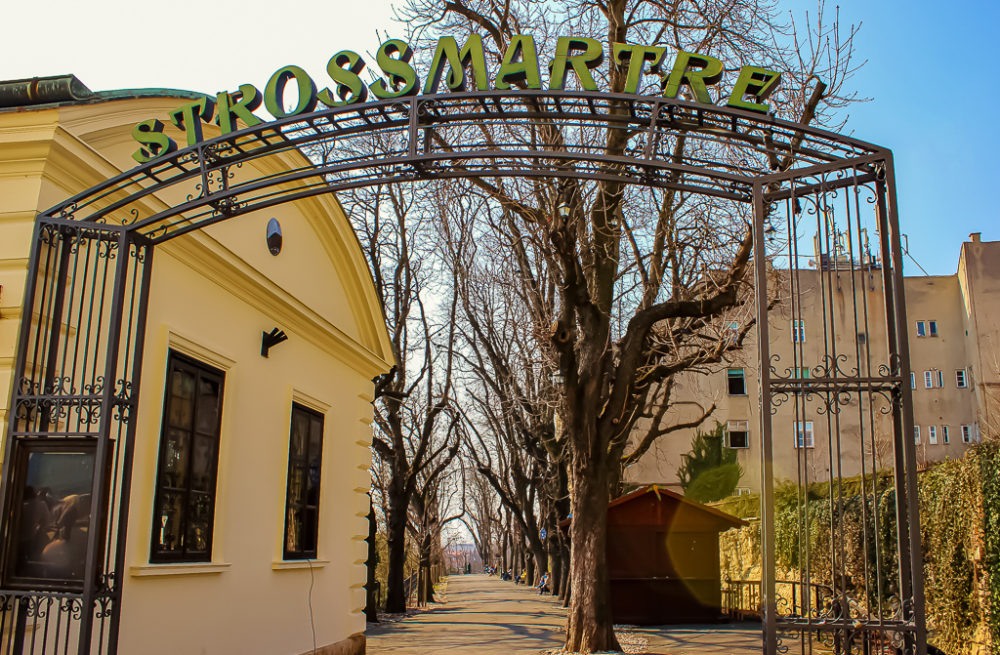 #6: Dubravkin Put
We literally stumbled on this path, Dubravkin Put, that west of the Gric Tunnel and part of the Tuskanac Forest Park. The 2km trail runs through a forested park north of the city to Cmrok. There is a theater and restaurant near the city…and trekkers who want to loop back to the city through neighborhoods, can use these directions. Map | Info
#7: Green Horseshoe (Lenuci Horseshoe)
Just south of the historic city center, a series of eight city squares in the shape of a horseshoe combine to create one of the best parks in Zagreb, Croatia. Each one unique, some feature fountains and statues – but they are all surrounded by excellent architecture, once the mansions of Croatia's wealthy.
Not-to-be-missed is Zrinjevac Park, which features two ponds, a fountain and gazebo (and is the closest to the city center). The pleasant Zagreb Botanical Garden sits on the southwest corner of the horseshoe and has a picturesque lily-pad lake, which is filled with turtles and crossed by a red footbridge. Our favorite park, however, is King Tomislav Park, which features his statue at the southern end, the yellow Art Pavilion at the north end, a fountain in the center and an expansive green lawn that is ideal for lounging. Map | Info
#8 Ribnjak Park
Located behind the Zagreb Cathedral (to the east), Ribnjak Park is the perfect city retreat. Named for the fishing ponds that were once found in the area (but have long been filled in), the nature park features tall shady trees, a small pond, a playground and a few memorials. After a day of Zagreb sightseeing, it's the perfect spot to relax (and is ideal for a picnic, too!). Map | Info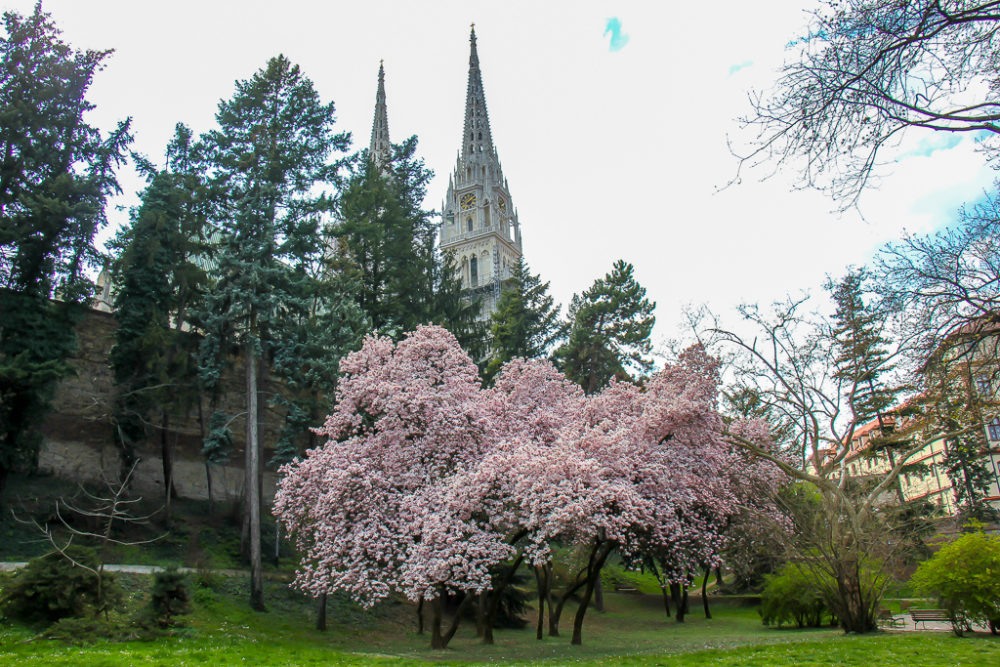 #9 Bundek Lake
South of the city, near the banks of the Sava River, Bundek Park is a favorite park for both locals and tourists. In addition to the crisscrossing trails through the small park, there is a small lake with a big beach. (Yes! Another Zagreb, Croatia beach!) Map | Info
Zagreb Parks Map
Use this link to Google Maps for the online version of our Zagreb map.
We want to know: Have you been to any parks in Zagreb, Croatia? Do you have a favorite? Any other Zagreb parks we should add to the list? Let us know in the comments!
Like what you're reading? Join the journey!
Subscribe to JetSetting Fools and get new blog posts and our quarterly newsletter direct to your inbox:

Pin it! See all of our travel pins on our JetSetting Fools Pinterest Board.