Hey there! Welcome to JetSetting Fools! You will find our best travel tips for destinations worldwide. Some of the links on this site are Affiliate Links and if you use them to make a purchase, we may earn a small commission. For more information, read our Disclosure Policy.
---
As the crisp air brightens my cheeks and little puffs of breath escape from my mouth, I inhale the scent of sizzling meat being cooked to perfection. The tantalizing aroma drifts on a light breeze from cheerfully decorated wooden huts and I wonder how many minutes will pass by until we succumb to buying a sausage. Festive lights hang in a canopy over the street, casting a warm glow onto the revelers swaying to the music as they peruse the wares for sale. Although I feel foolish, I can't wipe the giddy grin from my face. Advent has begun – and there is nothing quite like a European Christmas market to usher in the holiday spirit. With a steaming cup of spiced, mulled wine in one hand and my other tucked into the crook of Kris's arm, we navigate our way through the merriment as we celebrate the beginning of Christmas in Zagreb, Croatia.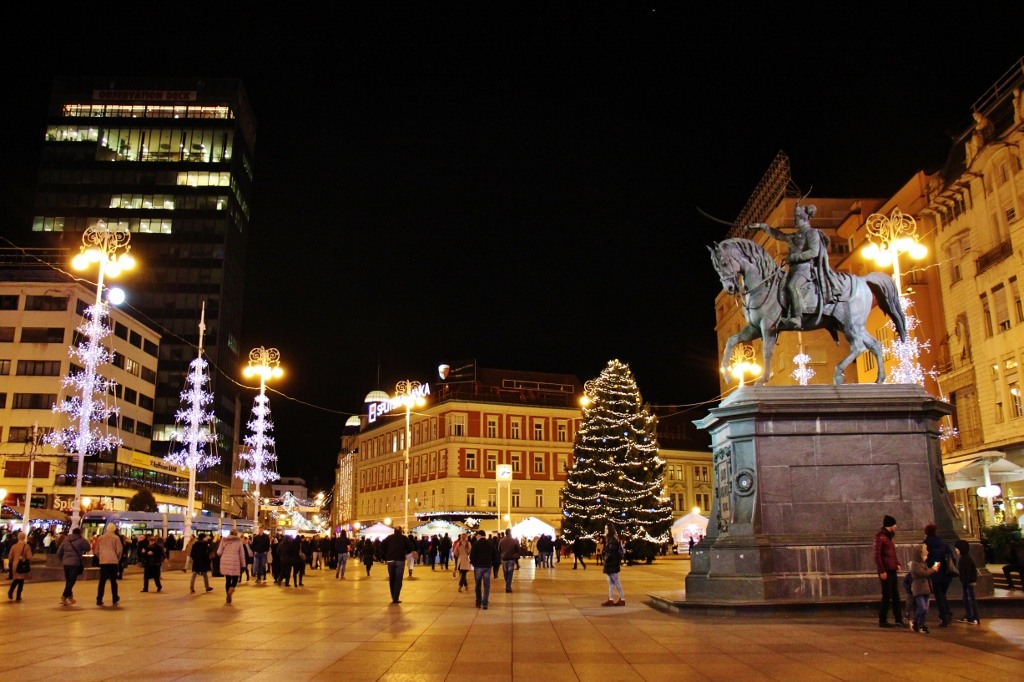 Lesser-known than the long-standing and famous Christmas markets like those in Germany, Austria and France, Advent in Zagreb caught our attention last year when images from the celebration flooded our social media news feeds. Unlike the usual coastline summertime photos of Croatia we are accustomed to seeing, these featured an entirely different scene. Pictures revealed the capital city adorned with bright Christmas lights, theme-festooned streets and an outdoor ice skating rink. The event, which began as a modest affair in 2002, has grown in just a few years to something utterly spectacular – so much so that Advent in Zagreb was bestowed the honor of Best Christmas Market in Europe by European Best Destinations for two consecutive years. With Croatia often on our minds, we couldn't think of a better way to kick off the holiday season than with Advent in Zagreb.
Unlike some Christmas markets that cluster solely around the main square, the festivities in Zagreb are spread all over the city. In a scavenger hunt style, we searched out the pockets of celebrations happening daily throughout central Zagreb during Advent. Each district is thoughtfully designed to create a specific ambience and to attract a certain audience. From kid-friendly corners to streets for shopping to a lane just for 'fooling around,' we wandered the transformed squares and streets until we found one that fit our mood.
Often, we were drawn down the cobblestone lanes of the oldest part of Zagreb into one of the five enclaves for the Advent Edition of Dvorista. Dressed up for the holidays with white lights, garland and Christmas trees, the intimate courtyards – complete with lounge singer style performances – presented a cozy retreat from the lively celebrations elsewhere in the city.
Wherever our wandering trail took us – from Klovicevi Dvori and Gric Tale in the Upper Town to Zrinjevac Park and the Ice Park on Tomislav Square in Zagreb's Green Horseshoe or across the Sava River to Novi Advent – we always found rows of little huts selling holiday gifts and serving Christmastime fare. Heaps of sausages – of which we ate our fair share – were displayed alongside tempting bowls of goulash and plates of charcuterie. More than once, we were lured to booths cranking out hot fritule, small Croatian doughnuts drizzled with warm chocolate sauce. The real treat, however, was the kuhano vino (mulled wine), which seemed to flow in an endless stream from nearly every booth, making evenings all the merrier.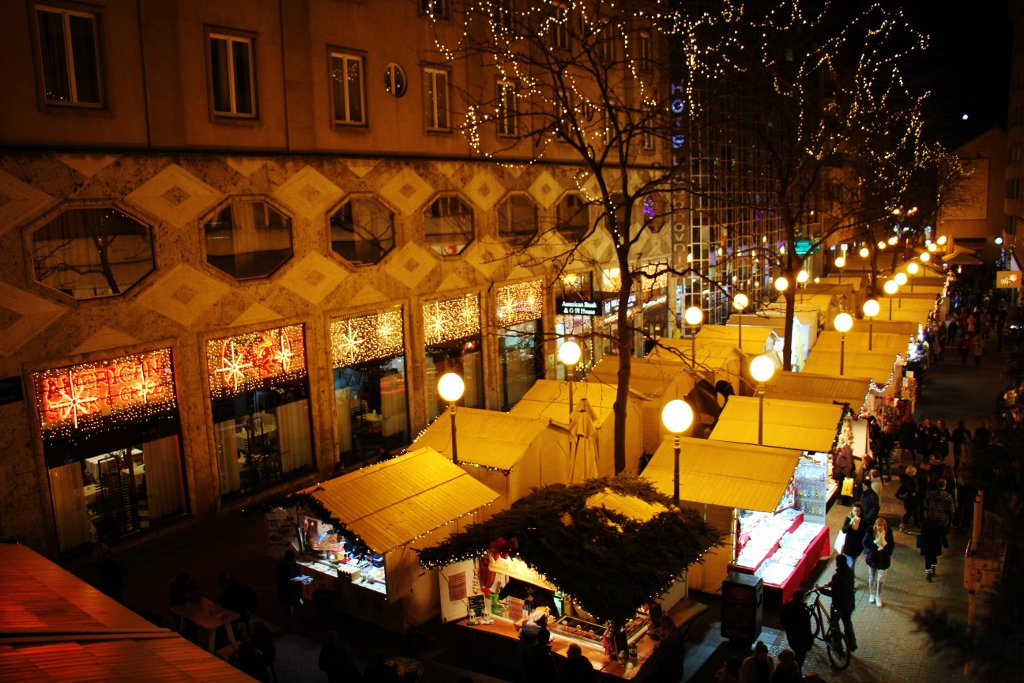 To further enhance the festive mood, music drifted down the streets from stages around the city. We were entertained by the varied performances – and astounded by the sheer number of musical acts. We witnessed rock bands, brass bands, jazz singers, women's choirs, children's chorales and folk dancers performing everything from holiday tunes to classic hits of every decade.
Although we won't actually be spending Christmas in Zagreb, celebrating 11 nights of Advent in Zagreb certainly got us in the holiday spirit!
Travel Tips for Christmas in Zagreb
Accommodations
Advent in Zagreb has quickly become one of the city's biggest events. Although celebrations take place all over the city, we chose accommodations in the city center. For our longer stay, we opted for an apartment through Airbnb, but there are many hotels to choose from, as well. If you are looking for place to stay during Christmas in Zagreb, take a look at these top-rated hotels:
Connectivity
When you are on the move and want to stay connected, a wifi hotspot is the way to go. If you are traveling to Advent in Zagreb, you can stay connected with reliable wifi from Roam Free Ninja. The personal mobile wifi hotspot can be rented for days or months at a time and allows you to easily share your Advent in Zagreb experiences with friends and family on social media.
We want to know: Have you spent Christmas in Zagreb, Croatia? What did you like best about the Advent in Zagreb festivities? Tell us in the comments!
Like what you're reading? Join the journey!
Subscribe to JetSetting Fools and get new blog posts and our quarterly newsletter direct to your inbox:

Pin it! See all of our travel pins on our JetSetting Fools Pinterest Board.