We often rave about Croatia; if asked about the country, we are likely to go on and on about the translucent sea, splendid nature, historic towns and buzzing cities. There's a good chance we will gush over the cuisine and talk extensively about how welcoming the people are. And, when asked which cities we recommend people visit, we always include Zagreb. Really? It's inland. Is Zagreb worth visiting? Yes! Read on for our list of the best things to do in Zagreb and decide for yourself!
Things to Do in Zagreb, Croatia
Our Zagreb Travel Guide includes our list of the top recommendations of what to do in Zagreb, suggestions on where to stay in Zagreb as well as other Zagreb facts and information. And, although our list of things to do in Zagreb are numbered, they are not ranked – as we think a Zagreb visit wouldn't be complete without doing them all!
#1 Size up the Zagreb Cathedral
The two landmark Gothic spires of the Zagreb Cathedral (formally called the Cathedral of the Assumption of Mary) reach the height of 355 feet – making the church the tallest building in Croatia and a sight you will most likely catch a glimpse of before arriving at the church steps (although one of the spires will likely be under restoration). The church was first built in the year 1093, rebuilt in the 13th century, surrounded by fortifications in the 15th century (some of which still remain) and heavily damaged by an earthquake in 1880. Since then, reconstruction of the church has been almost constant.
Take a peek inside to look at the tomb of Cardinal Aloysius Stepinac behind the altar, admire the artwork and ponder the chandeliers, which reportedly came from a Las Vegas casino.
#2 Wander the streets of Gradec
Today's Zagreb Old Town is the melding of two smaller towns: Kaptol (where the Zagreb Cathedral stands) and Gradec, the Upper Town. Dating to the 13th century when the hill-topping town was surrounded by city walls and protective watchtowers, the Gradec cobblestone streets are ideal for a stroll when sightseeing Zagreb.
At the center of the Upper Town is St. Mark's Church Zagreb, which has a colorfully tiled rooftop that stands out amongst the orange-tiled rooftops of the rest of the Zagreb Old Town. The tiles were laid on the church roof in 1880 and are in the design of the coat of arms for Zagreb and the Triune Kingdom of Croatia. The church sits in the middle of (aptly named) St. Mark's Square, which is ringed by ornate buildings which house the Croatian government offices.
For more Upper Town sights, read 5 Gradec Sights To See
#3 Gather picnic items at the Dolac Market
Follow the locals to Zagreb's Dolac Market where Zagrebians have been shopping since 1926. In the raised outdoor market, you will find tables piled high with in-season fruits and vegetables. Shade will be provided by the iconic and colorfully striped umbrellas – a symbol of the city. Take the stairs underground to peruse the choice of meat and cheese. At the Dolac Market, you can assemble a picnic lunch – a must-do in Zagreb!
Join a small-group Zagreb Food Tour to get a taste of local Croatian specialties with a local guide!
#4 Sip a Croatian craft beer
Zagreb's craft beer scene has evolved since our first visit to the city in 2014 – and sipping a Croatian craft beer has become one of the top Zagreb things to do! New breweries and taprooms are continually coming on the scene, offering a taste of Croatia's inventive and tasty local brews. The beers from Nova Runda (try the APA!) remain at the top of our list, but we also like what Varionica and L.A.B. (from Split) are brewing.
It used to be that there were only a few craft beer bars in Zagreb and we had to seek them out like detectives on a dead-end case…but that is no longer the situation. Dedicated craft beer bars have sprung up all over the city. We highly recommend you check out the bars on Opatovina Street – nicknamed Zagreb's Craft Beer Lane – where you will find Craft Room, Ro&Do (now in a new location) and Tolkien's House amongst others. In the Upper Town, pop into Pub na Kraju Svijeta. Outside of the Zagreb Old Town, try Hop In (near the bus station) or Svijet Piva.
Use this link to Google Maps for the location of our recommended Zagreb Craft Beer Bars.
#5 Stand at the base of the Jelacic statue on Jelacic Square
At the heart of city center Zagreb is Ban Jelacic Square, named for Croatian hero Josip Jelacic. A statue of Jelacic on a horse stands in the center of the square (although during the Yugoslavia era, it was dismantled and kept in a cellar) is definitely one of the things to see in Zagreb.
The statue and nearby clock are popular meeting spots for locals and starting points for Zagreb city tours. The busy and expansive main square dates to the 17th century and today a steady stream of trams pass by the square moving people through the vibrant city.
Learn more about the Upper and Lower Towns on a private Zagreb walking tour to the city sights!
#6 Join the evening stroll on Tkalciceva
Tkalciceva Street – once a flowing river that marked the border between Kaptol and Gradec, which was filled in with gravel in the late 1800s – is a café-lined pedestrian-only lane stretching from Jelacic Square to Mala Ulica (Little Street). Hand-holding couples, families pushing strollers and dog-walkers parade up and down Tkalciceva each evening. The street is one of our top Zagreb places to visit for people watching and, on sunny days, to idle the afternoon away in one of the many cafes.
#7 Light a candle in the Stone Gate Chapel
Stone Gate is the only remaining gate of Gradec, which leads from the Upper Town to the picturesque Radiceva Street. But, it's not the historic gate itself that makes it a Zagreb must-see: it's the open-air chapel that resides inside the gate. According to legend, there was a fire in 1731 that destroyed the (then) wooden gate, but peculiarly left a painting, "The Virgin and Child" that was hanging inside the gate completely intact. The painting in now enshrined inside Stone Gate and people come to pray and give thanks to the Virgin Mary by lighting candles, leaving flowers and mounting engraved plaques on the walls.
#8 Step back in time in the city's Gric Tunnel
Built during World War II as a bomb shelter, the Gric (Gradec) Tunnel runs through the hill beneath the Upper Town. With a length of 1,150 feet, the tunnel has six exits. Shortly after the tunnel was completed, it fell into disuse – until 1993 when it hosted Croatia's first rave, but further plans for the tunnel were stalled. In 2015, renovation of the Gric Tunnel finally commenced and reopened to the public in 2016 as a Zagreb tourist attraction. The tunnel is open every day for pedestrians to travel from one side of Gradec to the other without having to hike up the hill. The tunnel is used for special events, like Advent; during our most recent visit, it housed a free museum exhibiting the history of Zagreb.
#9 Get a bird's eye view from Zagreb 360
The Zagreb 360 observation deck occupies the 16th floor on a 'skyscraper' on Jelacic Square – making it one of the best places to visit in Zagreb for a view. Standing 600 feet above sea level, the open-air outdoor walkway allows guests the opportunity to take Zagreb photos or sit at one of the alfresco tables to sip cocktails in the clouds.
Even better, Zagreb 360 tickets are valid for multiple re-entry in a single day – meaning you can visit the viewing platform during daylight hours (and possibly see all the way to Slovenia) and then return after dark to see the city lights. Buy your Zagreb 360 tickets ahead of time!
#10 Linger over a cup of coffee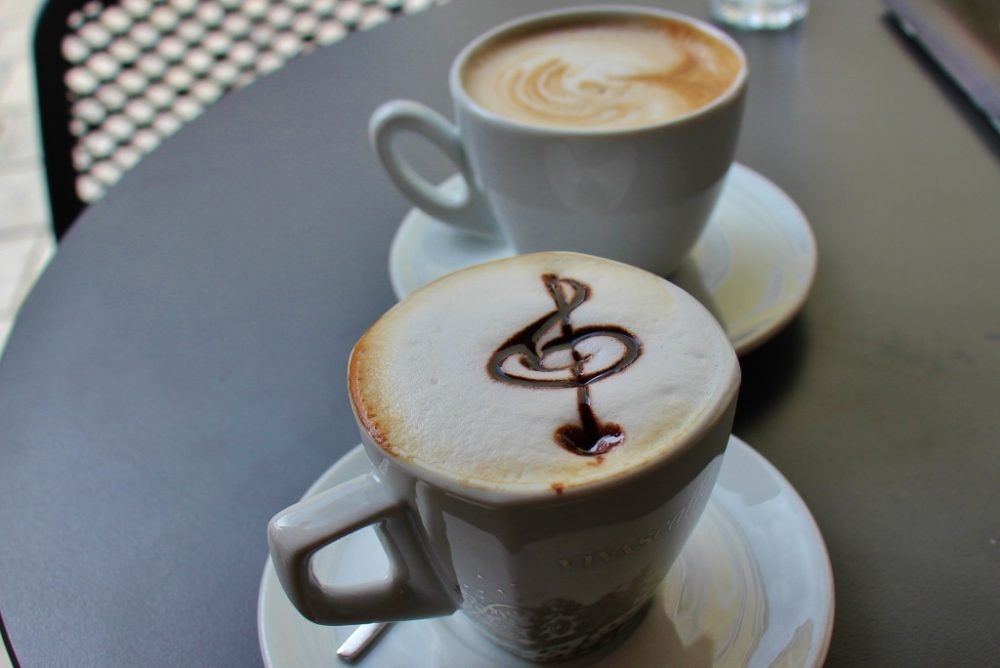 Coffee isn't just a drink in Croatia – it's part of life. But, it's not really the drink itself; it's in the Croatian café culture. Forget coffee-on-the-go; even in the buzzing capital city, people slow down to savor coffee, conversation and people watching. A group of friends can linger at a café for hours – often switching from coffee to beer…and then back to coffee before they get up to leave. One of our favorite Zagreb activities is to find a café – at the Dolac Market or Cvjetni Square – and drink in the culture.
Read more about the Croatia Cafe Culture.
#11 Creep around the Mirogoj Cemetery
Established in 1876, the Mirogoj Cemetery is a landmark and – somewhat oddly – one of the top Zagreb attractions. The burial grounds resemble a park – just a park with a lot of gravestones – and feature ornate arcades and monuments. The Zagreb Cemetery was designed by Herman Bolle, one of Zagreb's famous architects. The cemetery is not designated to one religion, so in addition to the Christian Cross that graces headstones, you will also see the Star of David and Crescent Moon and Star. Many of Zagreb's most famous people have been laid to rest at Mirogoy Cemetery, including the first president of Croatia, Franjo Tudman.
The Zagreb BIG Tour takes visitors to sights outside of the city center – including Mirogoj Cemetery – and ends with a Old Town walking tour.
#12 Discover hidden gems on the trails of Medvednica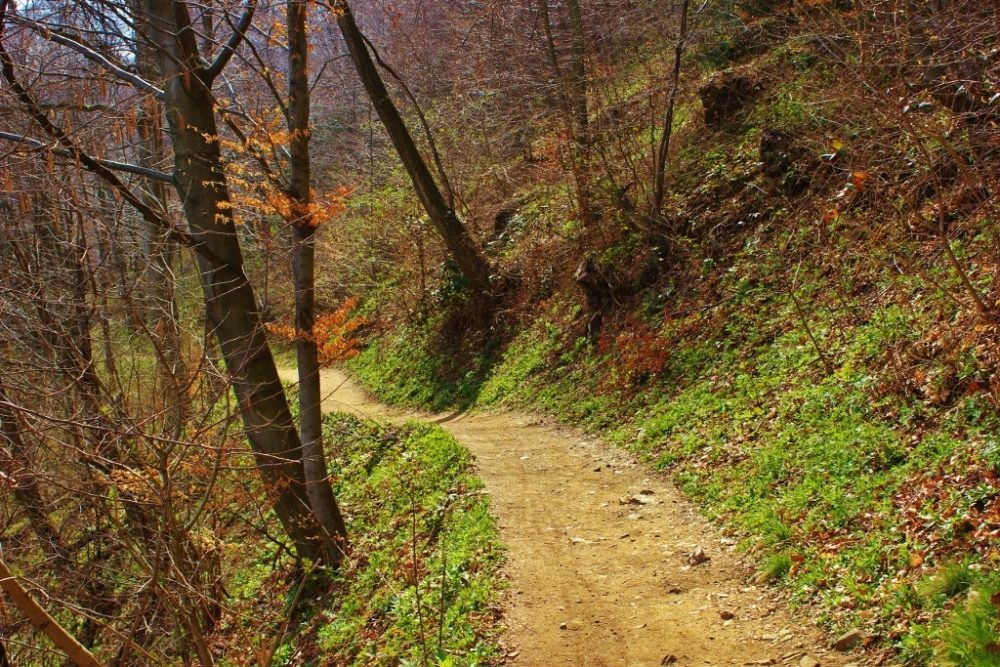 Just north of the city center is Medvednica – a mountainous, forest-covered nature park that tops our list of Zagreb things to do and see in the outdoors. Easily accessible by tram from the Zagreb center, there are several intertwining trails for hikers to tromp around the woods. The tallest peak at Medvednica, Sljeme, stands at 3,396 feet, but we have yet to climb to the top. Within the 88-square-mile park, there are waterfalls, a cave, a mine, and the Medvedgrad fort (some call it a castle) that provides stunning views of Zagreb.
#13 Breathe in fresh air at Maksimir Park
Less strenuous and closer to the Zagreb city center, but still abundant in nature is Maksimir Park. The tranquil park opened in 1794 and ranks as the oldest park in Zagreb, Croatia. The park features a grand entrance, multiple turtle-filled ponds and dozens of trails that weave through the forest. Also at the park is a zoo – another Zagreb top attractions.
#14 Journey through the city on a tram
The first trams in Zagreb were horse-pulled cars, but 20 years later – in 1910 – the electric tram was introduced to the city. Today, more than 200 million people ride the trams annually. The fleet of tram cars range from old and rattling to new and sleek. While the trams are an essential part of the traffic flow in the city, they are also one of the Zagreb sights that can't be missed (quite literally if you spend any time in Jelacic Square!).
Riding Trams from Jelacic Square:
From Zagreb Bus Station (if arriving by plane – then taking the Airport Bus to the city terminating at the bus station – or arriving by bus): Use Tram 6 (toward Crnomerec) and depart at Jelacic Square.
Tickets can be purchased from the driver; you need one for each ride and it is required to validate the ticket at the front entrance of the tram by inserting the ticket in the yellow box. A short-ride ticket (less expensive than a regular ticket) can be used for each recommended ride.
#15 Marvel at the architecture on the Green Horseshoe
One of the top things to do in Zagreb, Croatia is to spend time wandering through the eight connected city squares (designed in a U-shape) that comprise the Green Horseshoe park in the heart of the city. The eight squares – Zrinjevac, Josip Juraj Strossmayer, King Tomislav, Ante Starcevic, Lenuci Fitness Park, Marko Marulic, Ivan Mazuranic and Republic of Croatia – are connected on the southern end by the Zagreb Botanical Garden.
Designed and built in the 1880s, the Green Horseshoe is home to outstanding architecture. Many Zagreb museums (Archeological, Modern Gallery, Art Pavilion, Croatian State Archives, Ethnographic and Arts and Crafts), the famed Esplanade Zagreb Hotel, the Croatian Academy of Arts and Sciences and the Croatian National Theater – as well as several fountains, sculptures and monuments – can all be found on the squares of the Green Horseshoe.
Lining the streets that surround the squares are remaining historic mansions of Croatia's wealthy (although most now house individual apartments). Wandering through the Green Horseshoe is one of the things to do in Zagreb, Croatia where you are certain to be amongst locals.
#16 Ride the world's shortest funicular
Perhaps more a novelty than a necessity, a ride on the World's Shortest Funicular is simply a fun thing to do in Zagreb. The funicular was built in 1890 (initially using steam engines to power the car up the 217-feet of track) to access the Upper Town without having to make the climb. It takes less than a minute for the car to ascend from Llica Street to Stossmayer Promenade – at a steep 52% incline.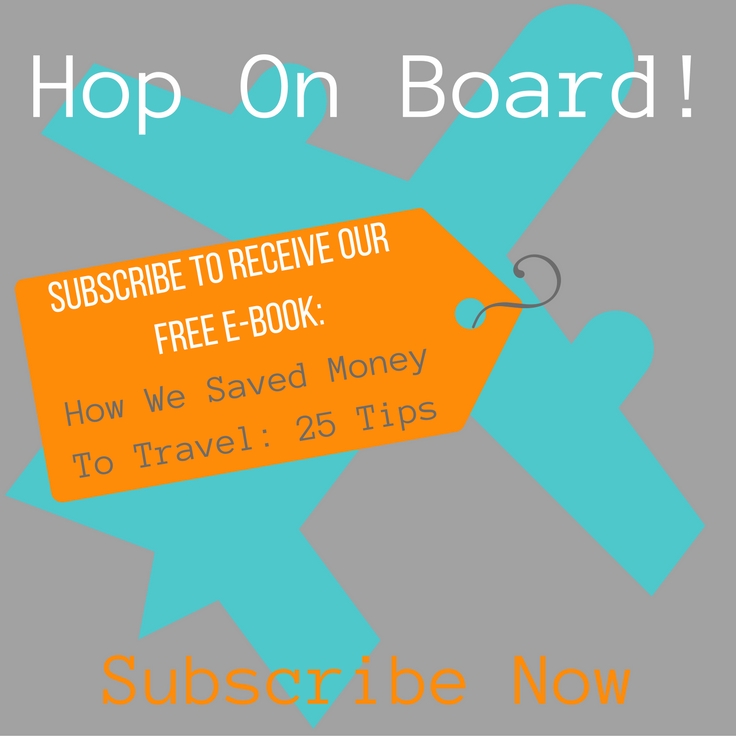 #17 Check out Zagreb's growing street art culture
The street art culture is gaining momentum worldwide and it's true in Zagreb, too. With the recent addition of the Whale Mural on the wall of the Art Gallery building in Gradec, more visitors and locals have become curious about the Zagreb street art scene. It is somewhat hidden in the city center (find the stairs that lead into Art Park from Strossmayer Promenade), but quite prevalent outside of Old Town Zagreb at the Student Center and Medika.
We were fortunate to have a local artist (also our Airbnb host!) guide us through a Zagreb city tour of the street art. You can contact him for a tour…and a place to stay!
A link to Google Maps of Street Art locations (Whale Mural, Art Park, Student Center and Medika).
#18 Climb to the top of Kula Lotrscak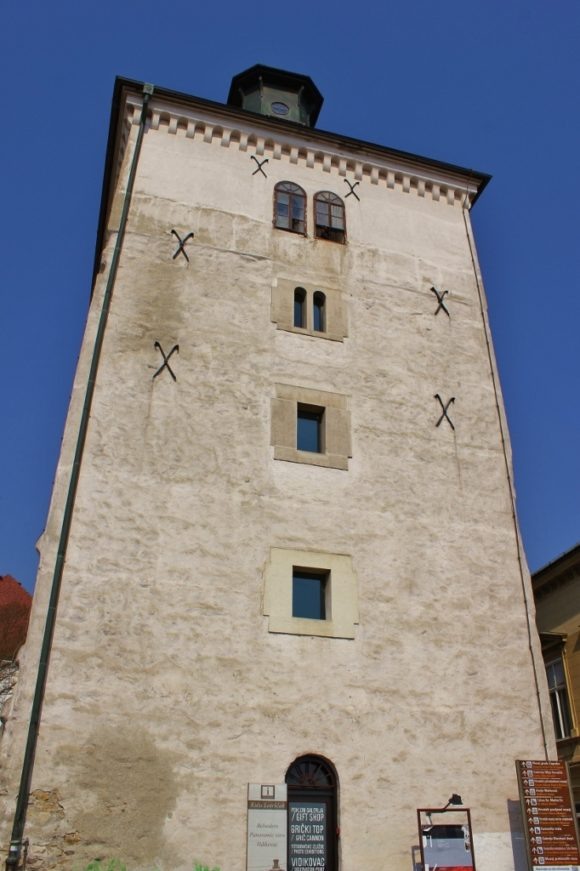 The 13th century Kula Lotrscak lookout tower stands stoically at the top of the funicular beside the entrance to Strossmayer Promenade in Gradec. For just a few dollars, the defense tower's spiral staircase can be climbed for fantastic city views, especially of Gradec and St. Mark's Church Zagreb.
Every day at noon, a cannon is shot from the fourth floor to signal mid-day. The sound can be heard throughout the Zagreb Old Town.
#19 Attend mass at St. Mark's Church Zagreb
Although many people pass by (and take the required Zagreb photos of) St. Mark's Church Zagreb, few actually go inside. The church is not open to the public for touring, but it is open for mass when you can get a look inside the historic church. Mass times are as follows: Monday-Friday at 6pm; Saturday at 7:30pm; Sunday at 10:30am and 6pm.
#20 Over-indulge in local fare
Croatian cuisine is some of our favorite (and least healthy!) around the world. Heavy on the meat and carbs, it is essential for us to balance our visit to Zagreb with a walk in one of the many city parks! Burek and Cevapi are two Balkan staples and the best restaurants in Zagreb for these calorie-laden dishes are: Burek and Cevapi u Somunu – both so inventively named.
However, a dish unique to Zagreb is Strukli, a doughy, cheesy pastry that can be sweet or savory – and the place to eat it is La Struk (again, appropriately named!). The cozy interior is as simple as the menu: salty or sweet, cooked or baked with four variations: walnuts, apples, blueberries or truffles.
Recently, a burger-craze has raged through Zagreb and, while not to exclusive the region, they are cooking up some tasty gourmet burgers throughout the city. Our top recommendation for a Zagreb burger is Rocket Burger Cafe (we couldn't think of a better name if we tried!).
A link to Google Maps of our favorite places to eat in Zagreb.
#21 Take one – or two! – day trips from Zagreb
After a full dose of Zagreb sightseeing, go further afield to explore the region on one of the many day trips from Zagreb. A few of our favorite cities to visit on Zagreb day trips are: Samobor, Krapina, Varazdin and Plitvice Lakes. All of these cities can be reached by public transportation, but for the sake of time and ease of travel, consider taking an organized Zagreb tour (find a list of the top Zagreb day tours here!).
Popular Tours from Zagreb:
Want to add exciting adventure activities to your Croatia trip?! Search now for the best adventure activities – like paragliding, rafting, and rock climbing.
#22 Check out awesome Zagreb Events
As the capital city of Croatia, there is always something going on – and attending an event is one of the top things to do in Zagreb. A list of Zagreb upcoming events can be found at the Zagreb Tourist Information office (located on Jelacic Square | Website).
In December 2016, we spent two weeks attending the awarding-winning Zagreb Advent festival and on a recent visit, we ate way too many burgers at the Burger Fest. Some of the other Zagreb events include concerts, BeerFest and City Food Festival.
Our Top Tips for Zagreb, Croatia Things To Do
How Many Days in Zagreb?
Many people think one day in Zagreb is enough to see the city sights, but we think you need more time in Croatia's capital. We recommend at least two full days – but if you are planning day trips from Zagreb, three to five days would be ideal. There are just so many places to see in Zagreb – and once you get there, you won't want to miss out!
Where to stay in Zagreb
The best area to stay in Zagreb is in or close to the historic Old Town.
When we visit Zagreb, we stay in Airbnb Apartments (we've stayed here, here and here). (Not already a member of Airbnb? Use this link to create an account and save money on your first stay!) We have found that staying in apartments is often less expensive than hotel rooms – with the added benefit of a kitchen and, usually, more space. Zagreb holiday apartments can also be searched on FlipKey (which is part of TripAdvisor) or on VRBO – Vacation Rentals By Owner.
However, for those who prefer staying in traditional accommodations, there are many hotels in Zagreb, Croatia to choose from in – or close to – the city center. Search for Zagreb Hotels here, or check out these top-rated hotels (based on guest reviews!) for your upcoming trip: Hotel Academia, Hotel Jagerhorn or Esplanade Zagreb Hotel Or, find a deal on a hotel room by bidding on Priceline.
Budget travelers can search for Zagreb Hostels – like The Dots Hostel and Swanky Mint Hostel. For a true bargain – and a unique experience – search for hosts on Couchsurfing, where travelers stay with locals for free.
Getting To Zagreb
Zagreb can be reached by plane, train, bus or car.
In General
Our preferred method of getting anywhere is by flying (we are JetSetting Fools, after all!) and when we do need to purchase plane tickets, we start our search for the best deals on airline tickets on Skyscanner or Flight Hub.
To get from city to city when flights are not possible, we usually rely on public transportation and take trains or buses. In Europe, our preferred bus company is FlixBus – as it is economical, clean and comfortable with on-board wifi, seat-back entertainment, refreshments and a toilet. We aren't keen on driving abroad, but renting a car can often save time and money (especially when traveling with more than two people) – and it allows for greater discovery.
Zagreb Facts
Before You Go
Start planning your trip to Zagreb! Search for the lowest airfares, the best accommodations and fun things to do…then start packing! Want more travel planning tips? Head over to our Travel Planning page for more information and tips on traveling – and for country-specific information, take a look at our Travel Guides page!
Like what you're reading? Join the journey!
Subscribe to JetSetting Fools and get new blog posts and our quarterly newsletter direct to your inbox:

We want to know: What are your favorite things to do in Zagreb, Croatia? What would you add to our list? Tell us in the comments!
Pin it! See all of our travel pins on our JetSetting Fools Pinterest Board.