Hey there! Welcome to JetSetting Fools! You will find our best travel tips for destinations worldwide. Some of the links on this site are Affiliate Links and if you use them to make a purchase, we may earn a small commission. For more information, read our Disclosure Policy.
---
For many people, Split, Croatia is a transportation hub – a city to breeze through on the way to other parts of the country. It was for us during our first trip to Croatia in 2011. However, since then, we've revisited the city multiple times with much longer stays. The main sights to see in Split, Croatia could be easily covered in a day, but more thoroughly enjoyed with more time (which is outlined in our 3-Day Split Itinerary).
The remains of Diocletian's Palace are the biggest draw, as the palace has aided in defining Split as a city. As fascinating as the history is inside Diocletian's Palace, however, there are more sights to see in Split, Croatia. Just outside the palace walls are vibrant markets, squares and cafes. A marina, park, hill and quaint neighborhoods are within sight and a short walk away. We filled many days with discovering life both inside and outside the walls, which was highlighted by spectacular people watching, café sipping and lounging around the harbor.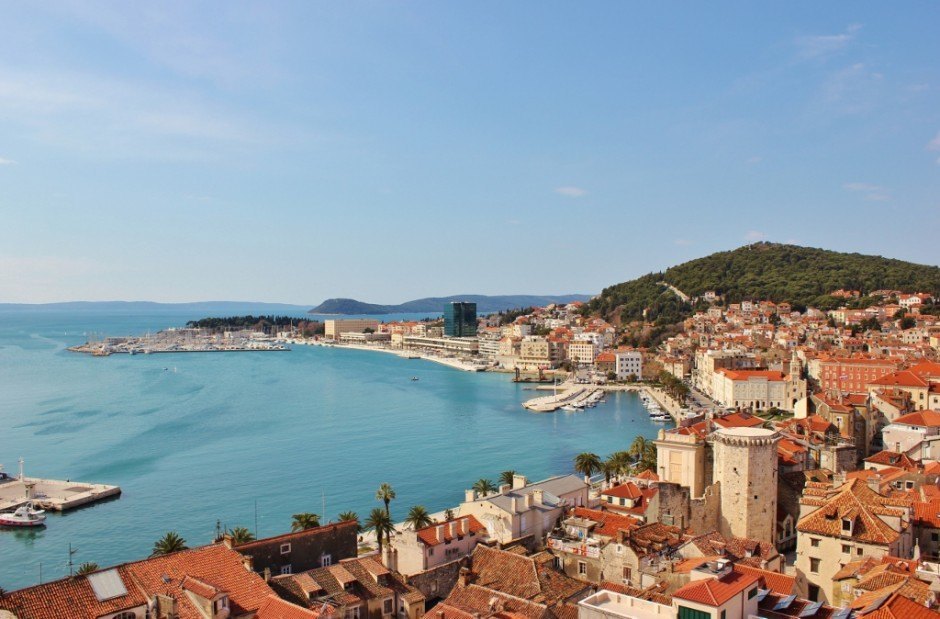 Sights to See in Split, Croatia
#1: Diocletian's Palace
Without a doubt, Diocletian's Palace is one of the best sights to see in Split, Croatia. Whether simply wandering within the walls and taking in the history or entering into the sights, Diocletian's Palace is certainly impressive. Although not preserved as a palace, remains from the 4th century structure are evident. With just a bit of imagination, we could visualize what the palace looked like in its splendor. Tip: Take a Split Walking Tour to learn the history of Diocletian's Palace.
#2: Old Town
Split's Old Town encompasses more are than just Diocletian's Palace – it also includes the adjoining labyrinth of streets and squares that were built when Diocletian resided in the palace. Exiting through the western Iron Gate of Diocletian's Palace leads into People's Square, the center of historic Split.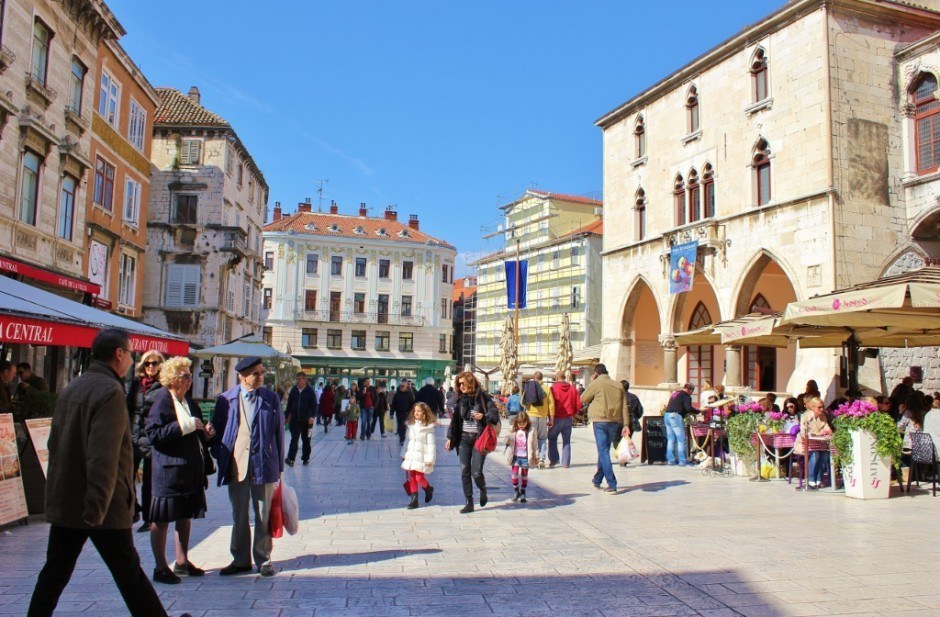 #3: The Riva
The long stretch of trendy cafes between the Old Town and water is The Riva, which even in the winter is packed as long as the sun is shining. For those not wanting to sip on cappuccinos at a café, there are a plethora of benches for sitting, napping, chatting, drinking cold ones with friends or just enjoying the view.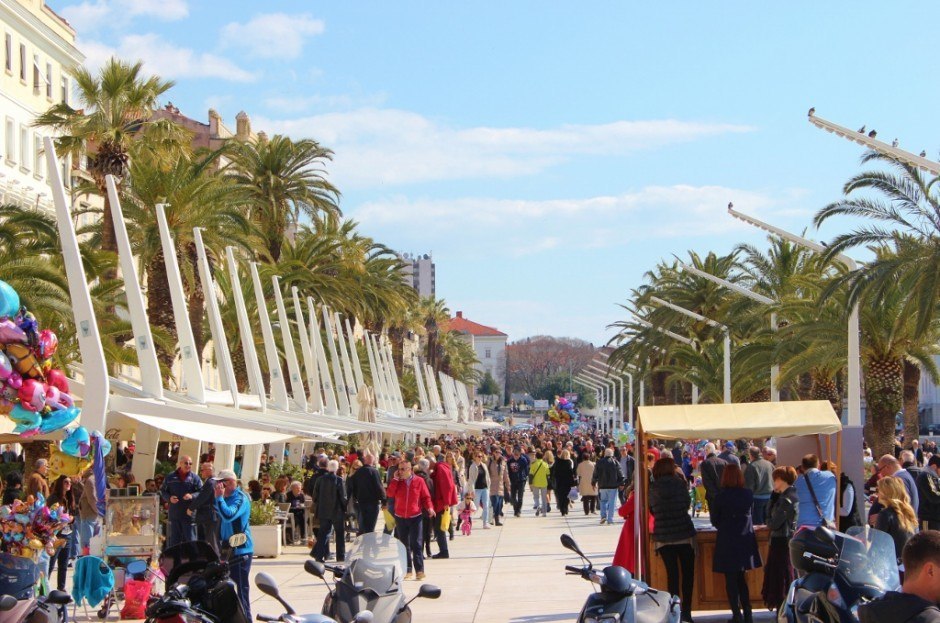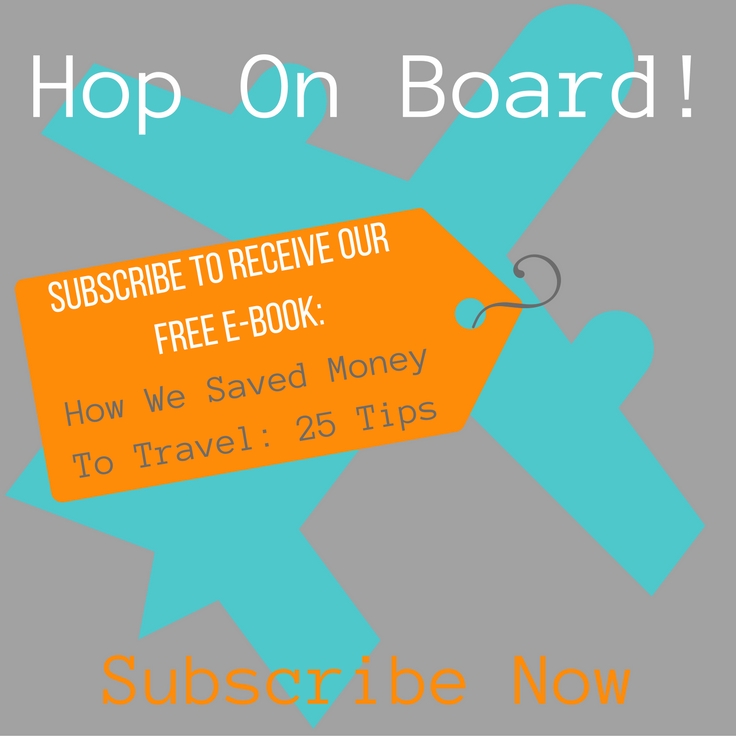 #4 & #5: The Markets – Green and Fish
There are two happening markets in Split: the Green Market and Fish Market. The Green Market outside the east gate has produce, flowers, clothing and souvenir stalls. There are also permanent meat and cheese shops, so it's a one-stop shopping experience (and great for picnic shopping!). The Fish Market on the west side of the old town is brought to life when the day's fresh catch arrives. The smell is pungent, the crowd is exuberant and the floor is slippery. Tip: Join a Split Food and Wine Tour for a better understanding (and taste!) of Dalmatian cuisine.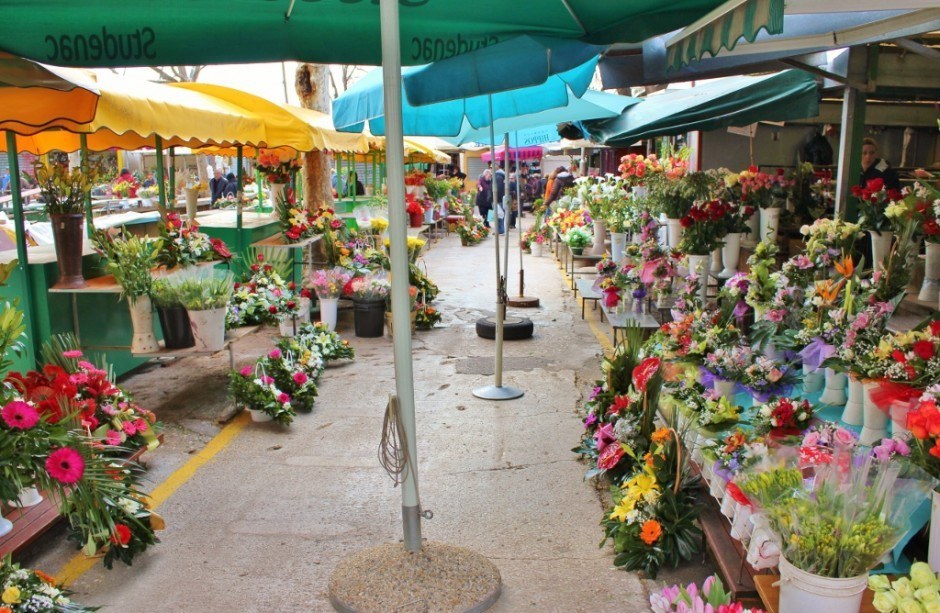 #6 & #7: Matejuska and Varos Neighborhoods
At the west end of the Riva is Matejuska, the fisherman's port, which is a popular hangout spot for fisherman, both young and old, and for bench-sitting, day-drinking crowds of all types. Behind it, streets crawl into the Varos neighborhood that feel more authentic than the old town and has several family run restaurants along the lanes.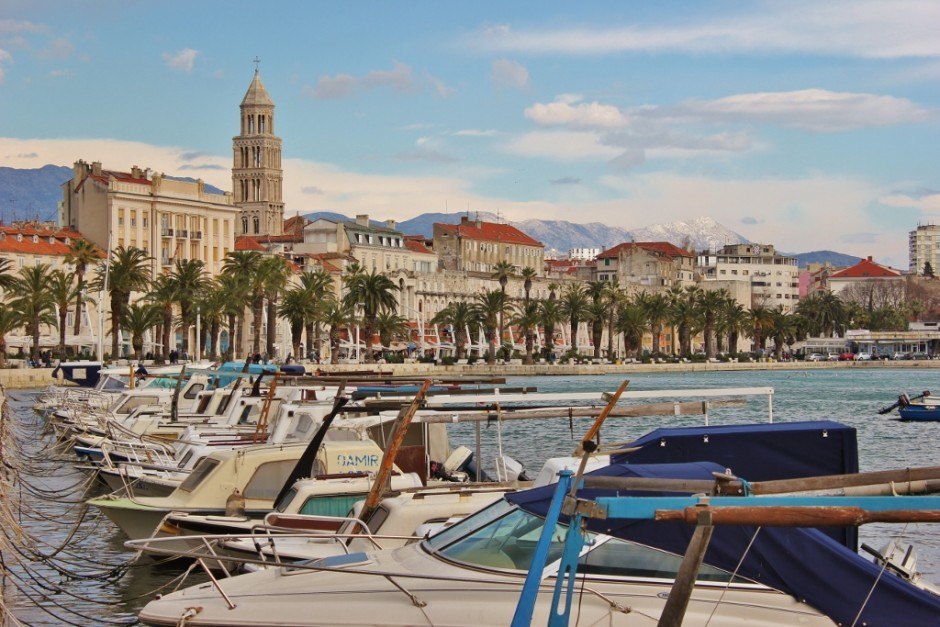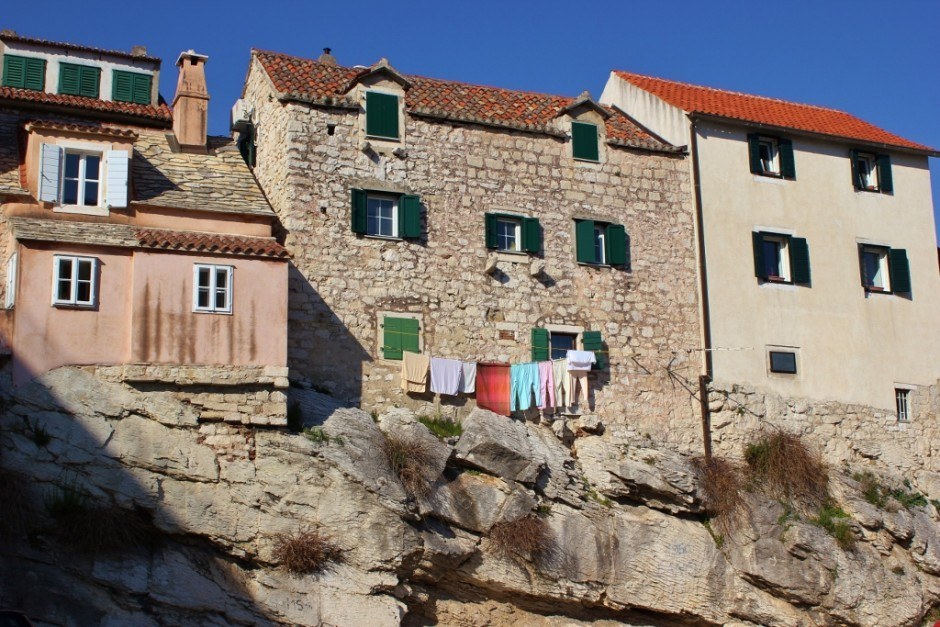 #8: Marjan Hill
Following the steep path up through the Varos Neighborhood leads to Marjan Hill. At the top of the neighborhood is a cafe and Split city lookout point, but taking the paths into the forested area lead to cliffside dwellings, sea views, beaches and a hilltop viewing platform. Tip: Active travelers can go rock climbing on Marjan Hill.
#9 & #10: The Marina and Park
Continuing west along the waterfront, there are modern, glass-walled cafes that seem perhaps a little too posh having just passed by the fisherman's port. The walkway eventually leads to the marina with rentable yachts. Beyond the marina is a seaside park on the Sustipan Peninsula (which was once a cemetery; destroyed in World War II, it has since been relocated). There are views across the marina back to the city as well as a panoramic look out to the Adriatic Sea.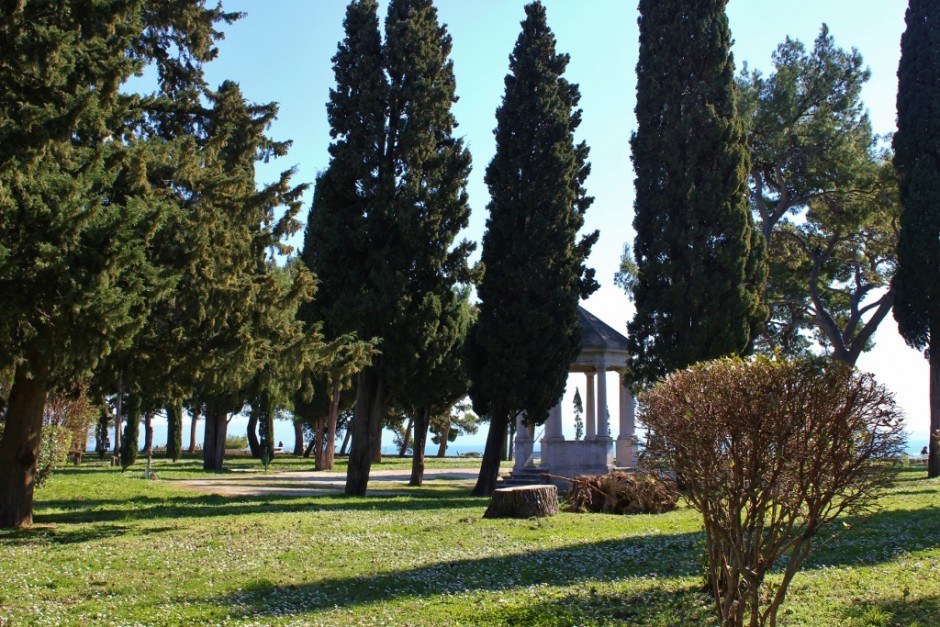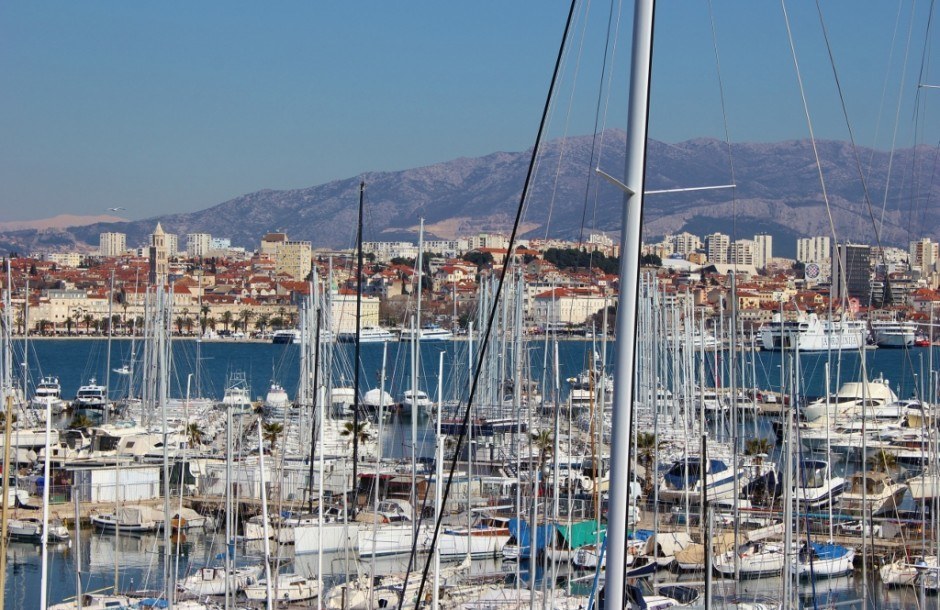 Tips for Sightseeing in Split, Croatia
Split Activities and Day Trips
One of the things that makes Split such a fantastic city is the prime location. The region boasts a sea dotted with islands, mountain peaks offering viewpoints, towns steeped in history and parks streaming with waterfalls – all accessible via Split day trips. We have used Split as a base for exploring more of the coastline, the interior and sea. The most popular tours from Split are: Trogir, Krka National Park, Plitvice Lakes National Park, Mostar and Game of Thrones. And, in the summer, top Split day trips are on the sea – either island hopping by sailboat or snorkel trips to the Blue Cave or Blue Lagoon.
The proximity and variety of sights allow travelers to choose from an array of tours that fit their style. Some sights can be combined on a single trip, making is possible to take short jaunts from the city or create longer day trips. Read more about our Split day trips to Trogir, Omis, Vis, Krka National Park, Plitvice Lakes and Mostar.
Where To Stay
During our visits to Split, we have stayed in some awesome Airbnb Apartments – (inside Diocletian's Palace, on Marmontova and east of the Old Town) all of which were fabulous. (Not already a member of Airbnb? Use this link to create an account and save money on your first stay!) We have found that staying in apartments is often less expensive than hotel rooms – with the added benefit of a kitchen and, usually, more space. Split holiday apartments can also be searched on FlipKey (which is part of TripAdvisor) or on VRBO – Vacation Rentals By Owner.
However, for those who prefer staying in traditional accommodations, there are many Split hotels to choose from in – or close to – the city center. Check out these top-rated hotels (based on guest reviews!) for your upcoming trip: Palace Judita Heritage Hotel, Piazza Heritage Hotel and Heritage Hotel 19. Or, find a deal on a hotel room by bidding on Priceline.
Budget travelers can check out the hostels in Split – and these traveler recommended hostels: Hostel Dvor, Hostel Matejuska, Tchaikovsky Hostel Split. Or, check for Couchsurfing hosts in Split, where travelers stay with locals for free.
Getting There
Split can be reached by plane, ferry, bus or car.
Our preferred method of getting anywhere is by flying (we are JetSetting Fools, after all!). However, due to our unique circumstances (flight benefits earned from years of service with a major airline), we rarely buy airline tickets. That being said, when we do need to purchase plane tickets, we start our search for the best deals on airline tickets on Skyscanner or Flight Hub.
There are two main ferry companies in Split: Jadrolinija and Krilo. Our preferred bus company is FlixBus – as it is economical, clean and comfortable with on-board wifi, seat-back entertainment, refreshments and a toilet. However, the routes in Croatia are limited. Bus Croatia can be used to find routes not serviced by FlixBus. We aren't keen on driving abroad, but renting a car can often save time and money (especially when traveling with more than two people) – and it allows for greater discovery.
Before You Go
Want more travel planning tips? Head over to our Travel Planning page for our complete packing list and other travel resources!
We want to know: What is on your list of sights to see in Split, Croatia? Let us know what else you would add in the comments!
Like what you're reading? Join the journey!
Subscribe to JetSetting Fools and get new blog posts and our quarterly newsletter direct to your inbox:

Pin it! See all of our travel pins on our JetSetting Fools Pinterest Board.