Hey there! Welcome to JetSetting Fools! You will find our best travel tips for destinations worldwide. Some of the links on this site are Affiliate Links and if you use them to make a purchase, we may earn a small commission. For more information, read our Disclosure Policy.
---
Wine in Croatia, like so much of Europe, is part of daily life. Croatia's lengthy coastline along the Adriatic Sea provides favorable conditions for cultivating vines, which are frequently seen lining the hillsides. The Istrian peninsula is known for wine-making and, thus, wine tasting in Rovinj is a must-do. But even more than just tasting wine, we were interested in seeing where the wine was made. As it turns out, there are two wineries and a winery tasting room within walking distance from Rovinj's old town – so we created our own wine walk.
Croatia's wine history
Croatia's long wine history dates back to the Ancient Greeks in the 5th century BC, but has seen many changes in current times. When Croatia was part of Yugoslavia, producing wine from traditional family vineyards was discouraged. During the war, many of these vineyards were destroyed and, just this summer, wild fires consumed a great number of vineyards along the Dalmatian Coast. However, locally-produced wines throughout the country are still flourishing and, in Rovinj, it's evident.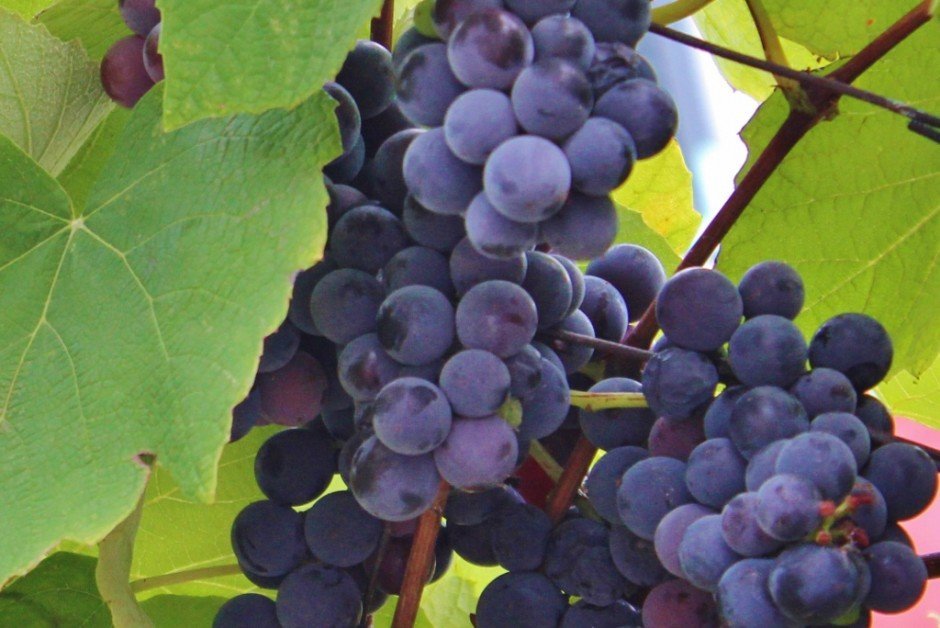 Wine tasting at bars and shops in Rovinj
White wine is more prevalent in Istria, but we prefer reds. The most popular local variety of red wine is Teran, a big, jammy wine with a spicy ending, often mixed with Merlot to soften the taste. Every café and restaurant in Rovinj serves local wine, so sampling the flavor of Istria is fairly simple.
A couple of wine bars in the old town, like the charming Piassa Granda, are dedicated to featuring the area's finest. For those just wanting a small taste, several of the wine shops found along the lanes offer samples to tourists. As we sipped, our interest in the locally produced wine extended beyond the bars and shops.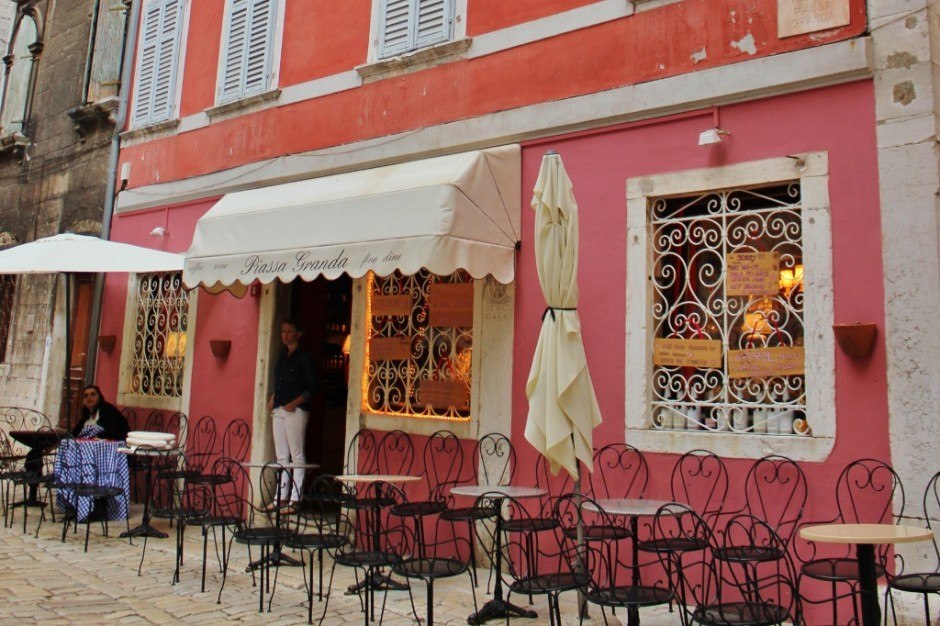 Rovinj Wine Walk: Wine tastings in Rovinj at wineries
With the production of wine so prevelant in the area, we wanted to see where the wine was made. Within walking distance from the old town, we found two wineries for wine tastings in Rovinj, as well as a winery tasting room. Follow our steps around the outskirts of town and see the map and tips below! 
Leave the Old Town along the northern car park and follow it to the end. At the roundabout/traffic circle, take Giordana Pallage/Giordano Pallaga uphill to Carmelo/Karmelo. Turn right onto Carmelo/Karmelo and walk straight to Villa Dobravac.
Villa Dobravac
Villa Dobravac has accommodations, a restaurant, a bar and winemaking/bottling facilities. As we were visiting during the autumn harvest, there were no winery tours or tastings, but we were invited to sit on the patio and enjoy a selection of their six award winning wines.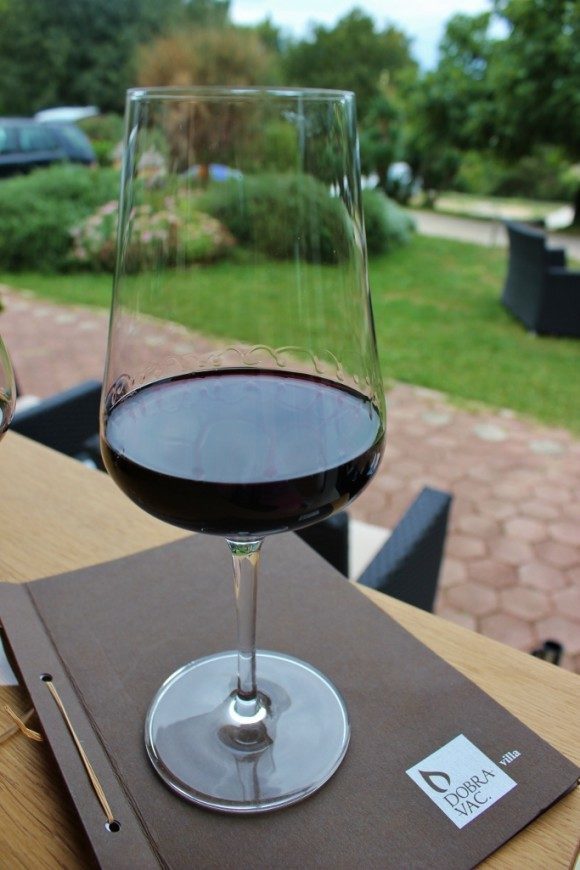 Of the two red choices, I favored the Fuga, a blend of Cabernet Sauvignon, Merlot and Cabernet Franc, that was bold and had a bit of spice to it. Kris preferred the Toccata, a blend of Merlot, Teran, Cabernet Sauvignon and Cabernet Franc, which had a fuller fruit flavor and was slightly softer. As we savored each glass, we watched the winemakers busily producing this year's harvest. We felt very relaxed in the peaceful atmosphere as we took in the views of Rovinj's old town and the Adriatic Sea in the distance.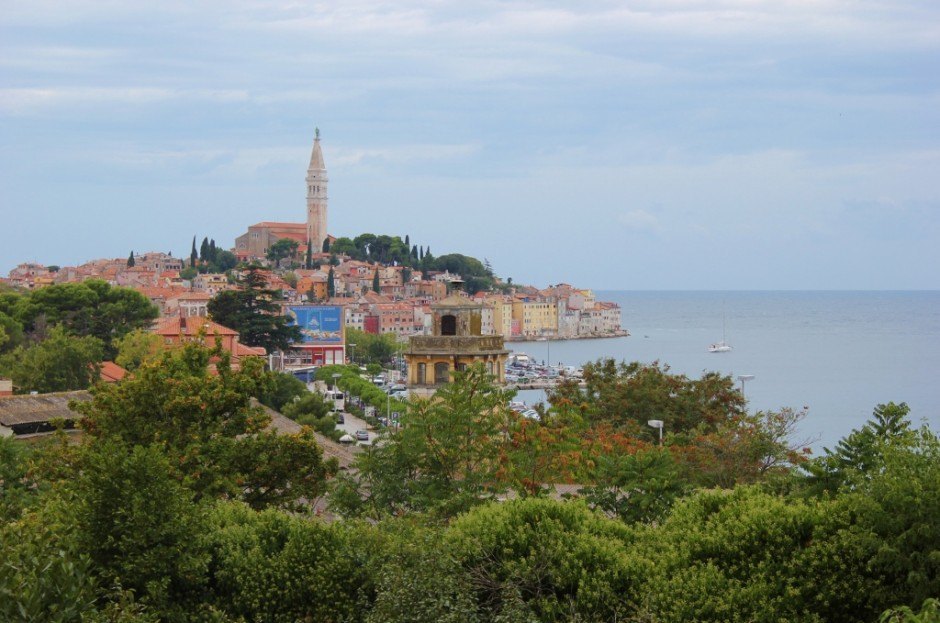 Continue on Carmelo/Karmelo (or cut through the park) to Vijenac Franje Glavinica/Circonvallazione Franjo Glavinic and turn right. On the corner at Cademia, is Vivoda.
Vivoda
Vivoda is an inconspicuous complex housed in a neighborhood and we passed right by it our first time and had to double back around to find it. And what a find it was, as it is truly unlike any other winery we've ever visited. Unsure if it was even open, we followed another patron inside. She walked to the counter and unloaded several large, empty water bottles, giving instruction in Croatian to the owner. He nodded and took the bottles to the back. He returned a few moments later, each of the bottles filled with wine.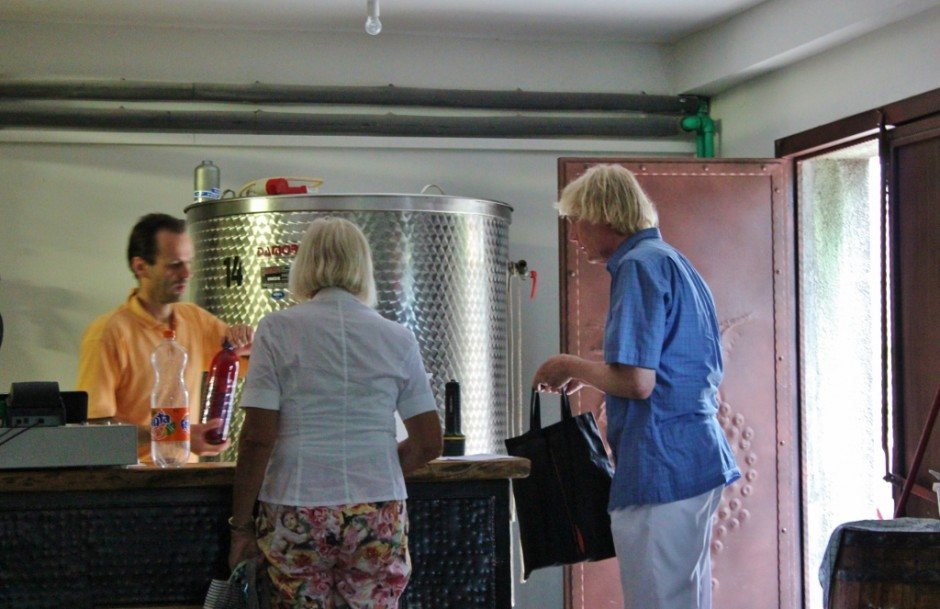 Completely baffled by this unpretentious method of buying wine direct from the winery, we asked to try a glass of the Vivoda Teran, which he offered to us free of charge. There was only one table (a converted barrel) in the front of the room with two chairs, so we somewhat awkwardly took a seat. As we sipped the full flavored wine, we watched more people come in, all with their empty bottles to be filled. We consulted the price list and were astonished to find each filled liter (which is 25% more than a typical bottle of wine) only cost 18 kuna – that's about $2.70 USD. Noting the bin of used plastic bottles, we fished out one to be filled with Teran-to-go.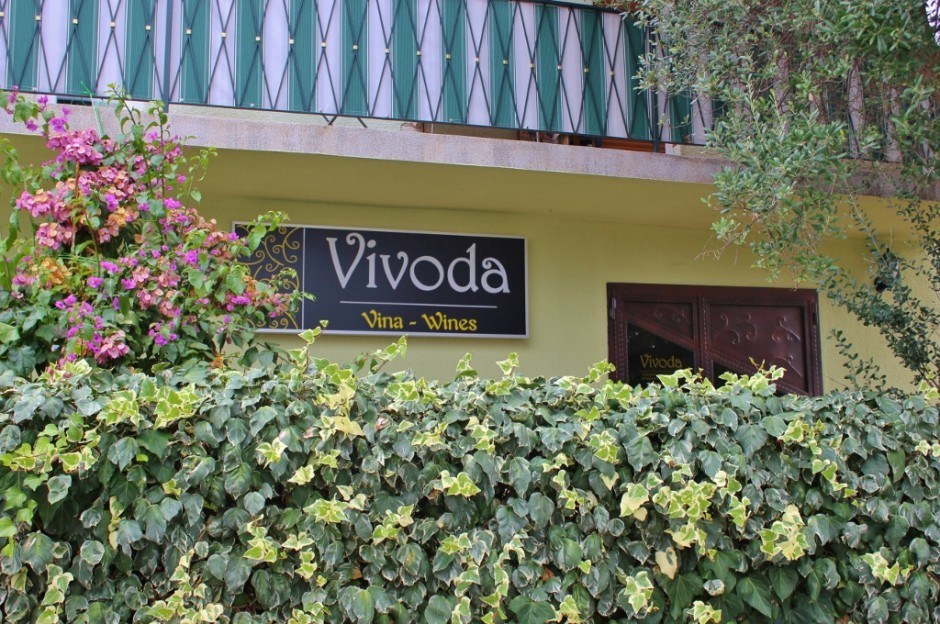 Continuing along Vijenac Franje Glavinica/Circonvallazione Franjo Glavinic, we walked back toward the old town. We turned right on Mazzinia/Mazzini and strolled down to the harbor to Obala Alda Rismonda/Riva Aldo Rismondo #19, the San Tommaso Wine Bar.
San Tommaso
The San Tommaso Winery is actually located on a 150-year-old estate 15km outside of Rovinj in Bale, but they have a lovely tasting room and wine shop right on the Rovinj harbor. While not technically a winery, it was a fabulous way to wrap up our Wine Tasting in Rovjin Wine Walk. They pour their own wine, as well as products from other Istrian wineries and have knowledgeable staff on hand for questions. Rather than sitting inside, we took a waterfront table and enjoyed the sunset, with a glass of San Tommaso Teran in hand, of course.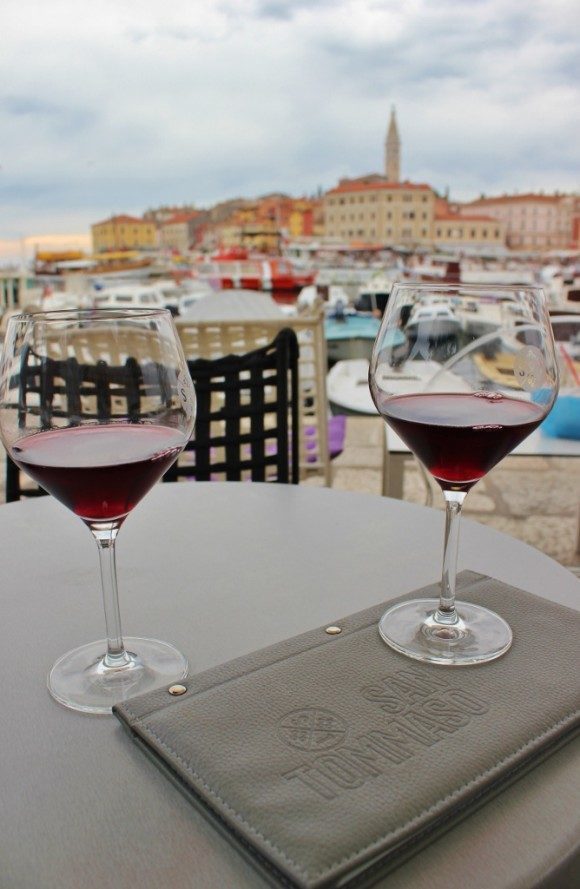 Wine Tasting in Rovinj Wine Walk Notes and Tips:
Allow about 2 hours to complete the Wine Walk, including stops for tastes at each place.
During our visit in the autumn, the Villa Dubravac bar opened at 2:00pm and Vivoda opened at 3:00pm. San Tommaso and the wine bars and shops had longer opening hours. Verification of open hours during your visit is suggested.
Street signs are in Croatian and/or Italian, so we've listed both.
Most wine pours in Rovinj are 100 ml (often listed as .1l), which is quite a bit less than a standard pour in an American restaurant. We actually thought it was nice because we were able to sample several types of wine that way.
Like most wine, prices range by quality. A glass of the local boutique wine costs about 15 to 30 kuna ($2.25 to $4.50 USD). At the wine bars, more expensive glasses are offered. However, at local cafes, a glass of table wine can cost as little as 7 kuna ($1 USD).
If heading to Vivoda, don't forget to bring an empty liter water bottle! Bring along some plastic cups as well and find your own spot to enjoy the wine with a view.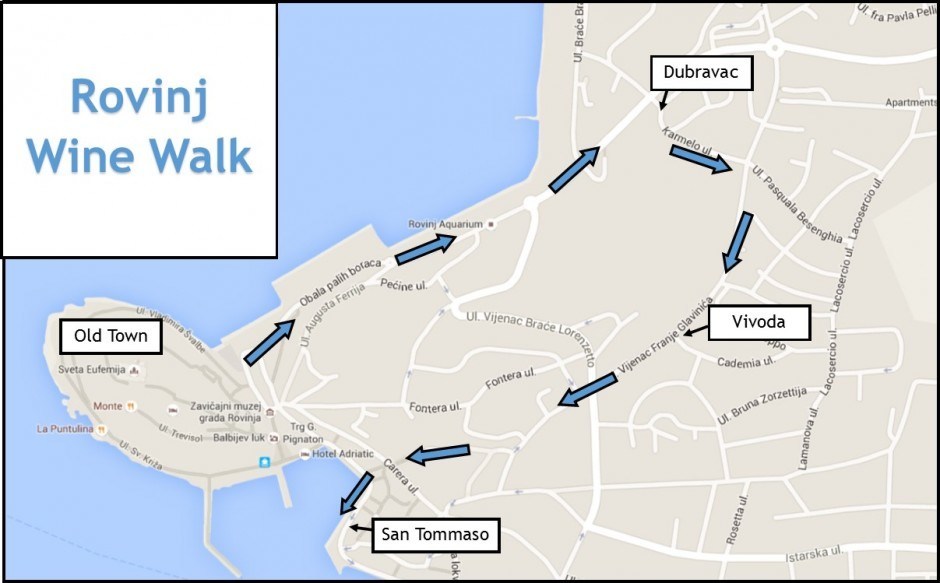 We want to know: Have you been wine tasting in Rovinj, Croatia? Where did you go? Which wine was your favorite? Tell us about it in the comments!
Pin it!