Hey there! Welcome to JetSetting Fools! You will find our best travel tips for destinations worldwide. Some of the links on this site are Affiliate Links and if you use them to make a purchase, we may earn a small commission. For more information, read our Disclosure Policy.
---
Croatia's Istrian Peninsula dangles off the northwest corner of the country into the Adriatic Sea. Like much of Croatia, the coastline in Istria is the big attraction. Seaside towns steeped in history line the western shore, each exuding unique character. However, the interior of the Istrian Peninsula is equally picturesque and has a storied past of its own. Medieval hilltop towns and regional delicacies are as much a reason to visit Istria as the translucent waters of the sea. Although we opted to base ourselves on the coast during our stay, we planned a one-day tour of Istria that included both the coast and the interior so that we could experience the must-see highlights of Croatia's Istrian Peninsula.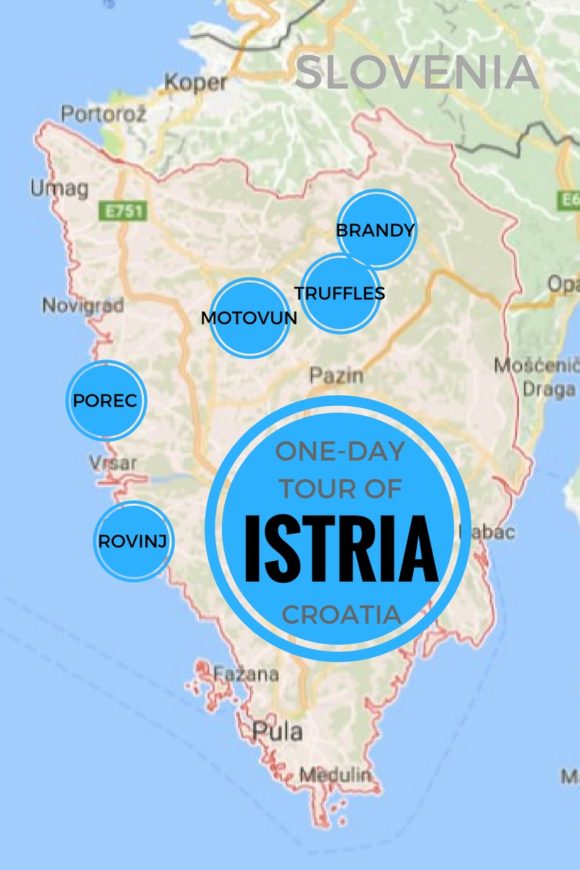 One-Day Tour of Istria
Truffles
The first stop on our tour of Istria was for truffles – the fungus, not the chocolate. While not everyone is a fan of the pungent, high-priced nuggets, it only takes one whiff of the earthy scent to make me swoon.
Our morning mission was to accompany dogs at the Karlic Tartufi Plantation in Paladini on a hunt, but first we had breakfast. Perhaps one of the most indulgent, flavorful breakfasts to ever pass my lips; everything we consumed – cheese, meat, oil and honey – was accented with truffles, culminating in Karlic's signature dish, scrambled eggs with truffles. Heavenly.
On the hunt, with the taste of truffles still on our breath, we tramped through the forest following a guide and two dogs. Sniffing their way around the forest floor, the dogs would start digging and our guide jumped in beside them to secure the findings. Three times during our hunt, the dogs uncovered precious truffles.
Brandy
Is it ever too early to start drinking? We don't think so – at least not when sampling traditional Croatian brandy! The second stop on our tour of Istria was at Aura Distillery in Buzet – a family-run company intent on producing products 'just like grandma' without any preservatives.
Before diving into the brandy tasting, we toured the small distillery where they produce the fruit brandy, called rakija in Croatia. We were guided through Aura's process of using traditional methods and natural ingredients to produce more than 20 flavors of brandy. Then it was time to get serious and start sampling their product. From the smooth-not-syrupy Teranino to the herb-infused Sage to the unique Olive and Almond – we tried them nearly all despite the early hour!
Motovun
The third stop on our tour of Istria had us heading for the hills to Motovun. The medieval town, which is perched on a hill like a wedding cake topper, was once protected by walls that included nine gates and seven towers. It has been inhabited by Celtics, Romans and Venetians – and today is home to about 1000 residents.
We took a guided tour of the city, tracing the remaining city walls and passing through the main square of the upper city that was once surrounded by a moat and drawbridge. While the historic city was remarkable, what really wowed us were the phenomenal views.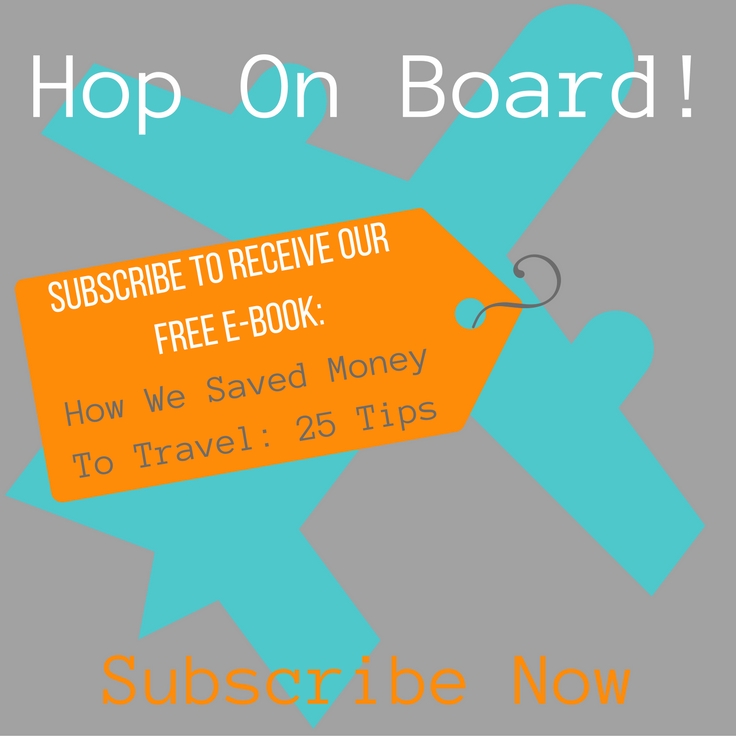 Porec
After spending the first part of the day in the interior, our tour of Istria moved to the coast to Porec. Like so many of the shoreline towns in Istria, Porec resides on a peninsula and, today, the local economy relies mostly on tourism. Swimming in the award-winning clean waters of the lagoons attracts many holidaymakers, but we were most interested in seeing the Euphrasian Basilica.
With part of the church complex dating to the 4th century, it is the centerpiece of Porec's history. Ancient tiled mosaics are featured throughout – as part of the floor, walls and exterior – but none are as impressive as the glittering mosaic behind the main altar. The art, most of which is still original, depicts the stories of Mary visiting Elizabeth and Angel Gabriel visiting Mary.
Rovinj
We ended our tour of Istria in Rovinj. The charming town protrudes into the Adriatic Sea; it was an island until the 1700s when the channel was filled in, connecting it to the mainland. Cobblestone streets lead up to St. Euphemia Church and the bell tower, which can be seen from afar piercing the sky. Laundry crisscrosses the streets, strung between the pastel painted stone buildings. Much like Motovun, it isn't the sights that attract visitors to Rovinj. The appeal of Rovinj lies in the car-free lanes, the turquoise sea, the magnificent sunsets, the hidden squares and outdoor cafes.
After our long day of exploring Istria, we sought out a seaside café. We sipped a glass of local Teran wine while watching fishermen prepare their nets and the sun as it sank into the sea.

One-Day Tour of Istria, Croatia Tips:
Planning your One-Day Tour of Istria
This one-day tour of Istria requires a car – either rent a car or hire a personal guide. There are customized, private Istria Tours and Istria Hilltop Tours.
This tour is ideal for anyone already staying in Istria – but is also possible if staying in nearby Rijeka or even Zagreb (just factor in driving time, which from Zagreb is about 2.5 hours).
Allow 8 hours to see all five towns – plus driving time to/from the first/last destination.
Ambitious travelers could squeeze in one more stop after Rovinj and continue south to Pula, which features a 1st century amphitheater and other Roman ruins. (Allow 1 hour driving time and 2 hours for sightseeing.)
Where to Stay:
During our visit to Istria, we based ourselves in Rovinj (which is our favored city to stay in). We stayed in this awesome Airbnb Apartment. (Not already a member of Airbnb? Use this link to create an account and save money on your first stay!) We have found that staying in apartments is often less expensive than hotel rooms – with the added benefit of a kitchen and, usually, more space. Rovinj holiday apartments can also be searched on FlipKey (which is part of TripAdvisor) or on VRBO – Vacation Rentals By Owner.
However, for those who prefer staying in traditional accommodations, there are many Rovinj hotels to choose from in – or close to – the city center. Check out these top-rated hotels (based on guest reviews!) for your upcoming trip: Hotel Adriatic, Hotel Lone and Angelo D'Oro HotelAngelo D'Oro Hotel. If you would rather stay in a different town in Istria, you can search here for Istria accommodations. Or, find a deal on a hotel room by bidding on Priceline.
Budget travelers can check for availabilit at Roundabout Hostel. For a true bargain – and a unique experience – search for hosts on Couchsurfing, where travelers stay with locals for free.
Getting There
Rovinj can be reached by bus or car. The closest airports are in Pula and Zagreb.
Our preferred method of getting anywhere is by flying (we are JetSetting Fools, after all!) and when we do need to purchase plane tickets, we start our search for the best deals on airline tickets on Skyscanner or Flight Hub.
An alternative to flights – especially in Croatia – is to travel by bus. Our preferred bus company is FlixBus – as it is economical, clean and comfortable with on-board wifi, seat-back entertainment, refreshments and a toilet. We aren't keen on driving abroad, but renting a car can often save time and money (especially when traveling with more than two people) – and it allows for greater discovery.
Connectivity
When you are on the move and want to stay connected, a wifi hotspot is the way to go. When traveling through Croatia, you can stay connected with reliable wifi from Roam Free Ninja. The personal mobile wifi hotspot can be rented for days or months at a time and allows you to easily share your travel experiences with friends and family on social media.
Before You Go
Want more travel planning tips? Head over to our Travel Planning page for our complete packing list and other travel resources!
We want to know: Have you taken a tour of Istria, Croatia? What did you see? Tell us in the comments!
For more of what to see in Croatia, check out our 2-Week Croatia Itinerary.
Pin it! See all of our travel pins on our JetSetting Fools Pinterest Board.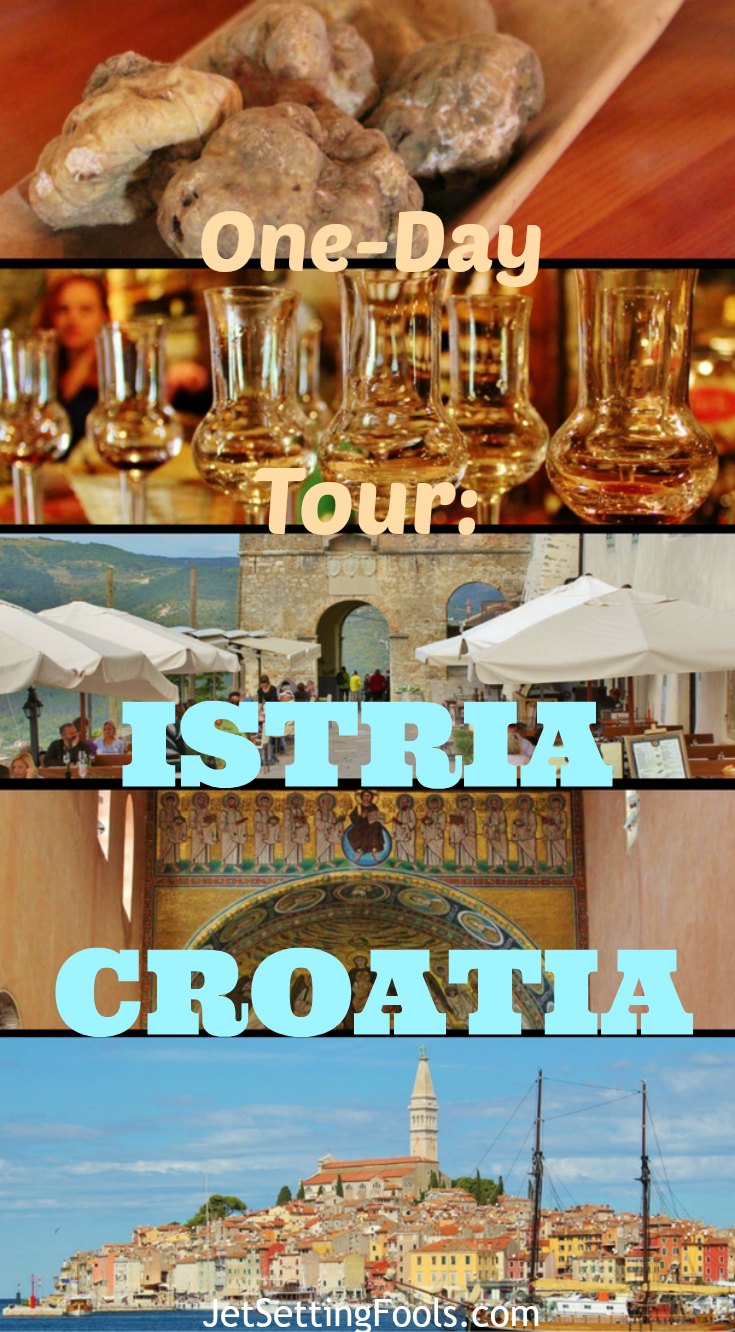 Thank you to the Croatian National Tourist Board and Istria Tourist Board for organizing our one-day tour of Istria, Croatia. As always, the opinions expressed are our own.