Hey there! Welcome to JetSetting Fools! You will find our best travel tips for destinations worldwide. Some of the links on this site are Affiliate Links and if you use them to make a purchase, we may earn a small commission. For more information, read our Disclosure Policy.
---
We've made a quick pit stop in Dublin, Ireland: land of historic castles, Catholic churches, leprechauns, shamrocks, pots of gold, pints of Guinness and rowdy pubs filled with music. With only three full days to explore, we decided to concentrate our efforts on experiences. And, since our first day was a Sunday, we were seeking a traditional Dublin, Ireland Sunday Session.
Squeezing a history lesson into our day, we headed to The Brazen Head, the oldest pub in all of Ireland, dating back to the year 1198. The layout includes five small rooms, three of which also have bars, an upstairs and outdoor courtyard. The ambiance – from the Irish Pub décor to the aromas of fish and chips, mussels and beef stew – were exactly how we imagined it would be. Tables in the front bar were reserved for musicians, who were due to arrive in 30 minutes.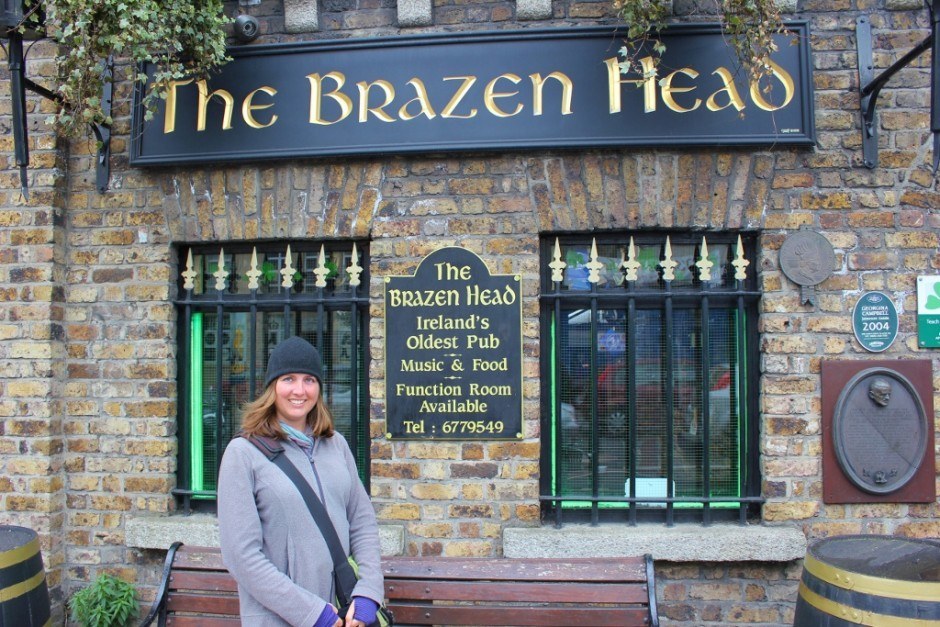 We eased into a booth in the back room and acquired the necessary patience for perfectly poured pints of Guinness. Our first sip confirmed what we had heard: Guinness tastes better in Dublin. I wondered how many pints have been served from these bars – and based on our initial observations and quick math – there have been many.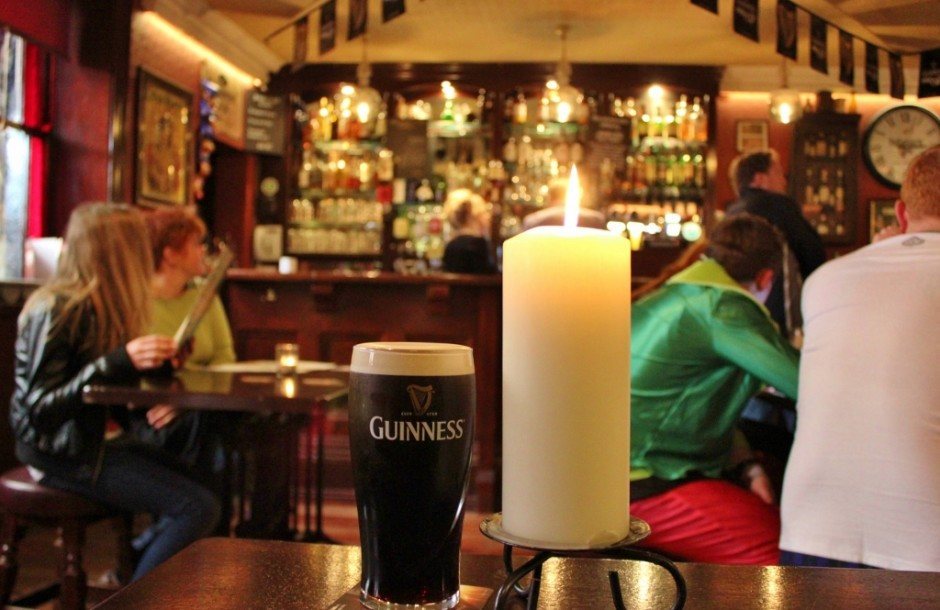 We headed to the front room for the music to find that the previously full bar was now packed. We squeezed in along the back wall and, standing on my tippy-toes, over the crowd I could see the seven musicians in the corner booth. Ranging in age from nearly dead (their words, not mine) to rather young, they played guitars, a fiddle, an accordion, a couple of bodhrans (Irish drums), and spoons, but had no microphones or amplifiers.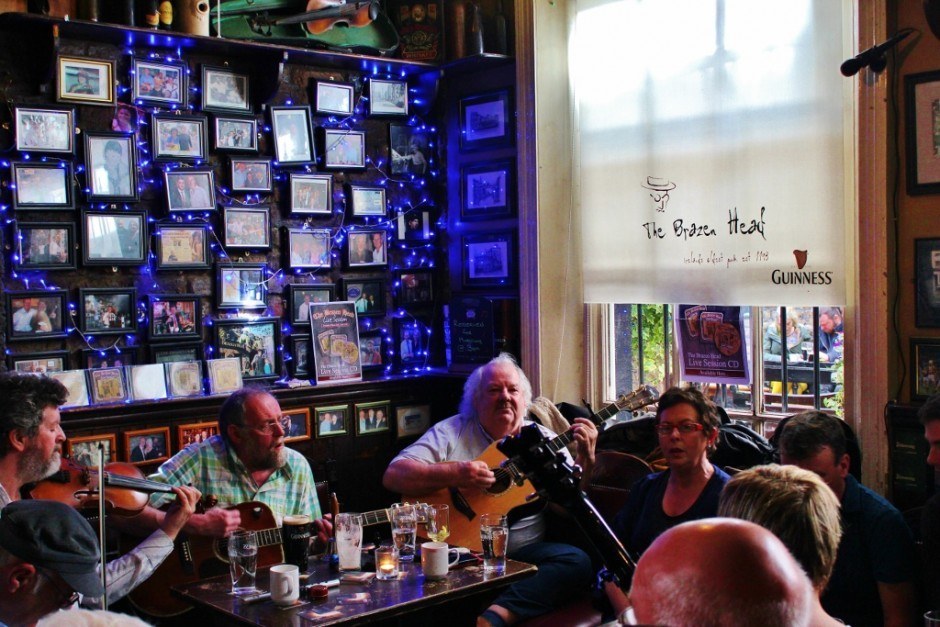 It truly was a traditional Dublin, Ireland Sunday Session, as they also doubled as comedians and story tellers. During traditional ballads, the entire bar sang along and when they played upbeat tunes, there was so much stomping that the room was shaking.
Initially, we had anticipated only staying for a few tunes, but the atmosphere was so engaging that we couldn't tear ourselves away. Even during their short break, a Scottish man wearing a kilt busted out his bagpipes.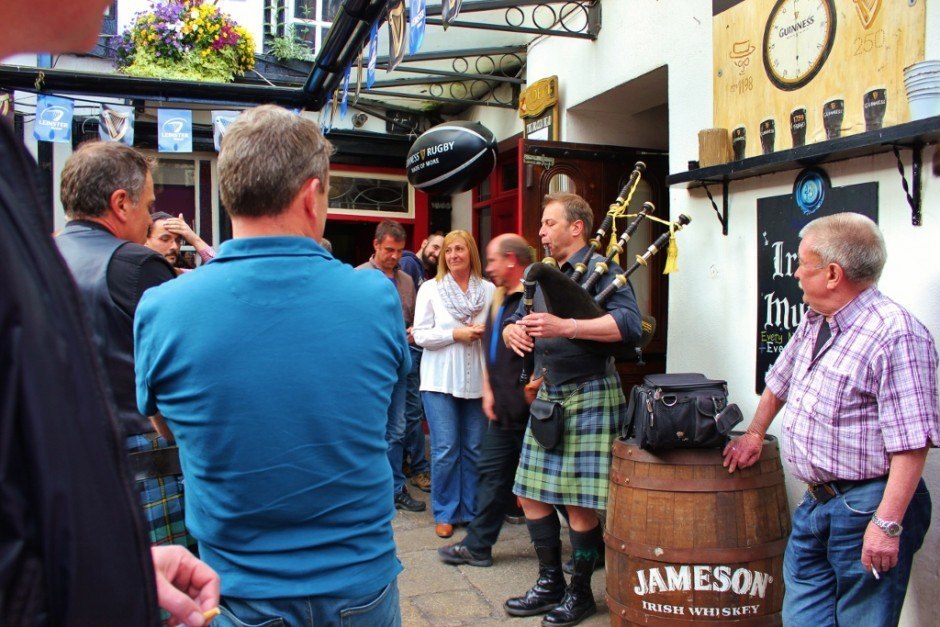 What a fine welcome to the city with a traditional Dublin, Ireland Sunday Session! Slainte!
Our top tips for your trip to Dublin
Essential Dublin Experiences
Once you have the lay of the land, indulge in a few essential Dublin experiences. Visit Dublin's Guinness Storehouse for a connoisseur tasting and then head to the Jameson Distillery for a lesson on Irish whiskey. Take a River Liffey cruise or get a taste of Dublin on an Irish Food Walking Tour. At night, bounce around the pubs in Temple Bar or join one of the entertaining Dublin pub crawls – and end the night on a Dublin Ghost Tour.
Day Trips from Dublin
There are endless options to explore Ireland, using Dublin as a base. Popular day trips from Dublin include visiting the coastal village of Howth, heading to Northern Ireland and Giant's Causeway, seeing the stunning Cliffs of Moher and making a trip to the Blarney Castle (and kissing the Blarney Stone!).
Where To Stay
During our visit to Dublin, we stayed in this awesome Airbnb Apartment. (Not already a member of Airbnb? Use this link to create an account and save money on your first stay!) However, for those who prefer staying in traditional accommodations, there are many Dublin hotels to choose from in – or close to – the city center. Check out these top-rated hotels (based on guest reviews!) for your upcoming trip:
Or These Hostels:
Before You Go
Don't forget to pack a pair of lightweight and comfortable walking shoes. I (Sarah) have traveled with these shoes by Columbia, Skechers and Reef. Kris prefers wearing these shoes by Merrell and Sanuk.
We're certain you'll be snapping tons of photos during your trip. Rather than relying on your mobile phone to capture the sights, upgrade to an actual camera for higher quality photos. We travel with a Canon Rebel (which takes amazing photos, but can be a bit clunky) and a Canon PowerShot ELPH (which takes beautiful pictures, is slim and lightweight – and the new models are wifi enabled so you can share your trip pics to social media in real time!).
It's easy to get turned around or lost in any new city! Be sure to have a good city map and/or guidebook prior to arriving.
We think travel insurance is essential! If you haven't already obtained travel insurance for your trip, travel protected with World Nomads.
Want more travel planning tips? Head over to our Travel Planning page for our complete packing list and other travel resources!
Like what you're reading? Join the journey!
Subscribe to JetSetting Fools and get new blog posts and our quarterly newsletter direct to your inbox:

We want to know: Have you been to a traditional Dublin, Ireland Sunday Session? Which bar? Tell us about it in the comments below!
Pin it! See all of our travel pins on our JetSetting Fools Pinterest Board.