Hey there! Welcome to JetSetting Fools! You will find our best travel tips for destinations worldwide. Some of the links on this site are Affiliate Links and if you use them to make a purchase, we may earn a small commission. For more information, read our Disclosure Policy.
---
Dublin, Ireland is home to numerous iconic sights and historic attractions. The top places to visit in Dublin are clustered together in the heart of the city center, which allows visitors the opportunity to explore the city on foot. We have created an easy-to-follow Self-Guided Dublin Walking Tour that travelers can use to navigate the city…for free! We even include a helpful Dublin Walking Tour Map at the end of the post.
Our free-to-use tour is one of the best walks in Dublin! Save, Pin or Bookmark this post to use during your trip!
Free Walking Tour Dublin, Ireland
Our free walking tour of Dublin focuses on downtown Dublin and is an easy, flat walk through the city center. The Dublin sightseeing tour, without any stops, should take about an hour at a casual pace.
We have provided a brief introduction to each sight on our tour, as well as a link to more information. Additionally, we included a link to Google Maps for directions from one sight to the next. You will find our helpful map of Dublin tourist attractions at the end of the post.
The route passes by 11 must-see Dublin attractions, many of which can be entered. Some sights are free, while other require a ticket (we indicate if there is an admission fee). If you plan on entering several sights, see if the Dublin Pass will save you money.
If you only have one day, this free walking tour of Dublin, Ireland will surely get you acquainted with the city, as it includes stops at all the top things to see in Dublin. With 2 days in Dublin – or more – see our recommendations of more things to do in Dublin at the end of the post.
Our Dublin Walking Tour
Our self-guided, free tour of Dublin begins at Saint Patrick's Cathedral (map). Use the provided links or the downtown Dublin Map at the end of the post to navigate from sight to sight.
A: St. Patrick's Cathedral
It was on this site that in 450 AD St. Patrick baptized the first Irish converts. St. Patrick's Cathedral was completed in 1191 and is the largest church in Ireland. The spire reaches 140 feet. The cathedral is one of the top attractions in Dublin and visiting requires an entry ticket. Map Directions from St. Patrick's Cathedral to St. Stephen's Green.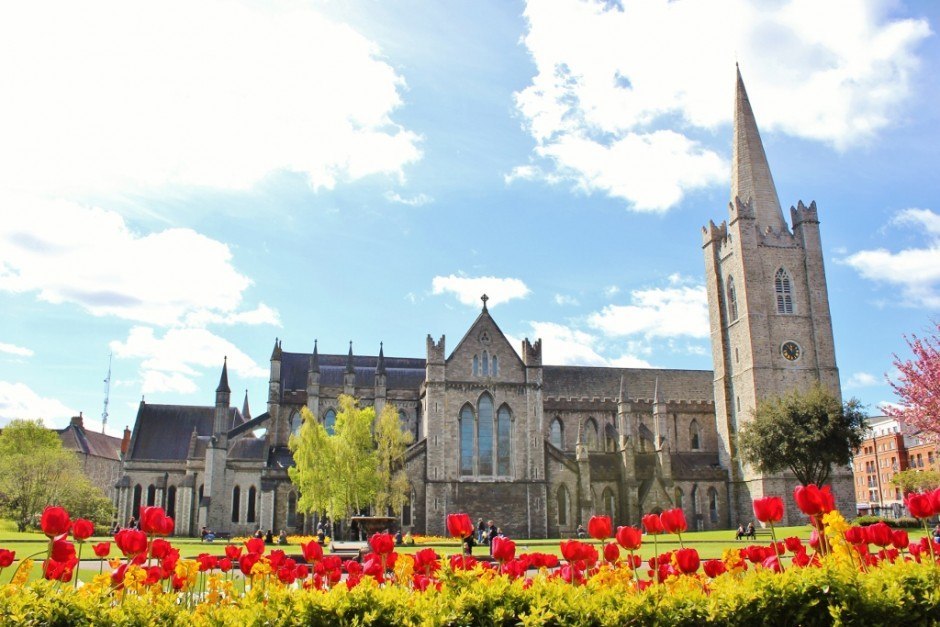 B: St. Stephen's Green
The 22-acre park in the center of the Dublin was created in 1664 and has been open to the public since 1880. St. Stephen's Green features a pond, a bandstand, memorials, statues, several paths and green lawns. If there is time in your Dublin itinerary, consider having a relaxing picnic in the park. Map Directions from Saint Stephen's Green to Grafton Street.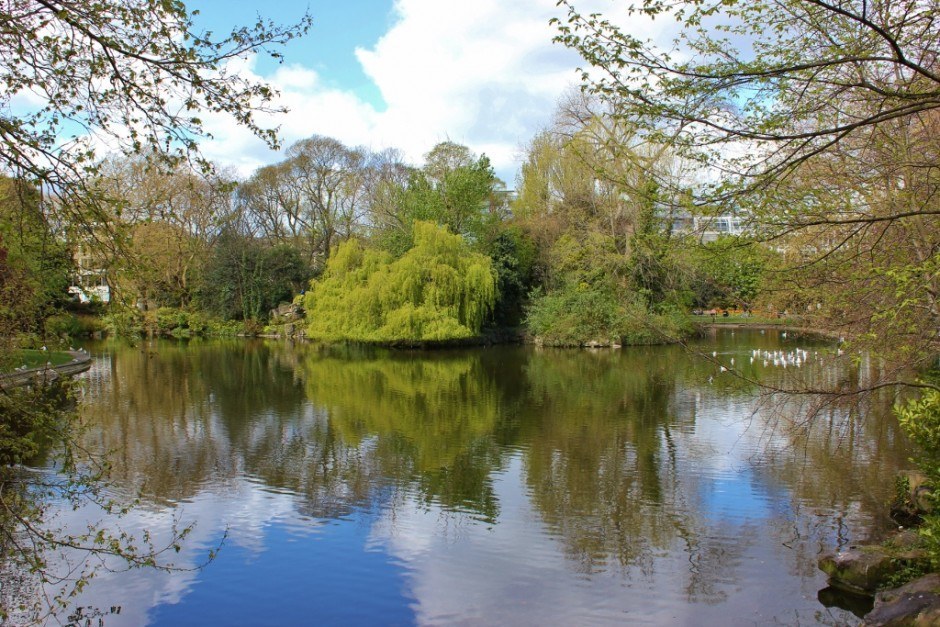 C: Grafton Street
The pedestrian-only, high-end shopping street, Grafton Street, leads from St. Stephen's Green to Trinity College. Street musicians entertain the passers-by. No Dublin visit is complete without strolling the iconic street. Map Directions from Grafton Street to Trinity College.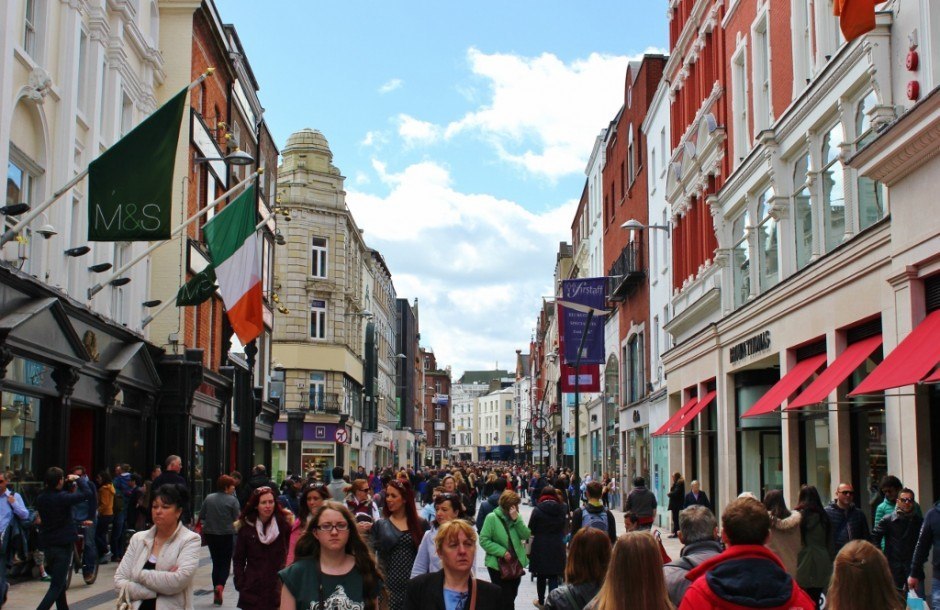 D: Trinity College
Established in 1592, it's Ireland's oldest university and a must see in Dublin. The official name is College of the Holy and Undivided Trinity of Queen Elizabeth near Dublin, but is just called Trinity College for short. The 47 acre campus has buildings arranged in squares around a bell tower and the library houses the Book of Kells (entry by ticket). Map Directions from Trinity College to River Liffey.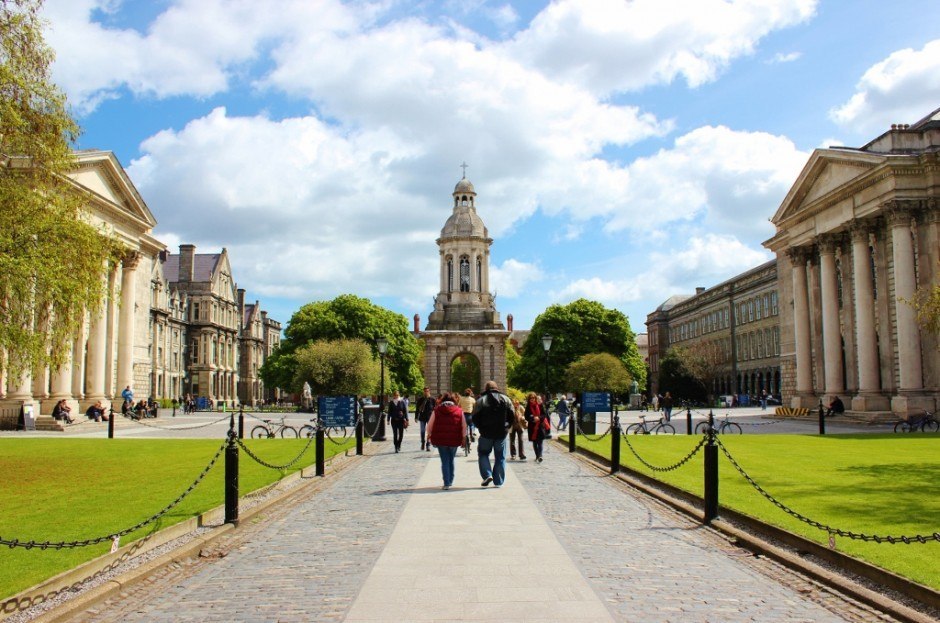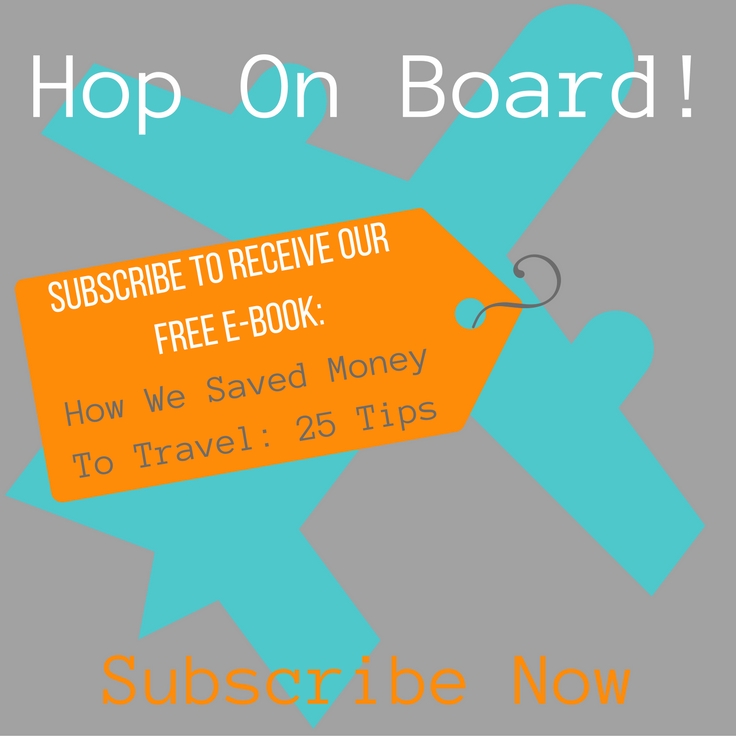 E: River Liffey
The River Liffey runs through the center of Dublin, dividing the city into north and south. Several bridges span the river, including three for pedestrians only, which make for nice walks in Dublin. The most popular footbridge is the Liffey Bridge, which dates to 1816 and is better known as the Ha'Penny Bridge for the 1/2 pence toll once required to cross it. Map Directions from River Liffey to Temple Bar District.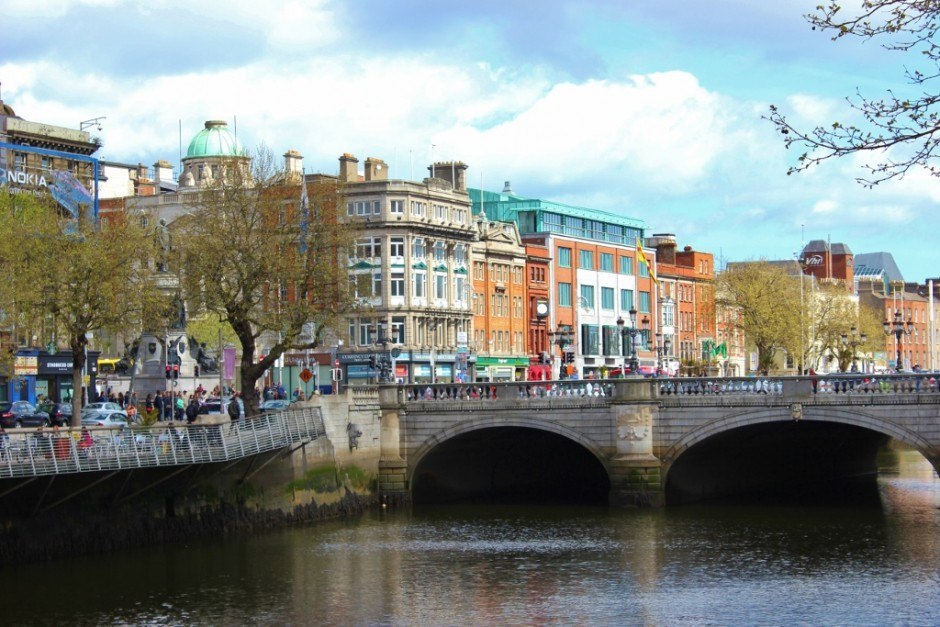 F: Temple Bar
Every Dublin itinerary should include one or two stops at a traditional pub! The energetic Temple Bar district on the south side of the river is chock-full of Irish pubs, restaurants and tourist shops – and is one of the Dublin areas most visited by tourists. The district is one of the best places in Dublin for a Pub Crawl. Several of the bars have a line-up of live music starting mid-day and going late into the night. Our favorite pubs were The Temple Bar and The Quays. Tip: For an evening of entertainment, join the Traditional Music Pub Crawl (info here!). Map Directions from Temple Bar to Olympia Theater.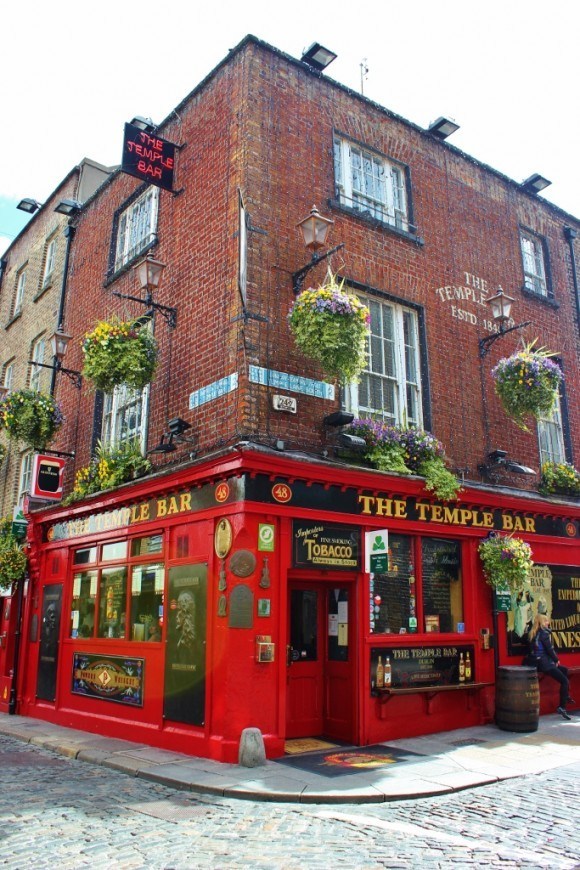 G: The Olympia Theater
Opened in 1879, The Olympia Theater still is an operating theater. It underwent a major overhaul in the 1970s and the original iron and glass awning had to be completely restored after a truck crashed into it in 2004. The stage has seen a slew of famous acts from Charlie Chaplin to Mumford & Sons. Map Directions from Olympia Theater to Dublin Castle.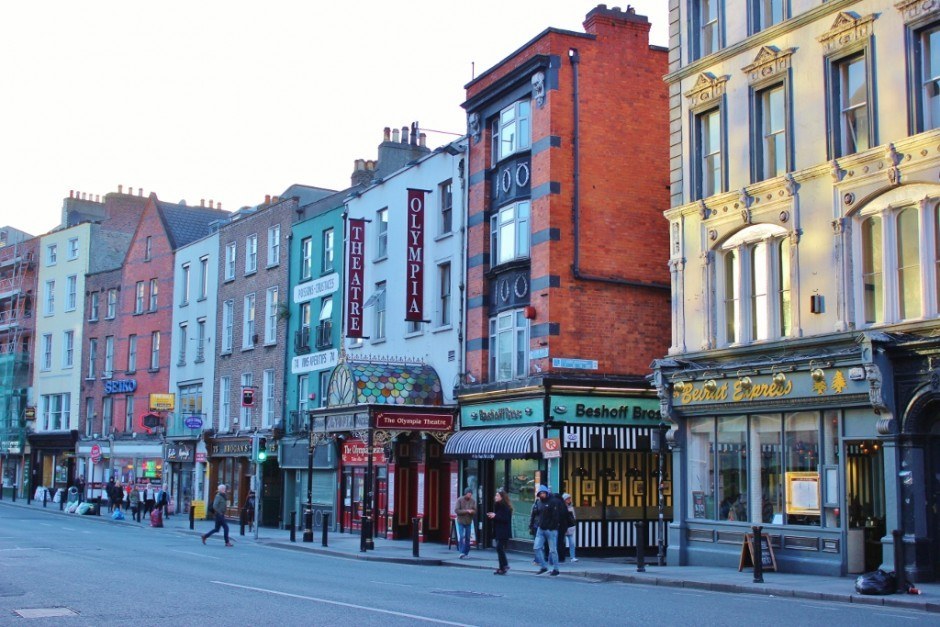 H: Dublin Castle
Now a conference and event complex, the buildings of Dublin Castle represent some of the oldest architecture in the city – and one of the top tourist attractions in Dublin. The castle was built between 1208 and 1220 as the residence of viceroys. A ticket is required for admission inside, where they also offer tours of Dublin Castle. Map Directions from Dublin Castle to Christ Church Cathedral.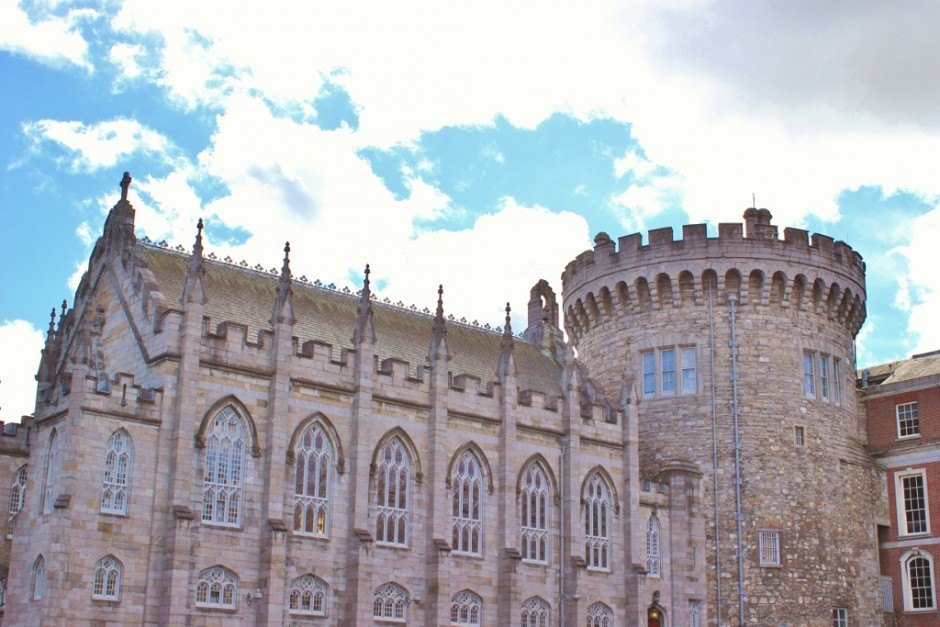 I. Christ Church Cathedral
Christ Church Cathedral dates back to medieval times, around the year 1030 – making it older than St. Patrick's and one of the best places to visit in Dublin for a history lesson. It was expanded in 1171, but most of the current structure was built between 1871 and 1878. An entry ticket is required for admission, unless you are there to pray. Map Directions from Christ Church Cathedral to John's Lane Church.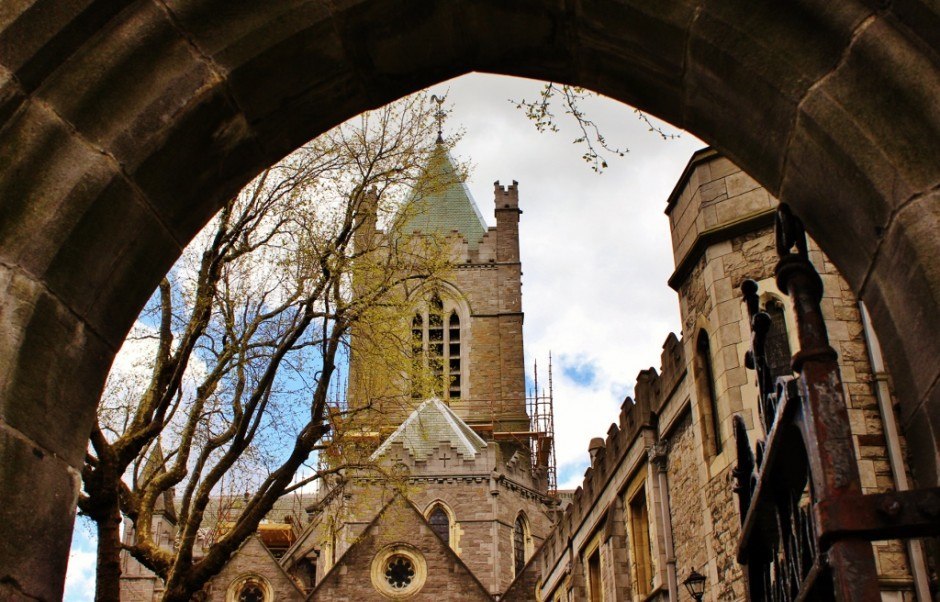 J: John's Lane Church
The John's Lane Church was built on the previous site of St. John's Hospital between 1862 and 1895. The French Gothic steeple reaches over 200 feet and is the tallest in Dublin. John's Lane Church is one of the churches you can enter in Dublin for free. Map Directions from John's Lane Church to The Brazen Head Pub.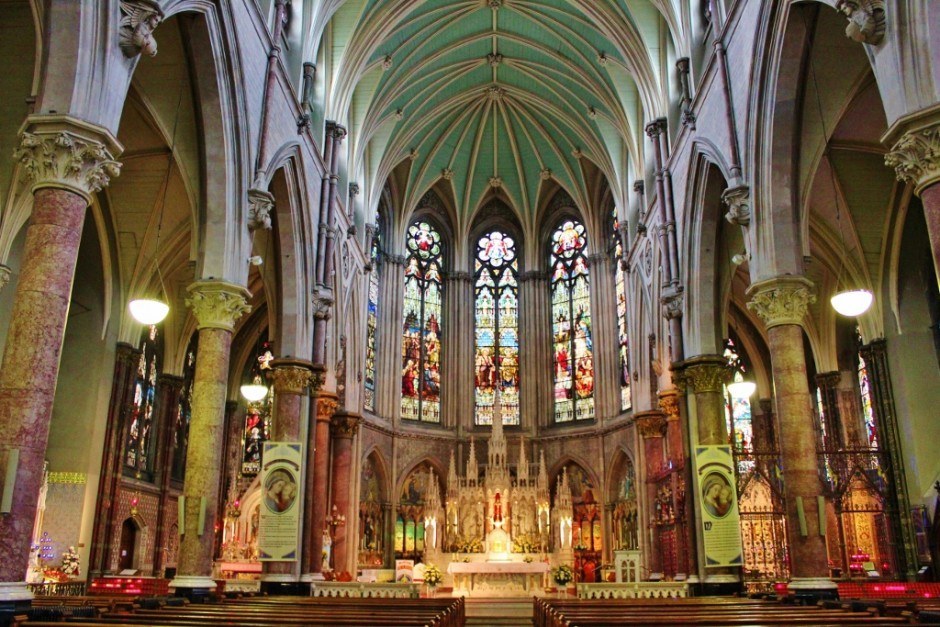 K: The Brazen Head
Dating back to 1198, The Brazen Head is Ireland's oldest pub. The five room (plus upstairs and courtyard) pub has three classic bars and live music. On Sunday's the day-drinking crowds gather for an Irish Sunday Session, which is one of the most fun things to do in Dublin. Even if it's not a Sunday, the classic Brazen Head pub is a perfect place to stop for a pint at the end of a Dublin Self-Guided Walking Tour. Map of The Brazen Head location.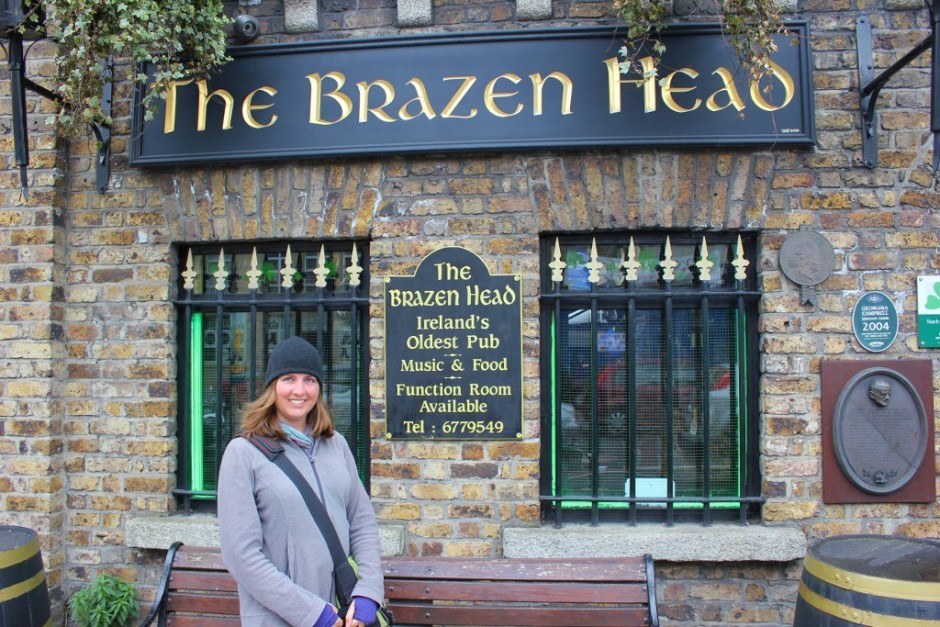 Dublin, Ireland Self-Guided Walking Tour Map
Use this link to Google Maps for a Dublin sightseeing map that has turn-by-turn directions for our Self-Guided Walking Tour Dublin, Ireland.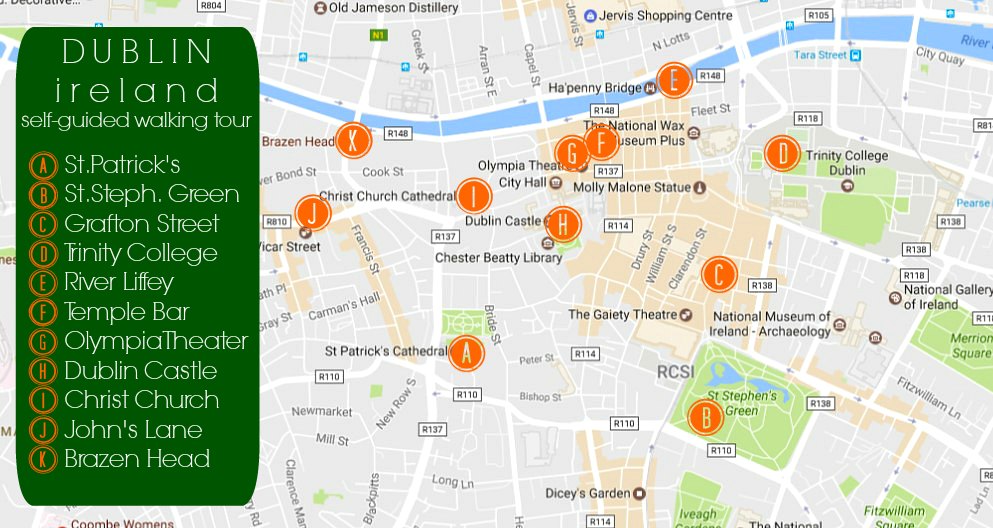 ---
Tours and Guided Walks in Dublin
Our above outlined free tour of Dublin is a great way to see the city. However, visitors who want to learn more about the history of Dublin and meet fellow travelers may want to consider joining a Dublin tour guide on a walk through the city.
Dublin Historical Walking Tour
The history of Dublin is fascinating! Join an easy 2-hour stroll through the city that is filled with interesting facts and information. Get the details!
Dublin Pub Crawl
When I think about things to do in Dublin, the first thing that comes to mind is drinking in pubs. We could have easily spent our three days in Dublin doing nothing more than downing pints of Guinness goodness; it really does taste better in Dublin! (However, then we would have missed out on Dublin sightseeing – and we weren't going to visit Dublin and not see the top Dublin tourist attractions!) After a day of Dublin city sightseeing, visit the best pubs in Temple Bar on one of the entertaining Dublin night tours to the city's best bars! Book this tour!
Ghost Tour Dublin
Join one of the Dublin guided tours to the city's spookiest spots! Learn the haunted history of the city on a spooky Gravedigger Ghost Tour. Note: This is a bus tour…which will give your feet a much-needed rest! Find out more!
Dublin Literary Pub Crawl
Follow in the footsteps of Ireland's most famous writers…to the pubs, of course! On this Dublin Literary Tour, listen to stories of the great writers and learn about the city's pub culture. Book it now!
1916 Tour Dublin
The 1916 Tour is a Dublin history tour that focuses on the events of the 1916 Uprising. The tour includes visiting key locations, re-enactments and multi-media presentations for a unique experience. Learn more here!
For more themed Dublin walking tours, check out this list of Dublin city tours.
More Fun Dublin, Ireland Tours
Once you have the lay of the land, indulge in a few essential Dublin experiences and Dublin tours. Visit Dublin's Guinness Storehouse for a connoisseur tasting and then head to the Jameson Distillery for a lesson on Irish whiskey. Take a River Liffey cruise or get a taste of Dublin on an Irish Food Walking Tour.
Hop On Hop Off Dublin Tour Bus
Visitors interested in city sightseeing without all the walking can catch a ride on one of the Dublin Bus Tours. The Dublin sightseeing bus routes make stops at (or near) all of the city's top attractions. The bus tickets also include other perks, like on-board commentary, discounts at top sights and a guided Dublin walking tour.
Sightseeing Hop On Hop Off Bus Dublin
The classic, red Hop On Hop Off Tour in Dublin has two routes that stop at 28 places of interest. Visitors can opt for a 1- or 2-Day Pass. Top Tip: This Dublin City Bus Tour is also included in the Dublin Pass (find out more!), which can save money on entry into sights, too!
Green Do Dublin Hop On Hop Off Bus
Do Dublin is another tour company that offers a Hop On Hop Off Dublin, Ireland bus service. In addition to the 24- and 48-hour bus tickets, the Dublin tour company also offers a 3-Day Freedom Pass that includes transportation to and from the airport, as well as use of all Dublin city bus routes.
Day Trips from Dublin
Use the city as a base and explore Ireland on one of many Dublin day trips. Popular day tours from Dublin include visiting the coastal village of Howth, heading to Northern Ireland and Giant's Causeway, seeing the stunning Cliffs of Moher and making a trip to the Blarney Castle (and kissing the Blarney Stone!).
Dublin day tours are offered by many companies. Read reviews from fellow travelers to find the best Ireland tours from Dublin on Viator!
Looking for multi-day Ireland trips? Set out from Dublin to see Ireland highlights on a five-day tour or enjoy the sights of Ireland on a six-day trip. For a longer trip that includes Dublin, the Intrepid Travel Northern & Southern Ireland Tour includes nine days of exploration.
Our top tips for your trip to Dublin
Where To Stay
During our visit to Dublin, we stayed in an awesome Airbnb Apartment. (Not already a member of Airbnb? Use this link to create an account and save money on your first stay!) We have found that staying in apartments is often less expensive than hotel rooms – with the added benefit of a kitchen and, usually, more space.
However, for those who prefer staying in traditional accommodations, there are many Dublin hotels to choose from in – or close to – the city center. Check out these top-rated hotels (based on guest reviews!) for your upcoming trip: Jurys Inn Dublin Christchurch, The Ripley Court Hotel, Temple Bar Inn.
Budget travelers can search for Dublin Hostels – like Garden Lane Backpackers, Sky Backpackers or Egali Hostel. For a true bargain – and a unique experience – search for hosts on Couchsurfing, where travelers stay with locals for free.

Getting There
Dublin can be reached by plane, train, bus or car. Our preferred method of getting anywhere is by flying (we are JetSetting Fools, after all!) and when we do need to purchase plane tickets, we start our search for the best deals on airline tickets on Skyscanner.
To get from city to city when flights are not possible, we usually rely on public transportation and take trains or buses. Dublin Bus and Bus Eireann provide bus transportation services in Ireland. We aren't keen on driving abroad, but renting a car can often save time and money (especially when traveling with more than two people) – and it allows for greater discovery.
Before You Go
Don't forget to pack a pair of lightweight and comfortable walking shoes. I (Sarah) have traveled with these shoes by Columbia, Skechers and Reef. Kris prefers wearing these shoes by Merrell and Sanuk.
We're certain you'll be snapping tons of photos during your trip. Rather than relying on your mobile phone to capture the sights, upgrade to an actual camera for higher quality photos. We travel with a Canon Rebel (which takes amazing photos, but can be a bit clunky) and a Canon PowerShot ELPH (which takes beautiful pictures, is slim and lightweight – and the new models are wifi enabled so you can share your trip pics to social media in real time!).
It's easy to get turned around or lost in any new city! Be sure to have a good city map and/or guidebook prior to arriving.
We think travel insurance is essential! If you haven't already obtained travel insurance for your trip, travel protected with World Nomads.
Want more travel planning tips? Head over to our Travel Planning page for our complete packing list and other travel resources!
Like what you're reading? Join the journey!
Subscribe to JetSetting Fools and get new blog posts and our quarterly newsletter direct to your inbox:

We want to know: What sights would you add to our Self-guided Dublin, Ireland Walking Tour? What is your #1 must-see sight in Dublin? Tell us in the comments!
Pin it! See all of our travel pins on our JetSetting Fools Pinterest Board.