Hey there! Welcome to JetSetting Fools! You will find our best travel tips for destinations worldwide. Some of the links on this site are Affiliate Links and if you use them to make a purchase, we may earn a small commission. For more information, read our Disclosure Policy.
---
This four-part series details the four stops on our Istrian day trip. Our adventure through Istria included Truffle hunting and sampling, Istrian Brandy processing and sipping, visiting Motovun, a hilltop town, and visiting Porec, seaside town. It was a day full of new tastes, sights and experiences. 
Click here for a review on our previous stop on our Istrian day trip: Istrian Brandy Processing and Sipping.
As we turned yet another curve on a road in the Istrian interior, we caught our first glimpse of Motovun, perched on the hill and surrounded by a wall. The colorful homes clinging to the hillside looked like sprinkles scattered on the top of an ice cream cone. The sight was more beautiful than we imagined and my only disappointment was that I didn't ask the driver to stop so I could capture the scene with a photo.
Arriving in Motovun
With the taste of truffles and Istrian brandy still teasing my tongue from our two previous stops, we started our accent to the hilltop town of Motovun. Of all the hill towns in Istria, visiting Motovun was highest on our list. Our driver (thankfully) whisked us past the lower parking lot and let us out at the highest point where cars are still allowed. We met with our tour guide, Maya, and entered the picturesque, traffic-free town.
Motovun History
Motovun has been inhabited by Celtic tribes, Romans and Venetians, with most of the streets and churches being attributed to the latter. The town was at one time fortified with nine gates and seven towers with St. Mark's Lion, a Venetian symbol, appearing in 13 places.
Visiting Motovun Sights
We first walked through the Renaissance Gate. Now a pretty passageway lined with centuries-old tombstones and crests, it was once a defensive point of entry. The windows above the arch were used as a lookout and from which hot oil was poured onto enemies.
The second remaining gate we walked through leads to the main square in the upper city and used to be surrounded by a moat and bridge. Only the wealthy were allowed in, keeping out the riff raff and the plague. Fortunately, for us, that's no longer a concern and we passed through into the main square.
The compact main square at the top squeezes in just about as much old town flavor as it can. The town hall and St. Steven's Church surround a small water well/ and the tower, Motovun's famous symbol, looms overhead. The tower was built originally as a guard house – and was constructed four centuries before the church – but is now a belfry.
Scenic Motovun
There is no doubt that Motovun has been discovered by tourists – and for good reason. The views are spectacular. From the walls that circle the town, we had a bird's eye view of the land below. The Mirna River, quite narrow, flows by the base of Motovun Hill, but was once so wide and deep that ships could navigate its water. We can clearly understand the importance of the strategic location in medieval times, but, now, it is simply a quaint place to enjoy in Istria.
We want to know: Have you been to any of Istria's hilltop towns? Which one is your favorite? Is visiting Motovun on your list of places to see in Istria? Tell us in the comments!
Click here to continue to the next stop on our Istrian day trip: Porec, a seaside town. 
Pin it!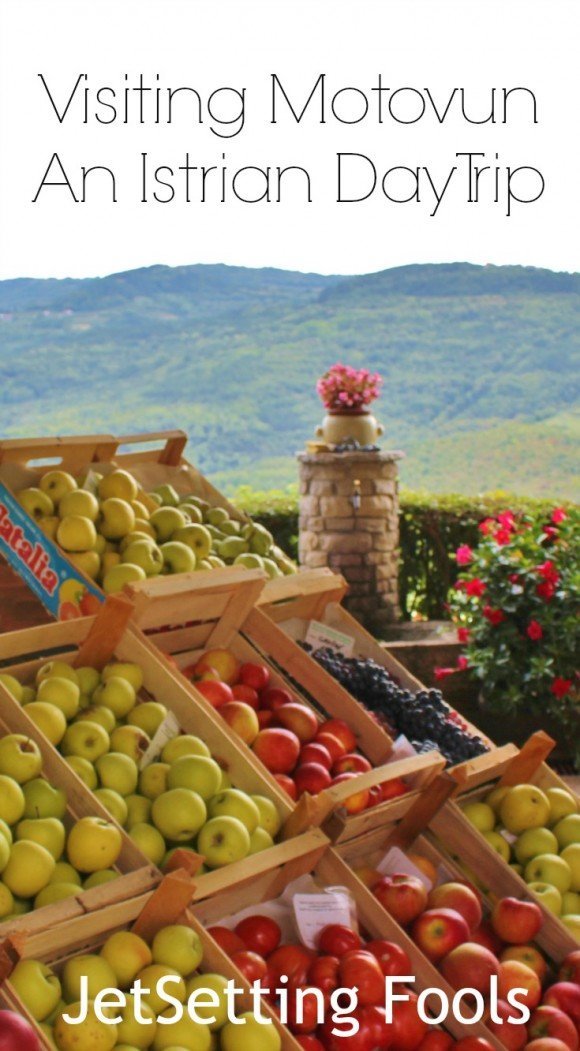 Thank you to the Croatian National Tourist Board and Istria Tourist Board for organizing our trip to Karlic Tartufi and our Istrian day trip.