Initially, I wasn't digging the idea of revisiting Dubrovnik, Croatia. We had vacationed there – and loved it – in 2011 and although I recall it being a relatively affordable city, I feared our new lifestyle as long-term budget travelers would change our perspective. I was most concerned that we would leave not quite loving it as much as we had on our first visit. As it turns out, my fears were unfounded; it is possible to experience Dubrovnik on a budget and we fell even more in love than we were before.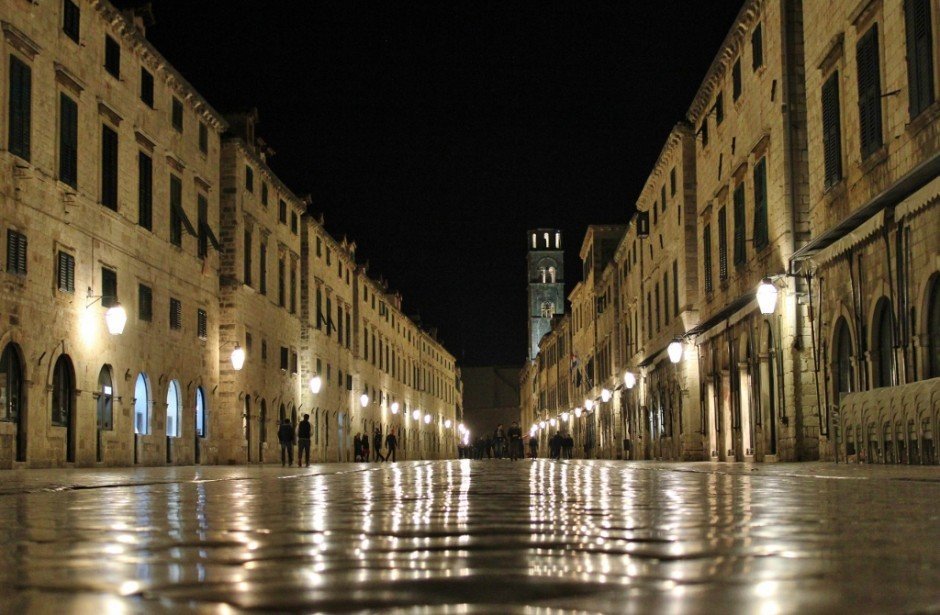 Dubrovnik on a Budget: Where to stay
On our vacation, we had stayed in a Sobe (a private room/no kitchen) within the old city walls with an amazing view for $100/night, which at that point in our lives was a pretty stellar deal. I assumed it would be impossible to find an entire apartment in the historic center for less, but since we were traveling in the off-season, we were able to secure an affordable apartment – with a kitchen – for $52/night through Airbnb.com (use this link to join Airbnb and save money on your first stay!). Our compact studio had exposed stone walls, a wood beamed ceiling and a view from the window over the Cathedral rooftop to the cross and fort at the top of Mount Srd.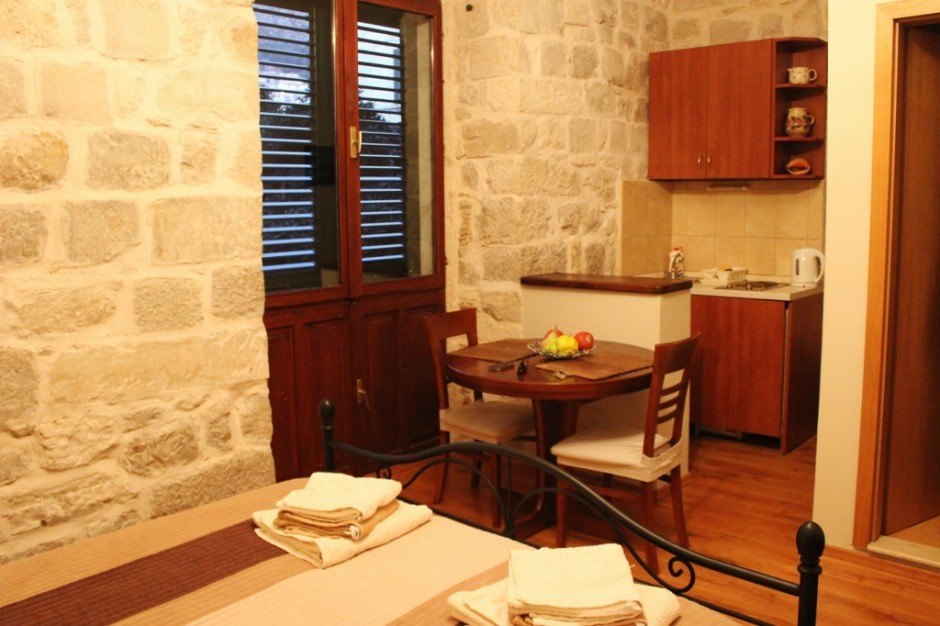 Dubrovnik on a Budget: What to Eat
Eating out is almost always expensive, but with the lack of tourists in town, many of the restaurants were closed for the winter – and a few become bars only, serving drinks, not food – which worked quite well for our budget. We ate out once, ordering a platter of local cheese, bread and olives and complimented it with a glass of local red wine at The Bodega on Luza Square. It wasn't our thriftiest move, but it was tasty!
Our money went a long way at the Saturday market, where we stocked up for the week on locally grown fruits and vegetables. Everything else we needed to make home cooked meals and picnic lunches was at the convenient and affordable Konzum grocery store.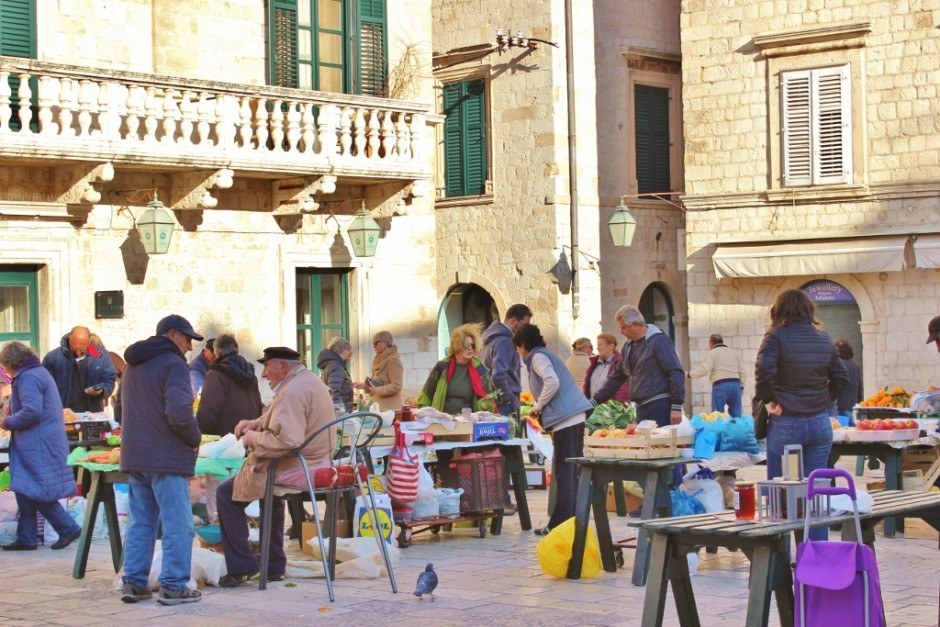 Dubrovnik on a Budget: Where to Drink
If there is one thing we tend to splurge on, it's adult beverages; add in a scenic view and we're sold. We had fond memories from our first trip of sipping on beers and watching the sun set from Dubrovnik's Buzas – two bars that are perched on the rocks overlooking the sea, accessible through a 'hole in the wall.' If we were going to bust the budget, this was most likely where it was going to happen.
Like most scenic bars, the drinks come at a price and a couple rounds of $5 beers can add up in a hurry. I secretly hoped they would be closed in the off-season, completely eliminating the temptation. However, when we found the gate open we simply couldn't resist indulging and even though we were the sole patrons, we ordered a round of the local beer, Ozujsko.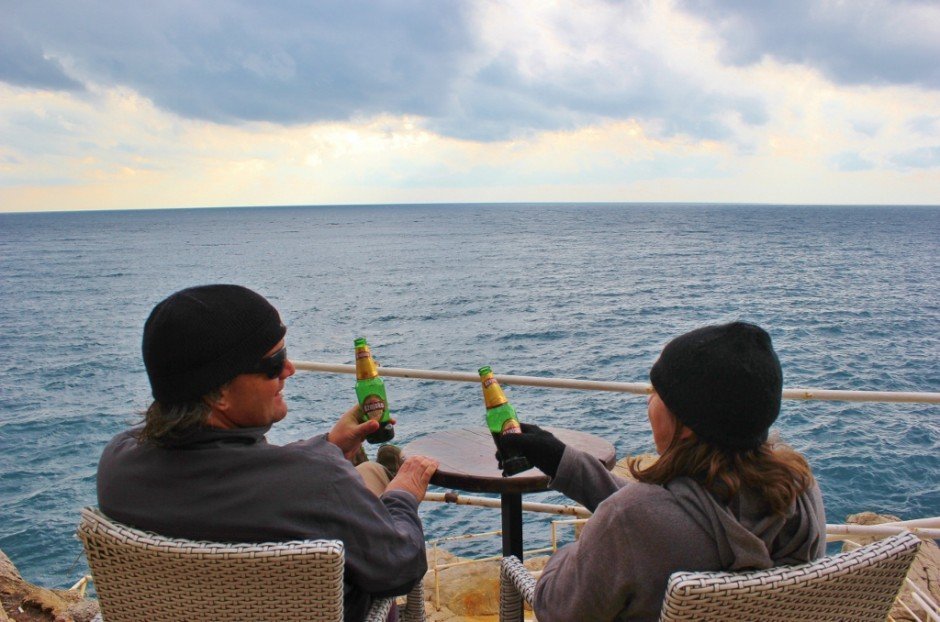 While the setting was as amazing as we remembered and the company was good (of course it was, it was just us!), we suffered a slight case of buyer's remorse. We got back in budget mode and set out on a mission to find the ultimate Budget Buza: a BYOB scenic outlook at sunset. We'd scoped out a few possibilities along the coastline to the east and west of town, but then we stumbled on the second Buza with its gate standing open. A peek inside revealed a completely cleared out space. No bar, no tables, no chairs, just an open platform begging for company (an off-season perk, perhaps?!). Twice we took in the sunset from the spot, my bag stocked with supplies of beer, wine and bar snacks at a mere fraction of the regular Buza price, but with the same view.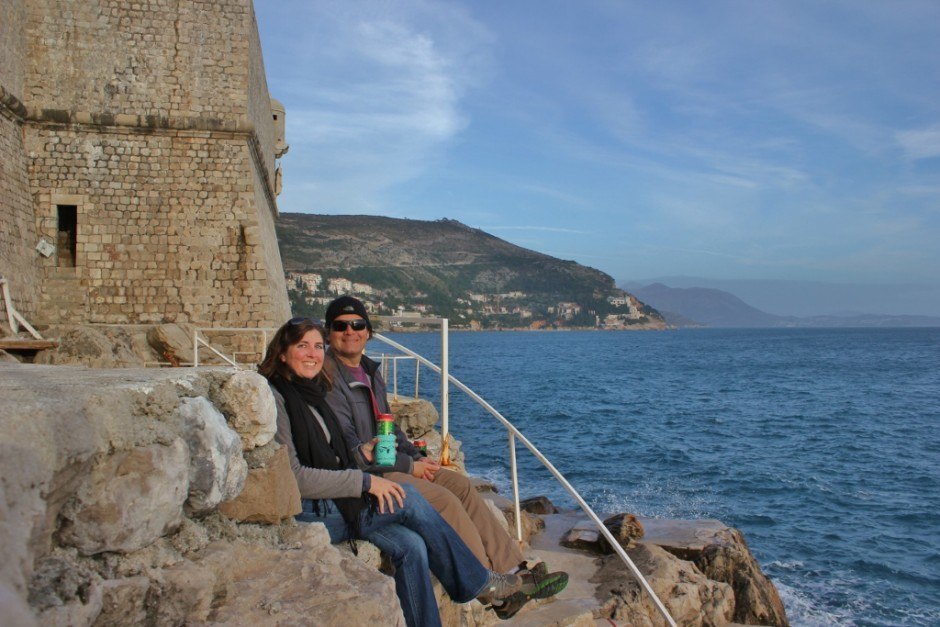 We didn't have perfect weather the entire week, but rainy afternoons presented the opportunity to check out a few of the other watering holes in town and experience a bit of local Dubrovnik. We visited two Irish pubs that had affordable pints: Karaka and Katie O'Connors, both full of locals drinking…coffee. Still, the ambiance and local chatter was entertaining.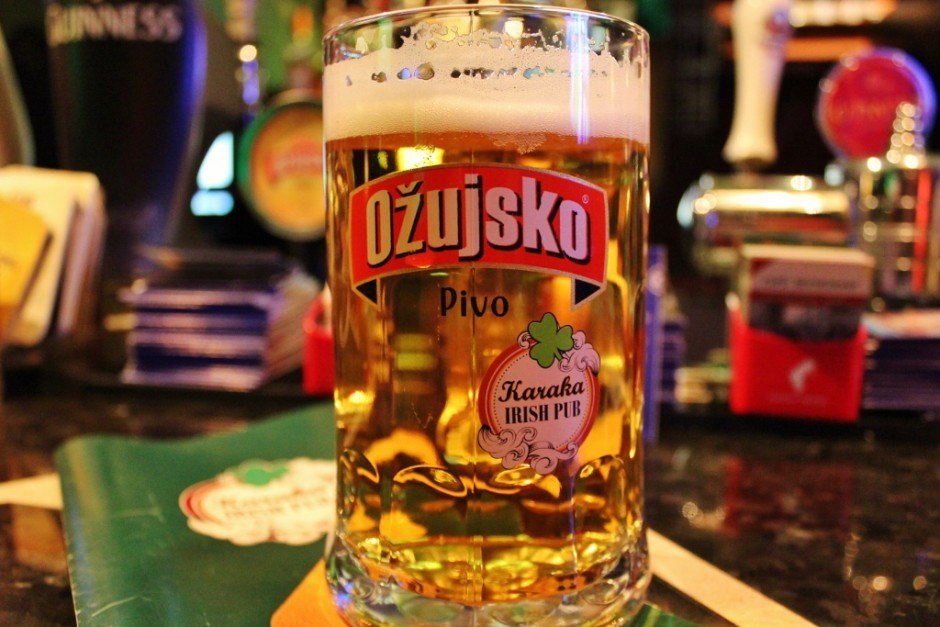 For a taste of local wine, we stopped in the D'vino Wine Bar, which came highly recommended. Although we had to limit ourselves to just one glass each, we were educated on the wine industry in Croatia and sipped on an amazing glass of local Postup (a noticeable upgrade from what we'd been drinking!).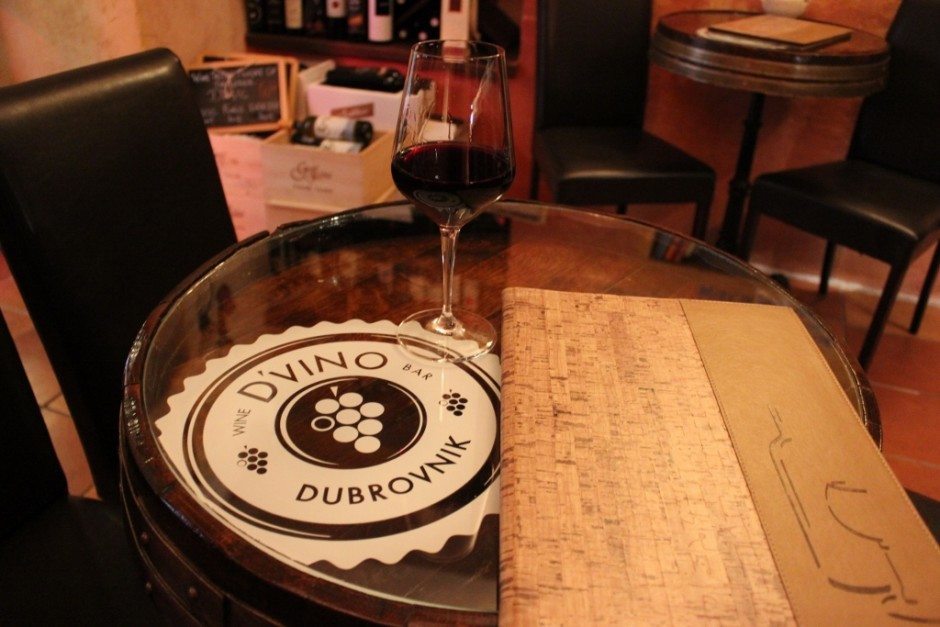 Dubrovnik on a Budget: What to do
Besides eating and drinking out, there are plenty of other activities in Dubrovnik that could put a dent in our budget. We had already ticked off the Must Do attraction, "Walking the Walls," on our first visit in 2011, which is truly not-to-be-missed. But with a tighter budget, we wanted to spend our money on new experiences rather than re-dos.
What we missed on our first visit was making it to the top of Mount Srd. Tickets on the Dubrovnik Cable Car are 100 kuna for the roundtrip, which is about $14.25 USD. However, there is an option to purchase a one-way ticket (60 kuna / $8) and then make the hike down. The nice weather and assistance of gravity made this a no-brainer. (Of course, the least expensive option would be to hike up and down, not costing a dime – and if this was our first trip to Dubrovnik, that's the route we would have gone – and then we would have paid entrance of 100 kuna to Walk the Walls.)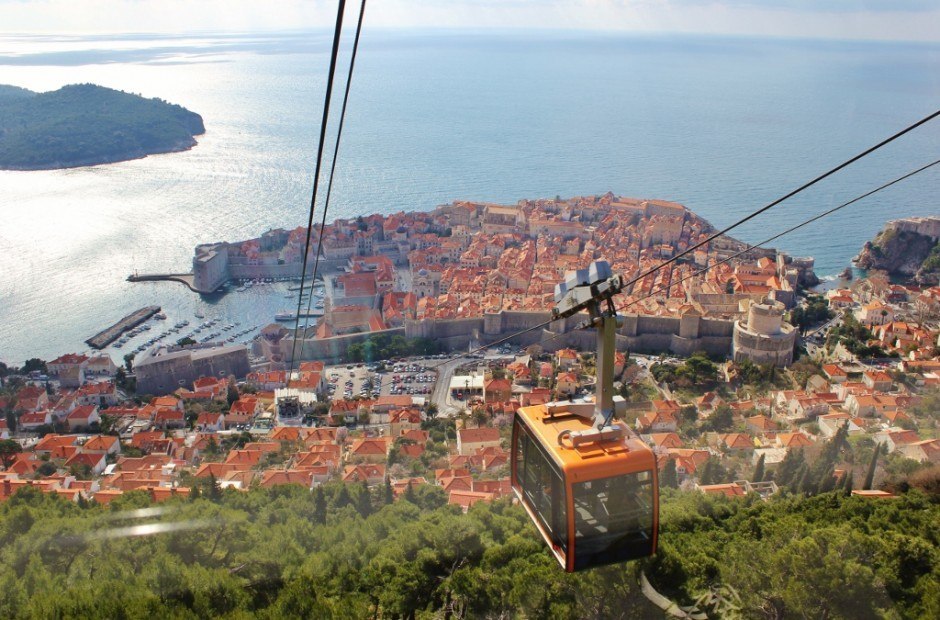 A few other things piqued our interest, like a boat ride to Lokrum Island, but as we watched the tourist boat lurch in the swells, it brought back memories of our Adriatic crossing from Italy to Montenegro and we quickly changed our minds. There are a handful of museums in Dubrovnik and if the forecasted rain would have held, we may have visited. The city offers a discounted Dubrovnik Card that includes local transportation, entrance to several museums and walking the walls and would have saved us money if those were the activities we wanted to do.
We've never been intent on covering every single activity that a city has to offer. Much more often we seek out local experiences rather than expensive activities geared toward tourists. As we were discovering Dubrovnik on a budget, we found many of the best activities to be free, like walking through the old town, taking in the sights and visiting the historic churches. Going on nature hikes and walks to scenic outlooks were also top of our list – and those are always free!
Overall, our experience in Dubrovnik was exactly what we were looking for. Visiting in the off-season dramatically assisted with sticking to our budget. We were able to find affordable accommodations within the old city walls, spend time outdoors on the cool, but sunny, days and use the partially shut-down city to our advantage. Being a city that we already loved, we love it even more now that we experienced Dubrovnik on a budget.
We were featured in The Dubrovnik Times, sharing our thoughts on traveling to Dubrovnik on the off-season ~ click here to read the article!
Our Top Tips for your Trip to Dubrovnik
Where To Stay
During our visit to Dubrovnik, we stayed in this awesome Airbnb Apartment. (Not already a member of Airbnb? Use this link to create an account and save money on your first stay!) However, for those who prefer staying in traditional accommodations, there are many hotels to choose from in – or close to – the city center. Check out these top-rated hotels (based on guest reviews!) for your upcoming trip:
Or These Hostels:
Before You Go
Want more travel planning tips? Head over to our Travel Planning page for our complete packing list and other travel resources!

Like what you're reading? Join the journey!
Subscribe to JetSetting Fools and get new blog posts and our quarterly newsletter direct to your inbox:

We want to know: How did you experience Dubrovnik on a budget? What is your best Dubrovnik budget tip? Share it in the comments!
Pin it! See all of our travel pins on our JetSetting Fools Pinterest Board.